Do NOT, under any circumstances, watch Dreamland and Let Him Go back-to-back. If you do, it will put you in a soul-sucking February funk. It's cold and miserable out there. We want something to brighten the mood, like A Dog's Purpose, A Dog's Journey, or perhaps, A Dog's Way Home. Just how evil are the Weboys? Donnie Weboy, a child abuser and spouse abuser, may be the best of the lot. One publication claims Blanche Weboy "the villain of the year." These are NOT nice folks.
Let Him Go starts out with a Yellowstone vibe. Immediately, the tone turns darker and more somber, though ultimately no less violent. What is it about Montana, although to be fair, much occurs in North Dakota? Like Yellowstone, this is country rarely seen, captivating in its beauty. Diane Lane, Kevin Costner, Jeffrey Donovan, and Lesley Manville at the kitchen table in the middle of nowhere is a scene for the ages. These are experts at their craft. The hate and disgust for each other oozes out. Still, the subject matter and the too-convenient, unlikely ending downgrades the outstanding performances. I give Let Him Go 3.5 Gavels and it receives an 83% Rotten Tomatoes rating with a 6.7/10 IMDb score.
Plot
In the early 1960's, tragedy strikes at the Blackledge ranch. Three years later, their son's widow remarries Donnie Weboy and relocates to town. Still despondent over the loss of their son, separation from their grandson is almost too much to bear. Then, the new family disappears. Certain that the mother is unable to protect her grandson, Margaret Blackledge determines that they will rescue him. What they find is much worse than they could imagine.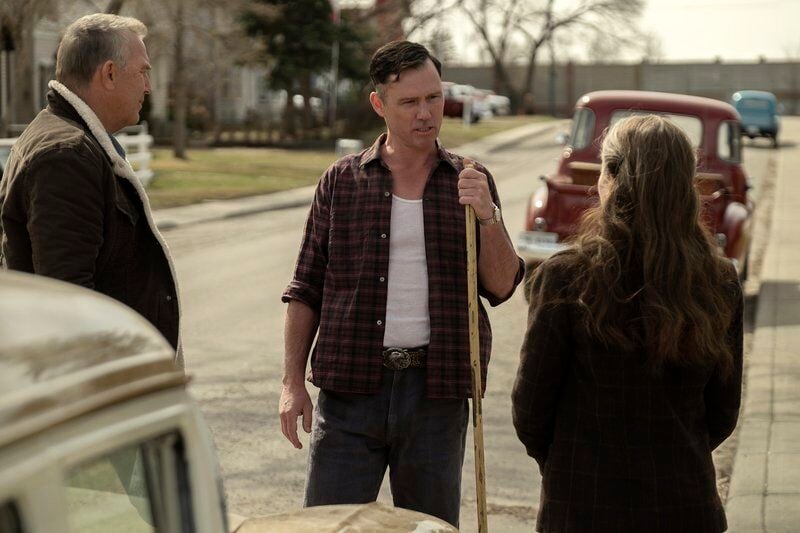 Actors
Aware of the nature of the film, I refused to pay $19.99 last November. Now, at $5.99 on Amazon, the lure of Diane Lane (Serenity, Tully) and Kevin Costner (The Art of Racing in the Rain) is too irresistible. As Margaret and George Blackledge, they are a couple comfortable communicating in silence. Jeffrey Donovan is a long way from his Burn Notice days. His Donnie Weboy is truly creepy. Lesley Manville (World on Fire) will forever thank the producers for giving her the memorable role of Blanche Weboy.
Final Thoughts
"You know who makes the rules here." "Donnie got away from her once, she'll never let it happen again." "Best you put Gladstone (Weboy's town) behind you as fast as you can." Such describe the chilling regard that family and friend have for Blanche Weboy.
"I'd have preferred to see Let Him Go as a Jack Reacher movie. It's the perfect setting for the 6'5″ ex-military cop to catch wind of Weboy family wrong-doing, eat all their porkchops, and then bare-handedly beat the ever-livin' heck out of all of them." Epoch Times
"Kevin Costner lends his star power to this high-tension thriller, but even he can't match the wallop of seeing Diane Lane and Lesley Manville in action as mothers pushed to the limit." ABC News
Watch, then, at your peril. Surprising moments of violence will keep you awake, but for how long?