Uncertain if I was watching an episode of the Lifestyles of the Rich and Famous, or an Asian travelogue, let me say that Singapore looks fabulous.  The food scenes are mouth-watering.  Wouldn't you expect fine fashion on crazy, rich folks?  I daresay you will see a wedding like you have never seen, with an Elvis song included for no extra money.  This is one of those reviews that practically writes itself.
All of us like to see how the very wealthy live, witness our viewership of the Harry and Meghan nuptials.  But, from the Fast and Furious franchise to Guernsey Literary and Potato Peel Pie Society, we love it when our our films focus on family.  Gorgeously filmed at exotic locations with a fine, not great, story, this is a wonderful experience.  It is truly sumptuous for the eyes.  I give it 4 Gavels and it has a 93% Rotten Tomatoes rating.
Plot
Rachel is happy as an NYU economics professor.  Dating for over one year, Nick surprises by inviting her to a wedding in Singapore.  She will get to meet his family for the first time.  When the "welcome aboard" is in the First Class section of the plane, complete with silk pajamas, Rachel has an inkling that Nick might be well-off.  But, why does Nick hide his wealth?  Why was he raised by his grandmother?  Why is his mother opposed to a Chinese-American girl?  Furthermore, what obstacles lie in their path to happiness?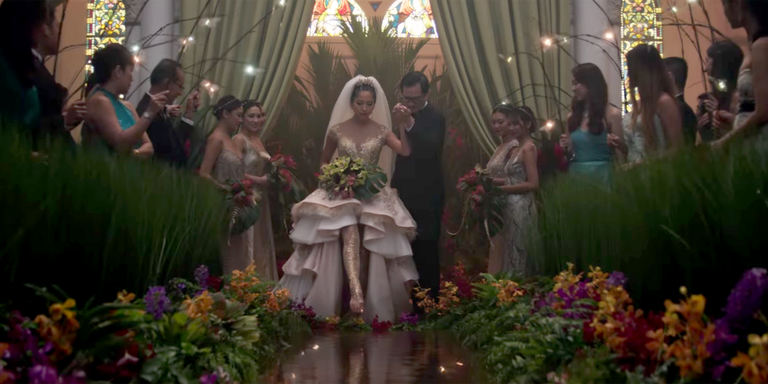 Actors
Critics make much that this is the first all-Asian cast in twenty-five years.  To the contrary, I doubt anyone notices.  Constance Wu is Rachel, previously known for her work in Fresh Off The Boat.  Confident and self-assured, you can't help rooting for Rachel.  Henry Golding is Nick and this is his first major acting gig.  A handsome, likable chap, I am certain you see more of him without his shirt.  From Tomorrow Never Dies and Crouching Tiger, Hidden Dragon, Michelle Yeoh has been on our radar for years.  As Nick's stern, yet regal mother, she is as cool as ever.   Awkwafina is Rachel's friend and provides some over-the-top comic relief.  Watch for Gemma Chan, Nick's cousin.   Specifically, one critic describes her as having a Grace Kelly-esque presence.
Final Thoughts
The pictures herein do not do this movie justice.  Certainly, nature provides this area a lush paradise.  Moreover, wealth provides Singapore with stunning structures.  For example, the pool that spans the top of several skyscrapers is crazy. Forgetting myself, I keep talking about scenery.  As a romantic-comedy, it is better than the average fare.   Above all, these two are from very different families.   Rachel underestimates how different the cultures can be, and how stiff her competition for Nick.  At the risk of spoiling this movie, we know that love conquers all.  In the end, that is why this movie will do well, all-Asian cast or not.