For Downton Abbey fans who can't wait for the upcoming movie, perhaps this tongue-twister flick will give you a slight reprieve.   Would you like to see Lady Rose, Lady Sybil, Isobel Crawley, and Henry Talbot again, albeit in different clothes?   Ultimately, "Guernsey" is a movie about loss, picking up the pieces, and finding family.   Apparently, Guernsey Island of today is too touristy to depict the Guernsey of 1946, so filming is elsewhere.  Nevertheless, the scenery along the ocean is magnificent.  This exploration of the past, and mystery of lost lives, can be a tad tedious at times.  It is at least 20 minutes too long.  But, hang in there and the tear-jerker will bring you home.  I give it 3.5 Gavels and it has a 79% Rotten Tomatoes rating.  (Or, should that be a Rotten Potato rating?)
Plot
In 1940, the Nazis took over Guernsey Island removing all pigs to the mainland to feed their soldiers.  One year later, one remaining hidden pig is butchered for a feast for five starving friends.  Rations are so poor that Eben brings a potato peel pie to the meal, Isola brings gin made from potatoes.  On their way home after curfew, they are stopped by soldiers.  To avoid arrest, they indicate they are part of a book club.  The Nazis are skeptical, but let them pass and decide to monitor the group.
In 1946, author Juliet Aston receives a letter from the group indicating that books helped them survive the occupation.  Intrigued, Juliet travels to the island to tell their story to the world.  Instead, she finds there are secrets, secrets that some would prefer remain untold.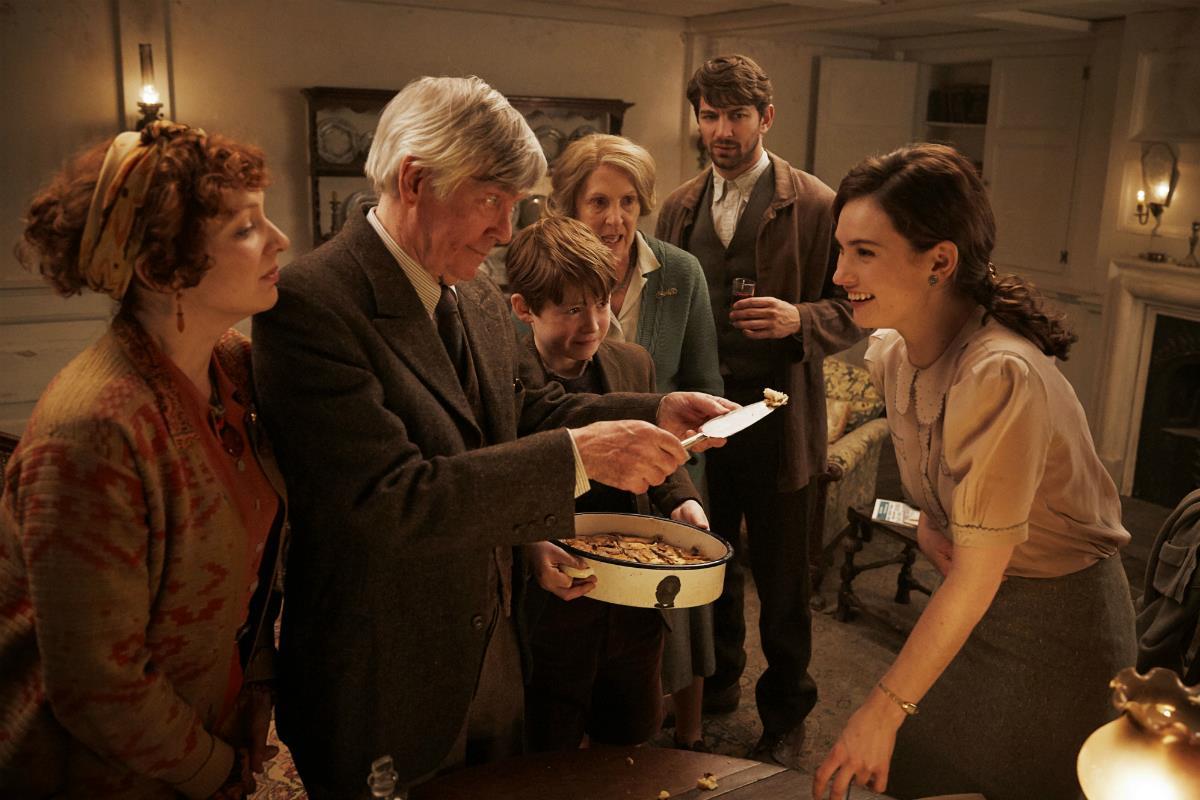 Actors
Lily James  (Baby Driver, Darkest Hour) is Juliet Ashton, her parents killed in the war, but now a successful author under the name of Izzy Bickerstaff.  Micheal Huisman plays Dawsey Adams, the pig farmer who corresponds with Juliet.  Jessica Brown Findley is the "founder" of the society, but no longer on Guernsey when Juliet appears.  Where is she?  Glen Powell is the rich American officer, Markham Reynolds, in love with Juliet.  Matthew Goode is Juliet's mentor/literary agent/friend, with the appropriate name of Sidney Stark.  Finally, for Doc Martin fans, Katherine Parkinson is Isola.  Even the Germans like her gin.
Final Thoughts
This movie already debuted in England and France earlier this year.  As you can see, the reviews are generally positive,  Now, it is Netflix' turn to introduce America to potato peel pies.   Likely, we would prefer the gin.  Still, we hear little about this portion of the war.  Seventeen thousand fled the island but twenty-five thousand remained behind.  The Nazis bring Russians and Poles to the island to build defenses against the allies.  As you might expect, they treat them inhumanely.   Collaborators, and suspected collaborators, are not treated kindly, either.  Life in the Occupation is not easy, given shortages and emotions.  As Juliet investigates the past, it reminds her that she is searching not only for answers about the society, but also about herself.  In conclusion, this one is worth a look.   Just don't bother looking for the potato peel pie recipe.  That will disappoint you.