In a prime example of an actor controlling her career, witness Kaley Cuoco in The Flight Attendant. In her first major role since The Big Bang Theory, she chooses a role not too dissimilar from Penny. Who wouldn't believe her as The Flight Attendant with an alcohol problem, flirty and more than just a little confused? Using her new production company, Yes, Norman Productions, named after her dog, I think she made the perfect choice. It showcases her dramatic talent complementing her comedic chops. The viewer fondly remembers her as Penny even as she strays into a different world. This will be a smooth transition for her audience as she adds to them.
After the first three episodes (five more to go thru December 17) on HBO Max, let me say the book is better, but it always is. Why change Dubai to Bangkok, although the location is just as alluring? Still, the cast, the production quality, and the story are first rate. I have problems with the needless cinematic devices of split screens, flashbacks, and talking to a corpse, but those are minor quibbles. The director does a nice job of ending each episode in a suspenseful manner. As shown by the 96% Rotten Tomatoes rating and 7.5/10 IMDB score, The Flight Attendant will do nothing but boost the image of Yes, Norman Productions. I give the series 4.0 Gavels.
Plot
On the flight to Bangkok, Alex Sokolov and Cassie Bowden become more than a little friendly. After they land, she ditches her flight attendant friends and continues her fling. When Cassie wakes the next morning, Alex is next to her with his throat slit. After years of heavy drinking, her blackouts leave her with bits and pieces of memory from the previous night. In a moment of self-reflection, she is certain that she is a happy drunk, not a murderous one. Afraid and alone, Cassie decides to clean up and flee. The FBI awaits as her return flight lands in New York City.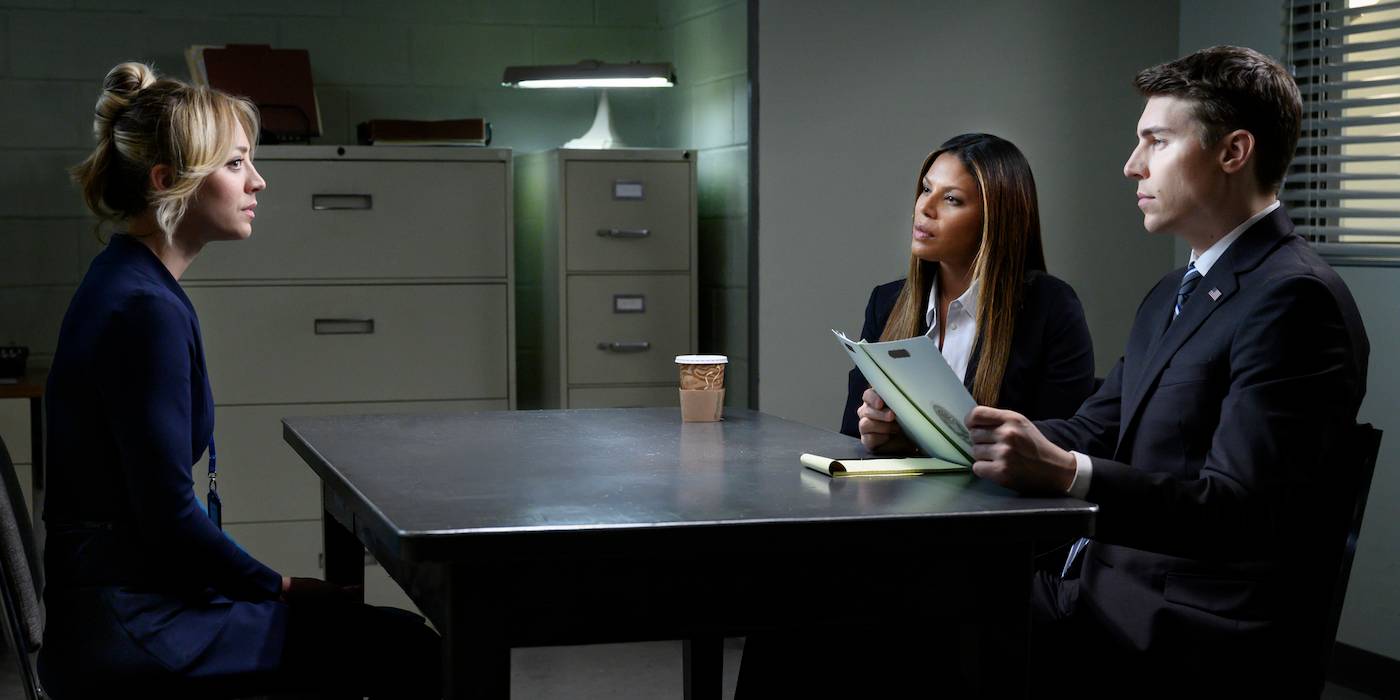 Actors
Typically, when an actor dies in the opening scenes, we are pretty much done with him. Not so with Michiel Huisman, recently seen in The Red Sea Diving Resort and The Guernsey Literary and Potato Peel Pie Society. As Alex Sokolov, he continues to haunt Cassie's thoughts as she tries to recall the events of the fateful night. Rosie Perez (Birds of Prey) plays fellow fight attendant, Megan Briscoe. It seems The Flight Attendant has more than one international crime ongoing.
Final Thoughts
As a stalker and assassin, Miranda Croft seems suitably creepy. Notably, actress Michelle Gomez voices Cruella De Vil in 101 Dalmation Street. Croft's weapon of choice appears to be a knife. As we meet Sokolov's money laundering parents, they inquire whether Cassie is one of Alex's "good time girls or one of Victor's incompetent field mice." Who is Victor and whose money are we laundering?

Awards Daily proclaims "The Flight Attendant is like being a little too drunk on an international flight. It's fun, boozy, and little dangerous." Likewise, The Hollywood Reporter calls it "a fast-moving mystery anchored by Kaley Cuoco's versatile lead performance. The Flight Attendant is the TV equivalent of a beach read, pure and simple…" Who couldn't use a little beach time right now? Grab a blanket and head to the . . . couch. Maybe join Cassie in a glass or two of wine. This may be as close as we get to an air flight anytime soon.