Your favorite lush is back on Thursdays on HBO in The Flight Attendant 2. Still as neurotic as in The Flight Attendant, Cassie Bowden thinks she's a changed girl, sober for one year. Now as a civilian asset for the CIA, she can't seem to follow the rules, i.e., "do not follow, do not engage." For some reason, those she does follow and engage always end up dead. Why would someone pretend to be Cassie? Is her life really like a John le Carre spy novel? Who wants to frame her and why?
At times The Flight Attendant 2 approaches the silliness of Maxwell Smart, but never quite crosses the line. And, while I still find the multiple screens annoying, it does mirror Cassie's frenetic manner of processing the craziness in her life. So, what new does The Flight Attendant 2 add this season? The viewer gets "the mind palace." Last season, she talked to the dead guy. Now, she talks to "Gold Dress Cassie," "Black Sweater Cassie," "Purple Blouse Cassie," and apparently several more versions of the demons in her mind. It's sort of like the movie version of the angel on one shoulder and the devil on the opposite, each trying to cancel the other. The story, the cast, and the production quality continue to be first rate. The Flight Attendant 2 gets 4.0 Gavels, a 90% Rotten Tomatoes rating along with a very early 7.75/10 IMDb score.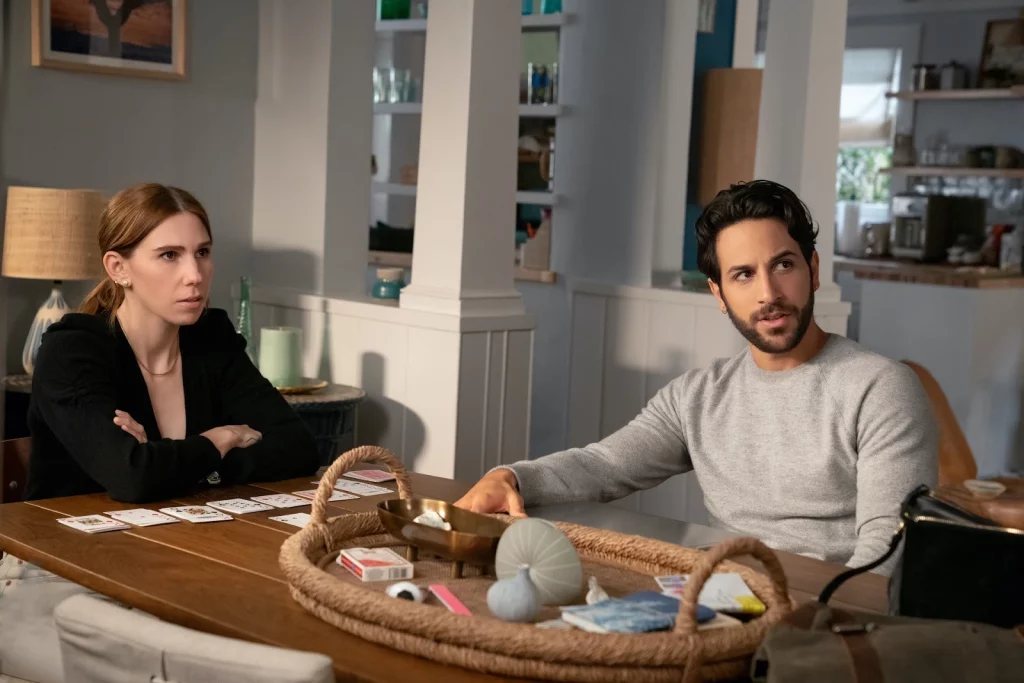 Plot
CIA handler Benjamin Berry asks Cassie to monitor Will at his hotel in Berlin. Contrary to instructions, she follows him, watches him pick up a parcel, then proceed to a different hotel. Further spying sees him having sex with a woman with the same tattoo on her back as Cassie, then exchange the parcel for a small briefcase. Two men in the room above Will appear to monitor his activities. As Cassie tails Will out of the hotel, a car bomb explodes. True to form, Cassie lies about her activities to Benjamin. CIA boss, Dot Karlson, excuses Cassie's blunders, but also orders Imperial Atlantic Airline to temporarily ground her. And then, her "lost" luggage shows up at her Los Angeles home containing a bloody, blonde wig.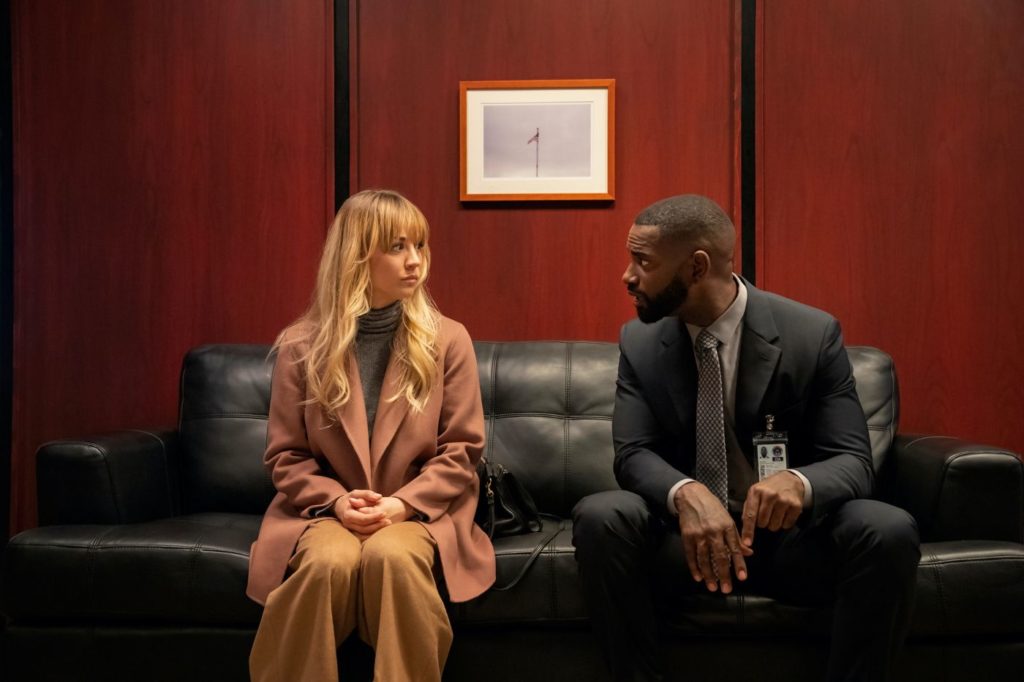 Actors
At times, The Big Bang Theory's Penny could be unflappable. I miss that part of Kaley Cuoco's acting skill. As Cassie, she is nearly always wide-eyed and in disbelief. Still, her rapid-fire repartee with best friend, Annie (Zosia Mamet), is not to be missed. Deniz Akdeniz (For All Mankind), as Annie's boyfriend, Max, is a nice counter-balance to the ladies. Yet to come is Sharon Stone as Cassie's mother. Could any actress provide a greater contrast to Cassie?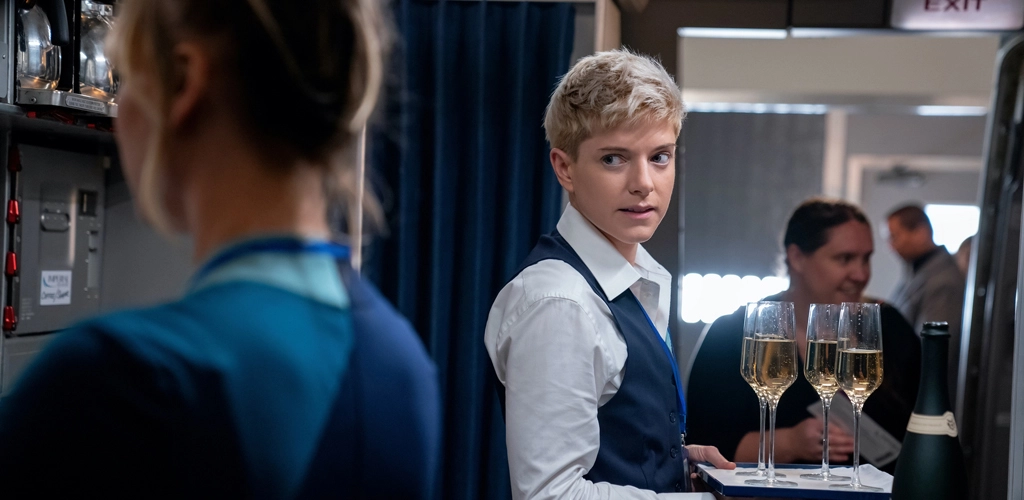 Final Thoughts
Who are Esteban and Gabrielle (shown below)? Cloning Cassie's phone and kidnapping the next door neighbors clearly indicate they are up to no good. Will Annie get a lawyer job in LA? Is Megan on the run from the North Koreans? Do I know anyone who wears Santal 33? Lots of subplots in The Flight Attendant 2.
"Diving into the second season, though, provides a forceful reminder of just how good this show is at getting you inside the head of someone constantly on the edge of a panic attack." Variety
"It's still a delicious mix of pulse-pounding thrills, razor-sharp comedy and surprisingly meaty psychological drama." Hollywood Reporter
Last time referred to as a boozy beach read, The Flight Attendant 2 steps it up a notch this year. No booze thus far, but you can't help but wonder how long that will last.