Ann Landers and Dear Abby
Friday Morning Coffee?  How about columns entitled Every Morning Coffee?  Twin sisters from Iowa give advice in a bitter rivalry for readership share.  Moreover, they become household names throughout this country.  Perhaps you didn't read them regularly, but you read them nevertheless.   Natalie Portman is in talks to play both sisters, of course, and to direct her second film.   This has all the potential to be deliciously gossipy.
Helpful Hints
I do not believe in MoviePass.  There are too many restrictions and it is underfunded.  Consequently,  bankruptcy seems inevitable.  But, when AMC Stubs offers me three movies per week, reserve seats in advance, and no convenience fee for $19.95 per month, I jump at it.  Their A-List plan is worth the price if you see more than two movies per month.  What do Mission: Impossible, The Spy Who Dumped Me, The Equalizer, Hotel Transylvania, and  Won't You Be My Neighbor have in common?  All were seen this month on the A-List plan.  Five movies for 20 bucks is darn good.
The A-List plan requires a 3 month commitment but you pay monthly.  As yet, there is no family plan.  So, I set up a second plan for Mrs. TMJ using her email address.  Then, I just pick our seats using both phones at the same time.  It is pretty easy, even for those of us who are not that computer savvy.
By now, you know my new site is the judge.movie.  The Who and Why link at the top of the page is updated.  While that may, or may not, be of interest to you, it is a convenient spot to easily refer to my Gavel rating scale.   That should be helpful to you.
Games of Thrones
Two weeks ago, I discussed GOATs.  Today, it is GoT.   The final episodes of HBO's Game of Thrones  will air Spring 2019.  But what about the spin-offs?  As an aside, we fans of the books are still mad that George RR Martin hasn't finished Books 6 and 7.   Be that as it may, the winner is a prequel.   Set thousands of years before the Starks, we learn a few origins.  And, most likely, we will see lots of gore and back-stabbing by the ruling elite, whoever they may be.
Fred
Won't you have a Friday morning cup of coffee with Fred Rogers, formerly superstar, now megastar?  Mission: Impossible-Fallout will make north of $61 million in the US this weekend and over $153 million worldwide.   Meanwhile, the film about dear Fred is the top grossing biographical documentary of all time.  Won't You Be My Neighbor is about to top $20 million, only surpassed by a dozen or so other documentaries.  It will not catch Michael Moore's number one documentary Fahrenheit 9/11 at $119 million.  Number two all-time is March of the Penguins at $77 million.  We loved those penguins!
Scary
Ving Rhames is likely very thankful that he is famous (Mission: Impossible-Fallout).   He reports that he answered the door to a 9 millimeter and red dot pointed at his face by police.  He is instantly recognized and a crisis is averted.   Police advise Rhames that a neighbor called 911 and said a large, black man was breaking into the house.   They go over to the neighbor's residence and she denies calling.   Wouldn't the 911 call identify the number that called?   If this was a prank, that is one sick prankster.   If it was racism, that is one sick person.
Bryce
When last seen, Bryce Dallas Howard was trying to avoid dinosaurs in Jurassic World: Fallen Kingdom.  In quite a contrast, she will now play Elton John's mother in Rocketman.   Given that John's mother encouraged his music, it also appears she may sing.   Taron Egerton will be Elton John.  Bryce is 37; Egerton is 29.   Maybe the make-up person from The Girl in the Spider's Web is available.   FYI, Bryce attended school with friend, Natalie Portman.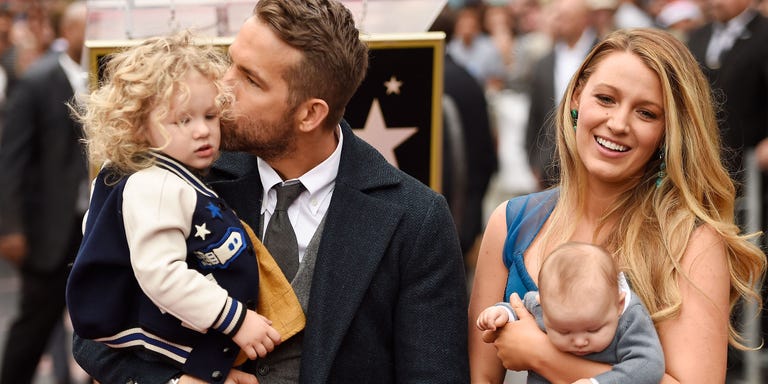 Say it isn't so . . .
Ryan Reynolds looks just like a normal guy.  Married to Blake Lively, just look at this beautiful family.  Surely, Deadpool is just an anomaly.  But, maybe not.  He is trying to make, and star, in Stoned Alone.  Similar to Home Alone, he misses the plane for the family ski trip.  Unlike Macaulay Culkin, he decides to hang out at home and smoke some weed.   Is there an intruder or is he high?   Can you defend your home with a marijuana pipe?   Hence, this is one of those times where we say to Blake, "You married him . . .  He's your responsibility . . . "
Aquaman
In case you haven't seen it, here is Aquaman Official Trailer 1.  Set to be released on December 14, expect Official Trailer 2 and, perhaps, Official Trailer 3.   These things have a way of getting out of hand.  Anyway, we saw Jason Momoa as Aquaman briefly in Justice League.  Now, we find out more about his past.  Nicole Kidman is his mother Atlanna, Queen of Atlantis.  She is saved by a lighthouse keeper, Tom Curry.   Their child, Arthur Curry aka Aquaman, must save Atlantis, and the world, from his half-brother, Orm (Patrick Wilson).  Amber Heard plays Mera, raised by Atlanna to become Queen.  Most noteworthy, Aquaman just happens to be very fond of her.
Christopher Robin
Does Winnie-the-Pooh rescue workaholic Christopher Robin?  Check out my review posted last night!