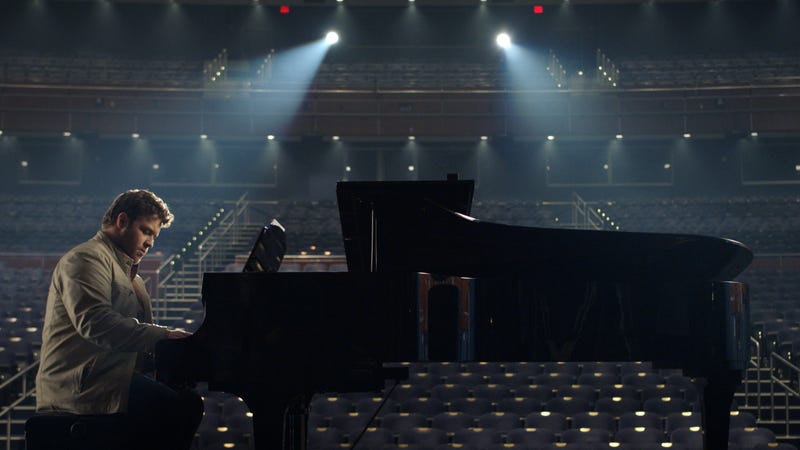 As emotional and moving as any movie you are likely to see, it is no wonder this little-advertised gem made $17 million its first weekend. Trust me, as word spreads, this movie is going to make lots more. Don't be scared off by the "Christian Drama" genre, rather embrace the story, embrace the music. With a $7 million budget, it has some flaws, most notably some of the lip-syncing. Nevertheless, its message is powerful. Coincidentally, this morning I read a Facebook post from a high school classmate, Tom Magoto, recommending this movie. Tom, you were spot on.
Bart Millard is a 10 year old Texan with an abusive father and abandoned by his mother. Before leaving, she sends Bart to a church camp where he is introduced to the music of Amy Grant. Bart uses church and music as an escape, even while trying to please his father by playing football. An injury forces 18 year old Bart to join the glee club and his teacher sends him on his journey to sing. His father, Arthur, has lots of demons, and Bart struggles with his hate for his dad. Eventually, a trip to Nashville with his band will send Bart back to Texas on a bigger journey.
J. Michael Finley plays Bart Millard and you can tell its his first major motion picture. But, he sure can sing. Dennis Quaid is wonderful as Arthur Millard. He makes this movie a real tear jerker. Cloris Leachman has a small part as Bart's grandmother. The scene stealer was Trace Adkins as the manager for the band (MercyMe).
As you know by now, I can't resist a true story. The song is the number one Christian single of all time. With 2.5 million copies sold, it crossed over into Adult Contemporary and Top 100 charts. This is no one hit wonder band. They have eight Grammy Award nominations. Be careful taking young children to this movie. The physical and emotional abuse is portrayed with great effectiveness. You will flinch, if not outright turn away. No matter how religious you are, you will feel the power of Bart Millard's faith. It is a shame that some will never understand.