Memo to the writers of Last Tango in Halifax: Children do not want think about their parents having sex, no matter the age. Lauded with its "believable dialogue" and "triumph against ageism," no one one to know the size of their mom's knickers, discuss the merits of Victorian toilet flushing, nor witness old folks snogging. Then again, maybe that's just me. After five seasons, this BBC series available on Netflix gets a 94% Rotten Tomatoes rating with a terrific 8.3/10 IMDb score.
While Last Tango in Halifax is a critical success, I labored through the first four episodes (each approx. 50 minutes). The dialogue is extraordinarily ordinary. You tire of hearing the couple reminisce about their missed opportunity 60 years earlier. They seem nice but their families are a mess. Episodes five and six pick up a tad, but certainly not enough to make me sit though four more seasons. After a particularly ugly and nasty argument between Celia and her daughter, Caroline, Alan says "we've reached the end o' road." Me, too. In spite of fine acting, I give Last Tango in Halifax only 3.5 Gavels.
Plot
At age 16, Celia never arrives for a date with Alan. Both go on to marry. Now, both widow and widower, they meet again over the internet. Love blossoms, in too much of a rush for their daughters. Caroline, a high school principal, thinks her mother daft. Gillian, a farmer and part-time grocery worker, worries about her father's (Alan) heart. From two completely different social strata, the two daughters clash immediately. Disfunction abounds in and around Halifax.
Actors
Anne Reid (Sanditon) and Derek Jacobi (The Crown, Tomb Raider) have combined acting experience of over 125 years. As the happy couple, Celia's intolerance concerns Alan. Does he really know her? In The Two Popes, you couldn't take your eyes of Jonathan Pryce and Anthony Hopkins. Sarah Lancashire (Happy Valley) and Nicola Walker (River) are almost as good when they face off on the screen. Sadly, Carolyn vs. Gillian rarely occurs.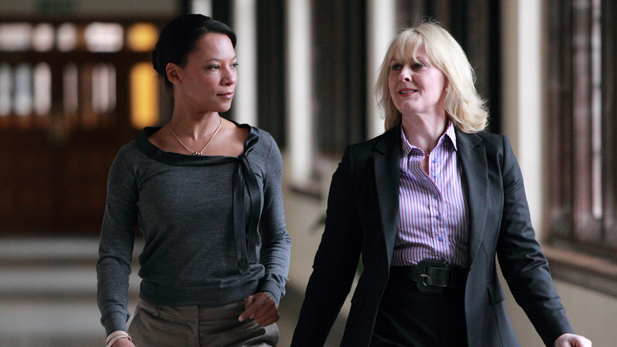 Final Thoughts
Even if the dialogue is "believable," mustn't the actions of the characters be credible? The many dalliances of Gillian and the tolerance of the ex-husband by Caroline seem a stretch. They've put up with too much to be fooled again and again.
The St. Louis Dispatch writes "it's a sweet, touching story, a little pokey at first, but increasingly involving." It's hard to find a disagreeing opinion but here goes in The Independent( UK). "There are passages when Last Tango in Halifax appears to consist of little else [than] animosities and ancient grudges melting away with every clinch. And there'll be a lot more hugging before it's over." It's not often that you hear one referred to as "brain-dead, low-life trailer trash" these days. Name-calling and judgments frequent Last Tango in Halifax. My judgment calls this one iffy, at best.