If The Four Musketeers met Hidden Figures, it would begat The Bletchley Circle. In 1943, Susan, Millie, Lucy, and Jean worked at Bletchley Park decoding German messages. "They made a difference; they saved lives." Nine years later, their talents wasted as housewives or in clerical jobs, they are bored and dissatisfied. Why not use their skills to solve crime? Except, the murders they solve are not run-of-the mill killings. The Bletchley Circle take on cases that the authorities are unable to solve.
The "girls" use pattern analysis to find a serial killer in a three-part Season One an Amazon Prime. In a four-part Season Two, they use their skills to exonerate a former co-worker accused of killing her scientist boyfriend. Later, they take on a sex trafficker. Those in power do not take them seriously. They need evidence, not theory. Each case puts one, or more, in peril. Despite its popularity and critical acclaim, The Bletchley Circle did not find a Season Three, although The Bletchley Circle: San Francisco did pop up a few years later. I give the series 4.5 Gavels and it receives a 7.9/10 IMDb rating.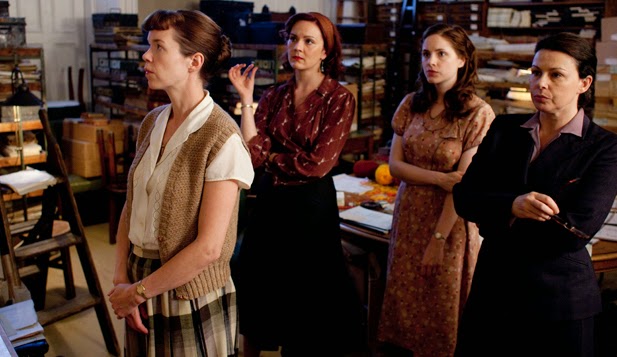 Plot
After the death of four girls in London, Susan notices a pattern. She convinces Deputy Commissioner Wainwright to search for a fifth body. Embarrassed that the police come up empty, she recruits fellow Bletchley Park comrades to assist analysis. Lucy has an eidetic memory and Jean has access to otherwise unavailable documents. Selling black market items for extra cash, Millie has some unsavory contacts. Their training at Bletchley Park will come in handy.
Actors
From appearing as Beelzebub in Good Omens to a timid but determined Susan, Anna Maxwell Martin makes quite the transformation. Rachel Stirling is Ewen McGregor's tossed-aside wife in Salmon Fishing in the Yemen. Here, as Millie, she goes fishing for murderers. Seen in Gentleman Jack, Bodyguard, Peaky Blinders, and Jamestown, Sophie Rundle may be the most well-known to Americans. Her character, Lucy, suffers at the hands of an abusive husband. Julie Graham (Shetland) rounds out the foursome as Jean, their former boss.
Final Thoughts
To stand out in a world dominated by men, The Bletchley Circle adopt the slogan "Don't Be Ordinary." How do you advertise when The Official Secrets Act of 1939 prohibits you from disclosing what you did during the war? If the world knew, then a better catchphrase might be "to the trained mind, complexity is a delight, not a burden."
In fourteen reviews, the Season One Rotten Tomatoes score of The Bletchley Circle is 100%. PopMatters concludes "the series cleverly captures how World War II, with its massive mobilization of British men from all walks of life into the armed forces and related military work, transformed many thousands of women's lives." Salon.com adds "you can now add PBS's The Bletchley Circle to the list of worthwhile Sunday night programming." Mark me disappointed that we only got two seasons of this fine effort.