Not sure why anyone wants to re-live the Watergate story, nor any Impeachment for that matter, but if interested, find Gaslit Sundays through June 12 on Starz. Let's start with the genesis of Gaslighting. Mental Floss gives a nice "Hollywood history" of the term meaning "to psychologically manipulate a person into distrusting their own memories or even their entire sense of reality." Believe it or not, Hollywood apparently "Gaslit" the British movie Gaslight (1940) with a Gaslight (1944) of their own. MGM attempted to destroy copies of the English version. If you can't find it, does it exist?
Back to January 1972, Martha Mitchell already owns the nickname "Mouth of the South." Husband, John, tries to stop her from talking to the press months before Nixon's re-election. "Journalists are not your friend. They just like a good show." Banned from Air Force One and in a feud with Pat Nixon, Martha doesn't hesitate to stir the pot. Rarely is such a person so ill-suited to be in Washington. She yearns to return to NYC. Even eleven year old daughter, Marty, comments, "they used to like each other until they moved here." As Gaslit proceeds to the eventual destruction of all those within radius, buffoons abound. Still, Hollywood gaslights the viewers into thinking they are simpletons and nincompoops rather than mere criminals. As revisionist history, I give the first episode 3.0 Gavels. Gaslit receives an 88% Rotten Tomatoes rating with a 6.8/10 IMDb score.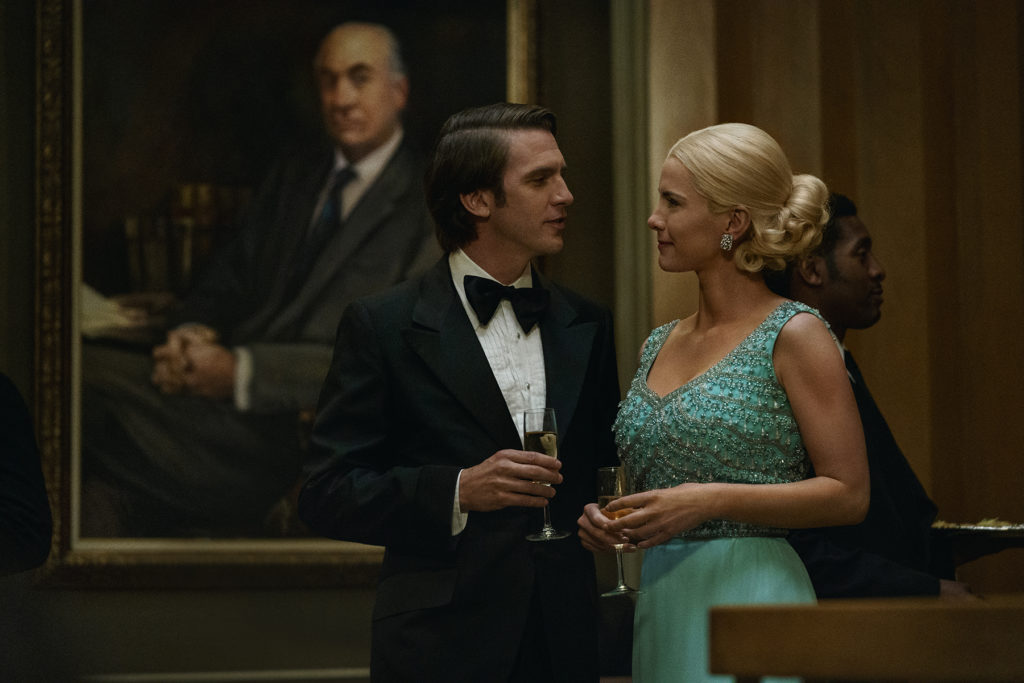 Plot
Despite a 19 point lead, John Mitchell and Jeb Magruder ask John Dean to assist in the organization of an espionage unit to spy on the Democrats. Dean is reluctant but "he knows a guy who knows a guy" who turns out to be G. Gordon Liddy. Liddy proposes a multi-million dollar, multi-faceted operation, too expensive for CREEP (Committee to Re-Elect the President). Martha leaks information to the press about Kissinger's feud with the President. Dean dates an airline "stewardess" who urges him to quit CREEP. Let the "fun" begin.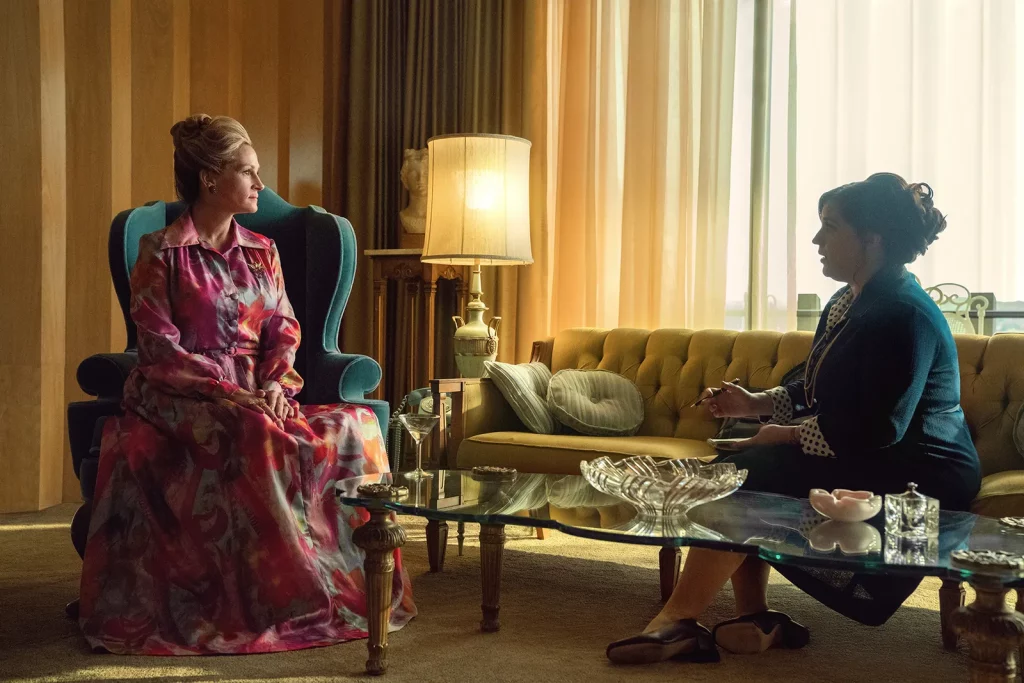 Actors
Quite recognizable, Julia Roberts (Wonder) falls easily into the role of Martha Mitchell, and appears to love the sass. On the other hand, you can stare at John Mitchell and be hard-pressed to find Sean Penn (Licorice Pizza). Although Dan Stevens (Eurovision) as John Dean gets to drive the most hideous Dijon Porsche, Betty Gilpin (The Hunt) is the more interesting character as Mo Dean. For certain, this is a fine ensemble cast.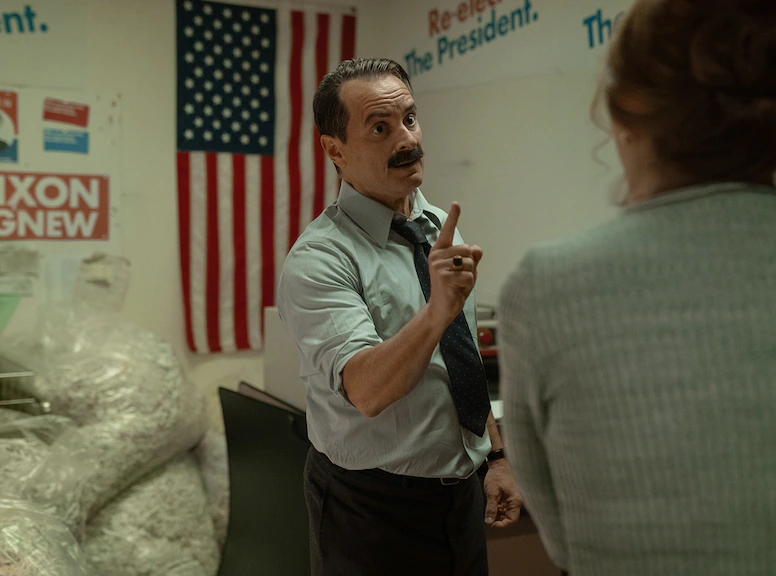 Final Thoughts
There is no question but that Starz placed a bundle of money into Gaslit. It is the subject matter that fails to capture my fascination. Why not burn a hole into our collective souls? There are no winners in this series.
"The entire time I watched Gaslit, I ricocheted between thinking it was a thought-provoking series full of memorable performances and that it was a terrible series that too frequently felt like a Saturday Night Live skit." Paste Magazine
"Gaslit wants to be many things, which bogs it down, and it has marketed itself as whistleblower Martha's story, which it isn't, really. It's a lot of stories. It's a time capsule, a not completely historically accurate one, but one stuffed full." Salon.com
Like Outer Range, I can find better stuff to watch.