Doesn't Will Ferrell (Holmes and Watson) ever tire of playing the same clueless, slightly raunchy character? Eurovision Song Contest is real. Forty-two countries and hundreds of performers compete in front of 180 million viewers. Winners include ABBA and Celine Dion. Now, enter Ferrell and Rachel McAdams with bad accents and hairdos, faking innocence and spoofing Icelanders. It's all just sheer stupid silliness until, somehow, Eurovision Song Contest: The Story of Fire Saga becomes strangely entertaining at the end. The first hour of this Netflix offering seem like the endless Arctic nights. By the end, everyone roots for the underdogs predicted to win zero votes. Not great movie-making, too much like SNL skits, but enough of a finish to garner 3.5 Gavels, a 59% Rotten Tomatoes rating and an 83% Audience score.
Plot
From childhood, Lars Ericksson and Sigrit Ericksdottir dream of winning the Eurovision Song Contest. From the small town of Husavik, mere luck sneaks them in the Iceland finals. A bad performance dooms their chance to be selected to Eurovision until an elf-like "miracle disaster" gives them second life. Determined to make Iceland proud, Lars decrees that any romance must wait until after the competition. But, a handsome, rich flirt from Russia, and a beautiful temptress from Greece have other ideas.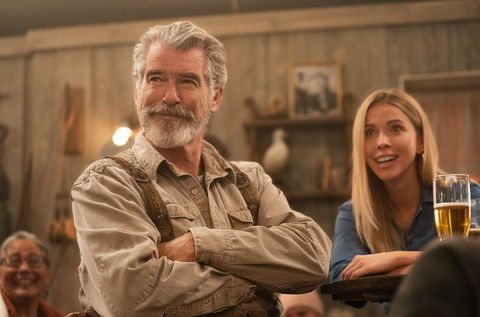 Actors
Will Ferrell and Rachel McAdams form our Icelandic couple, Lars and Sigrit. So, should Ferrell move on? I note that his attempt in Downhill went, well, downhill. At least he does his own singing. McAdams seems strangely uncomfortable in this role. While some of the songs include a mix of her voice, most is credited to Molly Sanden, who was Sweden's representative to Junior Eurovision Song Contest in 2006.
Final Thoughts
The songs "Double Trouble" and "Husavik" are quite good. As for the rest, the choreography is better, but you certainly get a variety of music. Jokes about American tourists are pointed and funny, especially as they are delivered by an American. RogerEbert.com thinks "there's an infectious charm to most of what works about Eurovision not unlike the international competition itself." My favorite quote from the Globe and Mail reads "it's barely a movie at all. But at the same time, if this prevented a third Daddy's Home from making its cursed way into our world, then I suppose it was a worthwhile endeavour." Little White Lies may say it best with "brain not required, but hits a couple of nice notes." Overall, Eurovison Song Contest is better than most Will Ferrell movies but then, that is a low bar, indeed.