Subliminally coded in the title is the best advice I can give you: Stay in your "homes and" see "what's on" TV. I had a visceral dislike of The Disaster Artist, not so for Holmes and Watson. Thus, it avoids the dreaded 0 Gavels. It just isn't funny, just dumb. As the New York Times critic aptly put it "smuggling in booze to dispel the sense of dull routine could only help." Originally to be released in August, then November, what on Earth caused Sony to release this bomb at Christmas? Maybe they needed a bigger write-off? I give this movie .5 Gavels and it receives a 9% Rotten Tomatoes score with an Audience rating of 27%.
Plot
It's 1867 London, and Sherlock Holmes convinces all that Professor Moriarty left England for the United States. But, if so, who is committing murders with Moriarty's signature? A message delivered to Queen Victoria states she will be murdered in two days. Together with Dr. Grace Hart from Boston and Dr. Watson, Holmes must stop the killer, or be branded a failure for all time.
Actors
Will Ferrell and John C. Reilly team up again, this time as Holmes and Watson. Seriously, they should have stayed in their homes. Embarrassing is the only way to describe it. Barely a year goes by without Rebecca Hall and Ralph Fiennes being nominated for some prestigious awards. What are they doing here? Hall is the only watchable character in this mess as Fiennes' character had enough sense to go to America.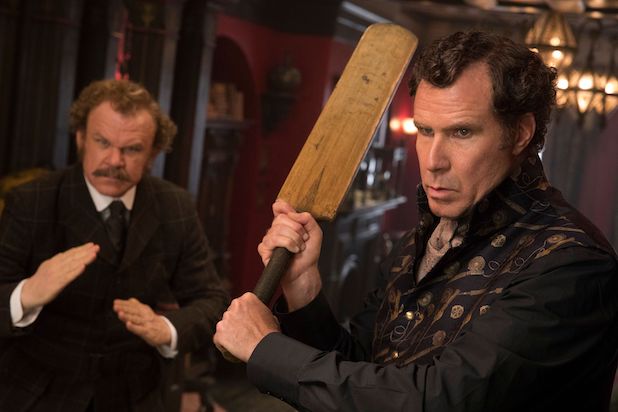 Final Thoughts
As if this non-comedy wasn't bad enough, someone had the bright idea to put a song and dance number smack dab in the middle. I note that the word "musical" is not included in this movie's genre. Since they were in London, why not compete with Mary Poppins Returns? If you force yourself to see this, be ready for urination, lactation, vomiting, and feces. Thankfully, they left out flatulence. Do yourself a favor and finish a chore you have been dreading. It still will be better than this.