The Irregulars gives us yet another return to Victorian London and the land of Holmes and Watson. Except, in the first two episodes, the viewer doesn't meet Sherlock Holmes. Dr. John Watson appears to be in charge of the "small detective agency" at 221 Baker Street. He notices a group of kids living nearby who are able to seamlessly enter the "disreputable parts of London." One possesses the ability to see things others can't. How does he know that? "When you spend a lifetime fighting demons, you learn how to spot an angel." And, off we go into the world of the supernatural, and barriers between this world and the next.
In this case, Netflix creates an elaborate set for this new world of The irregulars. Overall, the actors, the costumes, and the dialogue are much better than its usual fare. "The unkindness that entered London" is just not my cup of tea. Yes, The Irregulars solve crime, but stealing teeth to clone surrogates for the purpose of murder is a step too far for me. But, if you are into dark fantasy with a Sherlock Holmes twist, this might suit your taste. While The Irregulars must find and repair The Rip, I'll be moving on. I give the series 3.5 Gavels and it receives a 78% Rotten Tomatoes rating with a worse-than-expected 5.8/10 IMDb score.
Plot
Bea worries that her sister's (Jessie) nightmares are getting worse. Their parents dead, they live in a cellar with fellow orphans Billy and Leo. Finding work to get money for food and rent is always a challenge. Does Jessie need a doctor, or, as Watson tells her "your madness is your power." Watson hires Bea and Company in a case involving stolen babies. He will pay them if they provide useful information, neglecting to tell them that powerful forces are at work. An attack by hundreds of ravens causes The Irregulars to have second thoughts about working for Watson. Still, hunger causes one to enter worlds better left untouched.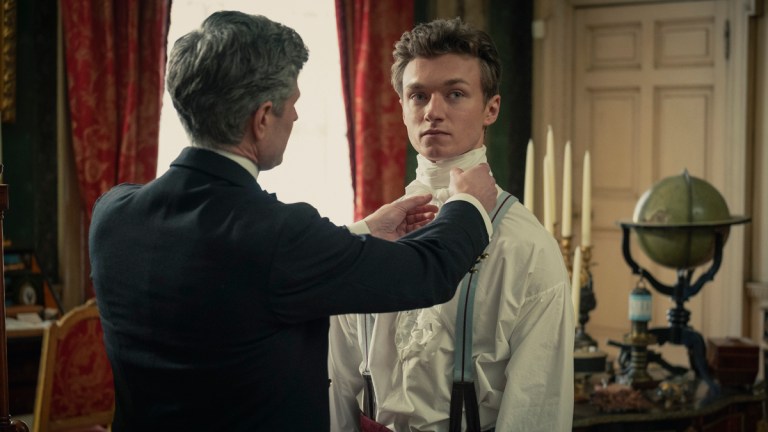 Actors
The Queen Bea of the Irregulars is Thaddea Graham, cutely nicknamed Bumble. Her sister, Jessie is played by Darci Shaw. Notably, she acted as the young Ms. Garland in Judy. Harrison Osterfield, as Prince Leopold, is the proverbial fish out of water. His fascination with Bea will keep him in constant danger. Harrison is used to being second fiddle as his big roles are as an assistant to Tom Holland in Spider-Man.
Final Thoughts
Someone opened the gateway between this world and the spirit world, i.e., the Rip. If The Irregulars can't find it, the world, as we know it, will end. Isn't it something how often that happens?
"It has taken a familiar hodgepodge of elements and managed to concoct something that feels fresh and engaging, if not exactly new. And the show mostly gets away with it thanks, in part, to those meddling kids." CNN.com
"If you're excited at the prospect of a Holmes-adjacent supernatural battle between the forces of evil and an underdog group of teens, then The Irregulars is a diverting choice." News.com.au
Leo tells Bea he is not a "dabbler." Nor am I. So, no more dabbling in the occult for me.