Unlike most of Taylor Sheridan's movies, Those Who Wish Me Dead opens far from his beloved West, in Fort Lauderdale, Florida. He will soon rectify that. Taylor Sheridan has long been a favorite. Besides the recent Without Remorse, his Sicario, Wind River, Yellowstone, and Hell or High Water are all first rate. What do those set in the West have in common? All show its awesome beauty along with its awesome cruelty. Typically, Sheridan adds a few exceptionally brutal humans to the mix. Those Who Wish Me Dead fulfills all his criteria. Assassins Jack and Patrick Blackwell are ruthless and relentless.
Just released in theaters and on HBO Max, Those Who Wish Me Dead is satisfying a Saturday night popcorn thriller. Working for a Florida District Attorney, a forensic accountant (Owen Casserly) uncovers dirt upon the rich and powerful. The Blackwells promise absolutes, no loose ends. After killing the DA and his family, Owen and son, Connor, are loose ends. Owen's brother-in-law (Ethan Sawyer) is a deputy in Montana. The Blackwells lie in wait. Fat Guys at the Movies says Those Who Wish Me Dead is more Western than action film. Can't it be both? Sufficiently intense, I give the film 4.0 Gavels and it receives a 63% Rotten Tomatoes rating with a 6.2/10 IMDb score.
Plot
Hannah Faber, firejumper, still has nightmares about her inability to rescue three 12 year old boys from a massive forest fire. Made a scapegoat by The Forest Service, she is near suicidal. Banished to Fire Tower 217, she finds Connor Casserly on the run, covered in blood. He's looking for someone he can trust. It's a twelve mile hike back to civilization and a violent lightning storm is on the horizon. Fire is in one direction, automatic weapons in the other. Hannah does not intend to lose another 12 year old boy.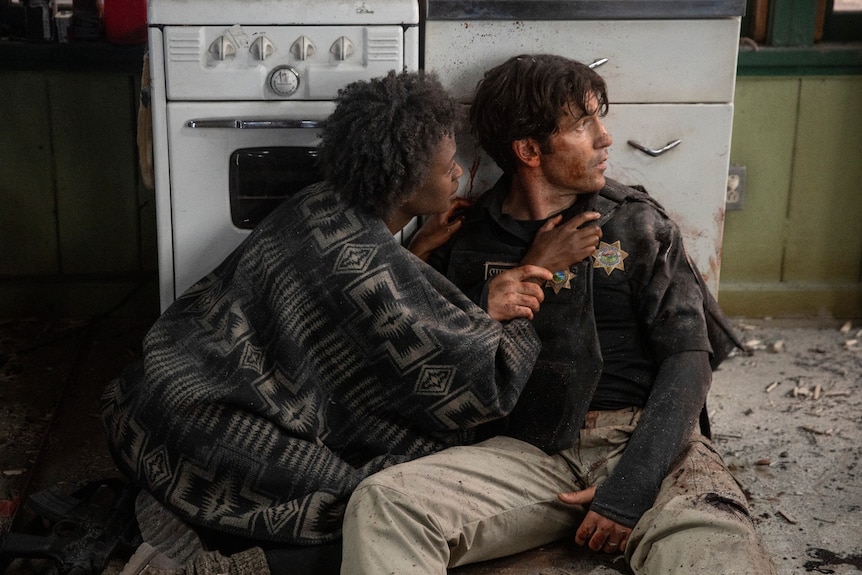 Actors
Not really into the Maleficent movies, it seems like its been awhile since we've seen Angelina Jolie. Hannah Faber is a nice role for her, bring to the forefront her protective maternal instincts while still mixing it up with the boys. As her character says, she's lean, not thin. In a bit of counter-casting, one doesn't ordinarily think of Nicholas Hoult (The Banker) as an assassin. He and Aiden Gillen (Bohemian Rhapsody), get to go against type as the Blackwells. Too often do they offer to let people live if they do their bidding. Rightfully, no one believes them.
Final Thoughts
For the teen set, Hannah offer a little love advice. "Campfires are like catnip for teenage girls." I'm not sure why they paid Tyler Perry to be in Those Who Wish Me Dead. He's on-screen for about 90 seconds with the line "assume catastrophe, act accordingly." I wonder how much he got paid and how much of his screen time ended up on the cutting room floor. For music lovers, don't miss Lighthouse by William Prince. "There's a storm coming down" makes for a fitting ending.
"I'm not sure I believed the plot for a minute of Those Who Wish Me Dead, but as a means of pitting righteous characters against implacable assassins in a succession of abrupt, pitiless, life-or-death confrontations, the story has a terse effectiveness." New York Times
"One of the best thrillers in recent memory." Chicago Sun-Times
You only get one month from May 14th to see this film on HBO Max. Otherwise, you will wait or pay extra. In my opinion, Jolie and Sheridan teamed up well.