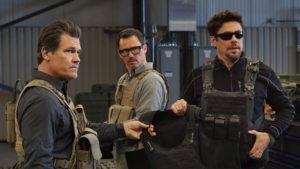 Roughly translated Sicario means hitman.  Soldado translated means soldier.  Sicario: Day of the Soldado translated means violent.  On a budget of $30 million, the original was a modest financial success, but with with three Oscar nominations and a 93% Rotten Tomatoes rating, it was a critical success.  With a slightly larger budget of $35 million, could they catch lightning in a bottle again?  Not quite, but this is still suspenseful movie with lots of folks with questionable morals.  It's always fascinating to watch government types scurry when a bogus operation goes awry; no less so here.
The movie begins in a Trumpian scenario (settle down: there are plot twists, as you might imagine) wherein an Arab-looking individual is stopped along with other illegals after crossing the border.  Upon apprehension, he blows himself up, possibly injuring law enforcement officers.  Nearby, three prayer rugs are found.  The next scene shows four Arab-looking guys entering a grocery store blowing up themselves and lots of customers.  Initial intel reveals that these terrorists were assisted into the country by Mexican cartels.  Who ya' gonna call?  Matt Graver has no scruples; the ends justify the means.  With the blessing of higher-ups, he is going to start a war between the cartels by kidnapping a daughter of one of the kingpins.  What could go wrong?
Benicio del Toro is fantastic as Alejandro Gillick whose family was killed by the cartel.  Who is having a better year than Josh Brolin (Matt Graver)?  As Thanos in The Avengers and Cable in Deadpool 2, his value is skyrocketing.  Besides that, he is as interesting to watch as any actor on the screen today.  Born in Cleveland to a Peruvian mother, Isabella Moner (as Isabela Reyes, the kidnap victim) looks like she has been acting since age 10 with the maturity of a young lady accepted into college at age 15. Catherine Keener brings a wonderful shadiness to her character as Graver's superior.  Jeffrey Donovan and Matthew Modine also have small roles.  I thought Modine was particularly weak.
This is another of those movies that you either like or you don't.  You have to tolerate lots of killing and give some credence to the fact that governments have off the record operations that are off the record for a reason.  They are illegal.  Most of us can probably acknowledge that our government has ordered some operations that would make for some crazy Congressional hearings, especially since it happens all too frequently.  Finally, you have to tolerate an ending which lacks clarity, except for setting up yet another sequel.  For those of you who have a position on The Wall and immigration, either pro or con, this is a movie that raises some nice questions.  Since it has few answers, it is not likely to change anyone's opinion.  Bottom line–notwithstanding its flaws, it was worth the price of admission.