It's official. Sam Mendes has his masterpiece. Not that American Beauty wasn't good, but 1917 is great. The one shot continuous action following Schofield and Blake across war-torn France is a stroke of genius. With very little plot, Mendes manages to capture the loneliness, the devastation, and the terror of war along with the unwavering will to survive and save your "brothers." When the odds of success are so terrible, the conditions so brutal, and the desire to crawl in a hole and die so probable, humans are capable of the unimaginable. For some, the rotting bodies, dead horses, and very large rats will be too much. Mendes wants to make it as real as he can. I give the film 4.5 Gavels and it receives an 89% Rotten Tomatoes rating with a 93% Audience Score.
Plot
On April 6, 1917, the Germans appear to be on the retreat. The Second Battalion plans to attack but HQ gets information that the Germans are setting a trap for those 1600 soldiers. Schofield and Blake get instructions to cross enemy lines to deliver the message call off the offensive. Barb wire, booby-trapped trenches, and snipers await. The question is not whether they can get there in time, but whether they can get there at all.
Actors
Don't be fooled by the big name actors, Mark Strong, Colin Firth, Richard Madden, and Benedict Cumberbatch, as each has only bit parts. 1917 belongs to George MacKay and Dean-Charles Chapman as Will Schofield and Tom Blake, respectively, as the camera follows them at every turn. Both are convincing.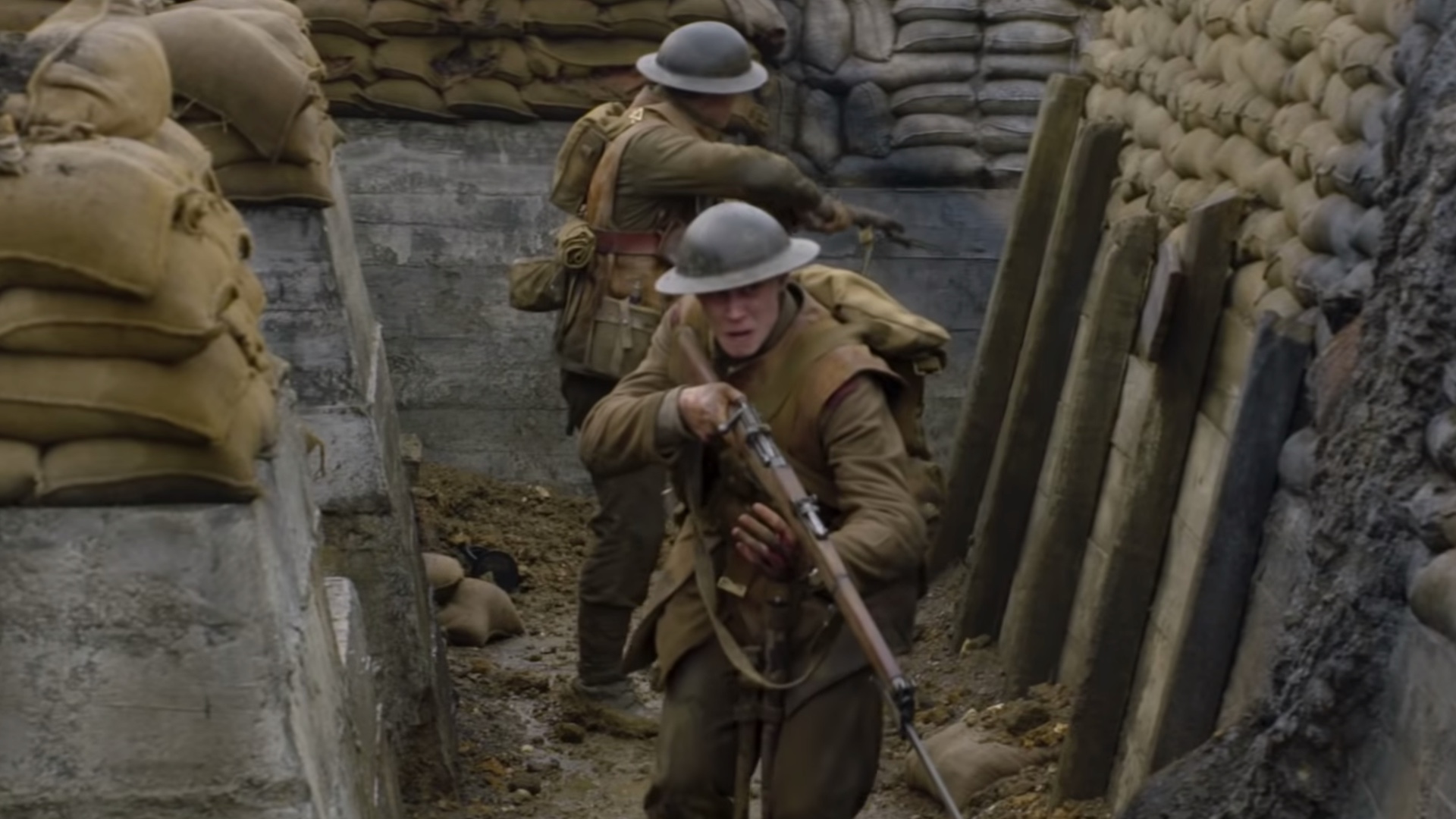 Final Thoughts
One of the most moving movie moments you will ever see is the Second Battalion listening to a solo soldier sing Wayfaring Stranger before entering the battlefield. You might want to listen to the song before you see 1917. Some critics complain that we don't get to know Schofield and Blake. One might respond that these two are in survival mode, not a lot of time for idle chit-chat. Numerous critics use the "War is Hell" quote. At the end, Mendes gives a nod to his grandfather for the genesis of this story. It's a gritty film, but an uplifting film. Grandpa Mendes, we thank you!