In my opinion, The Electrical Life of Louis Wain lacks electricity. Given a 71% Rotten Tomatoes rating and a 6.8/10 IMDb score, I may not be the cat's pajamas. Then again, if Louis Wain is the one responsible for altering an entire nation's view of cats, why did it take an hour into the movie until we saw our first cat? Apparently factual, this two hour film available on Amazon Prime is more a study of a "misfit" (their words, not mine) than an artist. Even today, doctors argue over whether he was autistic or schizophrenic. No one argues that Louis Wain managed his money well. The bill collectors were always at his door.
The Electrical Life of Louis Wain suffers from the same affliction as Spencer, though not quite to the same degree. As Diana' health deteriorates, it becomes too painful to watch. Yet, we are told that "the more intensely Louis Wain suffers, the more beautiful his work becomes." In this, the film fails, partly because Wain's work is not dated. No one is certain which pictures were drawn when. In any case, it is not until the final credits that the viewer gets an idea of the sheer scope of his work. I've included a couple of his pictures below.
Louis Wain is also a love story, a scandalous love story. Although folks thought him "odd," it was still far beneath his class to marry a governess. In that love, though now ostracized from his family, he finds his passion. Acted and filmed well, I found the the story slow and tedious. Overall, I give Louis Wain 2.5 Gavels.
Plot
At age 20, Louis Wain becomes the "man of the house" responsible for the welfare of his mother and five sisters. Luckily, the editor of Illustrated London News, Sir William Ingram, offers him a position if he ameliorates his behavior. Wain rejects the job, then changes his mind after his oldest sister hired a governess for the younger ones. Immediately smitten by Emily Richardson, ten years older than he, Wain has no idea how to woo the girl who lives across the hall. Despite his clumsy attempts, Emily finds Wain handsome and charming. Their marriage in 1884, damaging to the social standing of the female Wains, force Louis and Emily to live elsewhere. Within a short time, Emily develops breast cancer. It is a stray cat, Peter, that brings her comfort and changes the direction of Louis' life.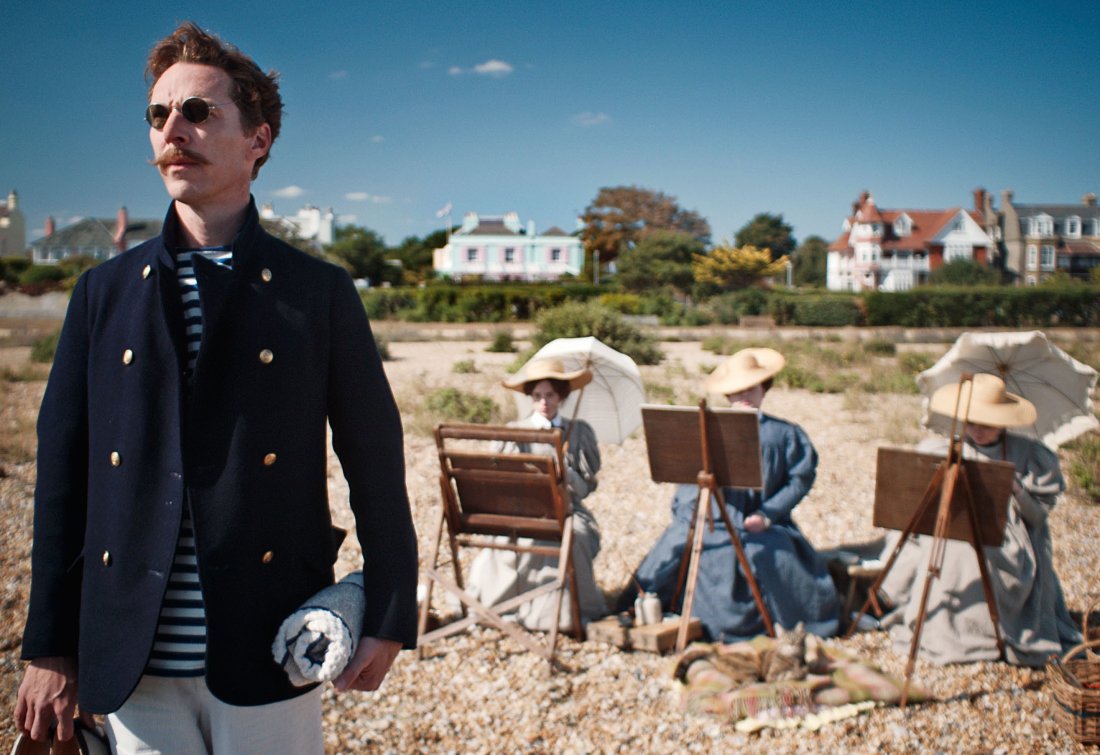 Actors
Benedict Cumberbatch (Doctor Strange, 1917) and Claire Foy (The Girl in the Spider's Web, The Crown) star as Louis and Emily. Both are typically wonderful, witness the high Rotten Tomatoes score. She reminds him "that the world is full of beauty. It's up to you to capture it and share it with as many people as you can." Louis' financial savior, Sir William Ingram, is acted by Toby Jones (The Last Thing He Wanted). Emily, says Sir William "wanted you to keep painting so you would not be alone. It is how you connect with people. The electricity you feel is love."
Final Thoughts
The electricity part of The Electrical Life of Louis Wain is the confounding part. As a wannabe inventor, Louis sees electricity everywhere, that is, when he is not seeing cats, or cats with electricity. Try as it might, the film just didn't connect for me. Just how well known was "The Cat Man?" Upon his hospitalization, such figures as H.G. Wells and the Prime Minister raised funds on his behalf. Who knew that mouse-catchers would be so popular?
"The Electrical Life of Louis Wain is uneven, and it feels a little too calculated, but it is a diverting tribute to its subject." Salon.com
"Louis Wain's paintings of cats had more energy and wit than anything in this film." FilmWeek (KPCC – NPR Los Angeles
"Tottering unsteadily between mining Wain's vast repertoire of eccentricities for comedy and slathering them in pathos, the movie winds up so busily whimsical it forgets to actually be about anything." Los Angeles Times
Even if you are a cat lover, I'm reluctant to recommend this one. Maybe if The Mouse House (Disney) had done this one . . .