The Tourist on HBO is only for the patient. First, let's not confuse The Tourist (2010), starring Angelina Jolie and Johnny Depp, with this six-part TV series. Second, if you only know Jamie Dornan from the Fifty Shades of Grey trilogy, the actor will surprise you. Third, The Tourist takes place deep in the Outback. Sadly Burnt Ridge, Cooper Springs, and Devil's Rock are all fictional. Likewise, there is no Karamundi, although there is a Currimundi, on the eastern coast far from our setting. Described as a drama and mystery thriller, I'd add it's a slow burn, somewhat like The Girl Before. Action comes in spurts, sometimes when least expected, many times with great violence.
Filmed in South Australia, The Tourist provides an accurate portrayal of the harshness and stark beauty of the Outback. Numerous times the viewer is told not to drive at night as kangaroos run straight for your headlights. Our story begins as a truck speeds up to run a car off the road, either a severe case of road rage or an attempt to murder. When the driver of the car wakes up in the Cooper Springs hospital, he has no memory of who he is, only brief meaningless flashes. A cryptic note in his pocket indicates a meeting the next day at Gloria's Diner in Burnt Ridge. A probationary cop, Helen Chambers, gives him bus money. Is it better to leave the past buried? I give The Tourist 3.5 Gavels and it receives a 96% Rotten Tomatoes rating with a 7.0/10 IMDb score.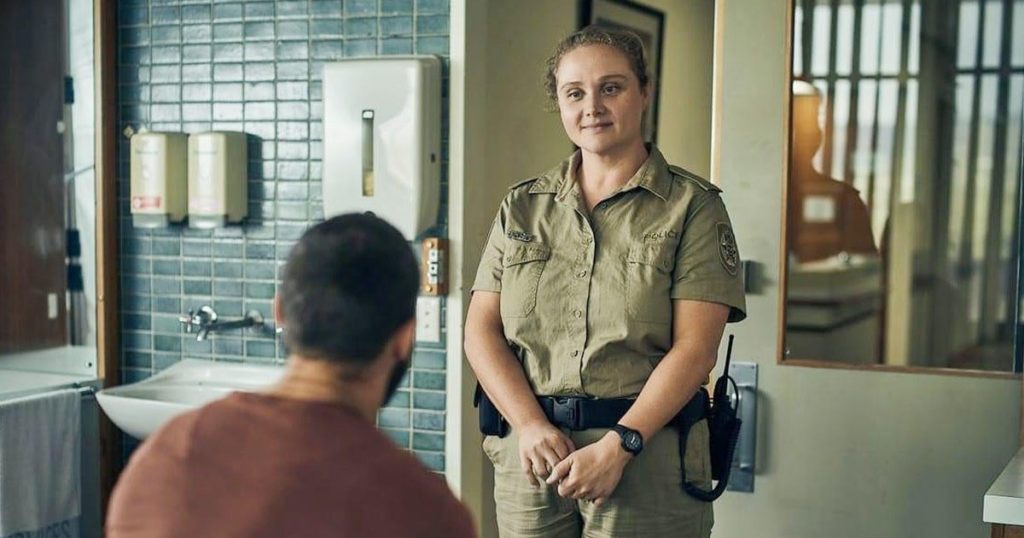 Plot
Arriving at Burnt Ridge, a helpful waitress, Luci Miller, offers directions to a nearby establishment. As they step outside, Gloria's Diner explodes. "I either have the worst luck in the world or someone is trying to kill me." In the meantime, a bearded American in a big red hat (pic below) shows up at the Cooper Springs hospital, flowers in hand, to see the man who survived the crash. Upon discovering the explosion at the diner was a bomb, not a gas leak, renown Detective Inspector Lachlan Rogers is dispatched to Burnt Ridge. A Greek drug lord, Kosta Pangyris, has an interest in the goings-on in Australia. All are about to converge.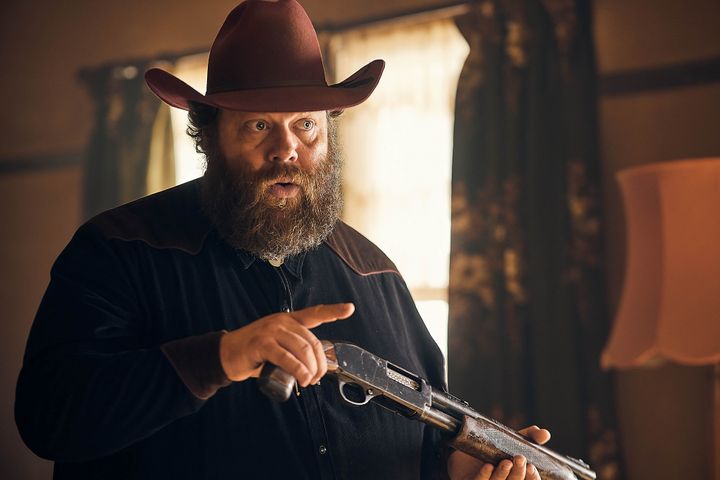 Actors
Although also in Belfast, Wild Mountain Thyme, and Robin Hood, to name a few of his films, and nicknamed "The Golden Torso" by The New York Times, Dornan was always more Golden Raspberry than Oscar. Along with Danielle Macdonald (Dumplin', I Am Woman) and Shalom Brune-Franklin (Line of Duty) as Helen and Luci, they form a compelling trio. Helen is the naive cop, certain that she is destined for something more. Luci has four passports and many, many more secrets.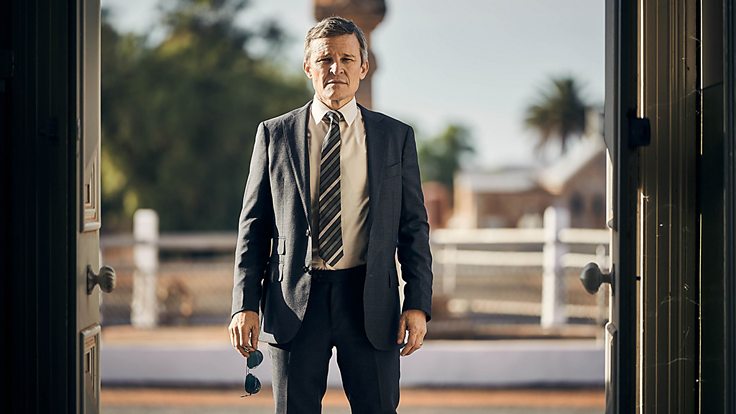 Final Thoughts
Our amnesiac needs to know whether he is a good guy or a bad guy. Is he so obsessed with finding out who he was that he fails to see who he is? Can people change? Do they deserve a second chance? Just how much will others overlook? At times, the temptation is to give up on The Tourist, at other times, you will demand the conclusion. For most, the end will be surprising, and likely unsatisfying.
"This funny, suspenseful six-part thriller doesn't merely keep us guessing. It keeps its amnesiac hero guessing, too. He knows even less about his own story than we do." NPR
"Dornan now joins the ranks of Robert Pattinson, Kristen Stewart, and former co-star Dakota Johnson as a person who made interesting choices after their franchise ended and looks to become one of our credible millennial actors." AV Club
Taste a little Athens, a little India, and a little Bali in The Tourist, and even get a Bonnie and Clyde reference. Overall, this one needs shortened, but if you are in no hurry, the ride's a bit bumpy, but worthwhile.