This version of Robin Hood is action in search of a movie.  Rather than re-imagining or re-inventing, this is tearing down and starting from scratch.  Even if you give it an A for effort, it gets an F for execution, which at best, is a C.  As presented, Nottingham is much more technologically advanced.  You would not describe these followers as your "merry men."  In fairness, this is before the gang arrives in Sherwood Forest, a backstory, if you will.  But, it adds nothing to the legend.  Perhaps, it should put a hood over its head.  I give it 2.5 Gavels and it gets an 11% Rotten Tomatoes rating.
Plot
Robin of Loxley is happy, Marion at his side, until the Sheriff sends him a draft notice.  Sent to fight in the Holy Land, he tries to save the life of an Arab.  The victim's father, John, follows Robin back to Nottingham.  John declares Robin the "chosen one" to get revenge against the Sheriff and his minions.  Together, they plot to steal the taxes taken from the people.  Marion, told that Robin was killed in the war, finds herself in the arms of Will, much to the chagrin of our hero.
Actors
As an action Robin, Taron Egerton is fine, but as a leader and lover of Marion, he falls flat.  Jamie Foxx is given a much-beloved character of (Little) John, but the script turns him upside-down.  At least the Sheriff is still evil as Ben Mendelsohn portrays him.  Eve Hewson  as Marion is the best of the cast, although that is faint praise in this muddled mess.  Finally, Jamie Dornan (Fifty Shades) is Will, but this variant spins him into another universe, maybe to join the upcoming Spider-verse.  Mr. Dornan is fast moving into my top 5 worst actors of all-time.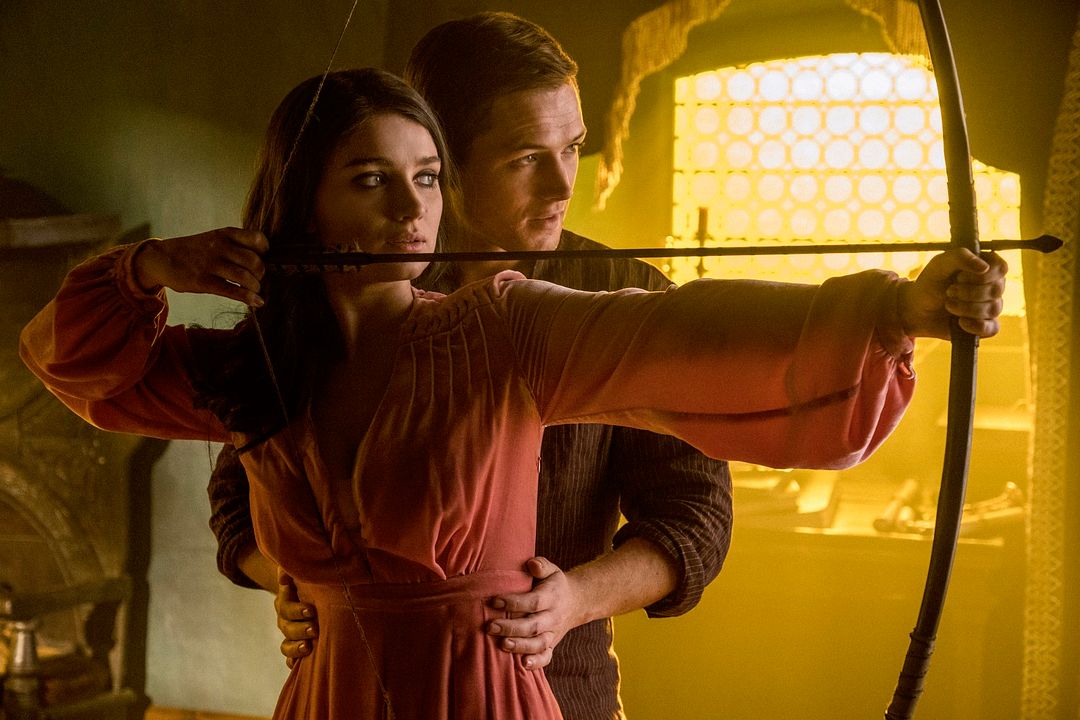 Final Thoughts
For a $100 million budget, this movie appears on most critics' Worst of the Year lists.  They make all sorts of jokes about robbing from the audience to give to the producers.  This "Hood" has all the makings of a big flop.  Strangely, the ending sets up a sequel, fat chance of that.  Giving credit where credit is due, the set-makers do some fabulous work.  You often hear me lament that they should put more money in writers and less in the sets.  More Robin Hood movies will be made in the future, the story is just too good to ignore.  My advice is to wait for the next one,