Dopesick may be the least enticing entertainment title ever. Do not let that turn you off. Based upon the book Dopesick: Dealers, Doctors and the Drug Company that Addicted America, this eight episode series on AppleTV+ looks at the Oxycontin epidemic from all angles. Purdue Pharma, its salesforce, doctors and pain clinics, the FDA and DEA, and the Justice Department are all in the crosshairs in this incredibly sad chapter of American life. To indicate Dopesick pulls no punches, early on a widow tells attorneys that her husband was "Oxy-cuted." Ground zero of the series is Finch Creek, West Virginia, a poor coal mining town. Did you enjoy Mare of Easttown? This has that same gritty feel.
Opening with Johnny Cash's Wayfaring Stranger sets the perfect tone for Dopesick. Watch in disbelief as Purdue Pharma claims its Class 2 opioid is non-addictive because of its time-release system. Be outraged that the FDA approves a new "label" for the drug without any clinical trials. Get out the pitch forks when the Chief Medical Officer who approved the label takes a similar position with Purdue Pharma. Rocks may be thrown through the TV when Purdue Pharma invents a new condition "breakthrough pain" in order to double, triple, and quadruple the dosage. By the time doctors, after psychological profiling, are seduced with gifts and trips, you've probably stormed out of the room, only to be sucked back in by the sheer audacity of the true story.
After the first three episodes, I give Dopesick 4.5 Gavels and it receives an 80% Rotten Tomatoes rating with a very good 8.4/10 IMDb score.
Plot
In 1996, the patent for MS Contin, an effective drug to reduce pain for cancer patients, is about to expire. Richard Sackler and Purdue Pharma spend $40 million to develop Oxycontin. It must sell or the company will go bankrupt. How to sell it? "Patients need no longer live in pain. Less than 1% will become addicted." In Finch Creek, Dr. Samuel Finnix is skeptical. But when coal miner Betsy Mallum and others report relief, he accepts the role of Oxy in his practice. Meanwhile, DEA agent Bridget Meyer and Assistant District Attorneys Rick Mountcastle and Randy Ramseyer notice an uptick of crime in their areas. Slowly, they will build enough evidence to convene a grand jury, but not until 2005. In the meantime, the Harlan County Pain Clinic charges $500 for an initial consultation and $125 to get a refill prescription. The line is out the door.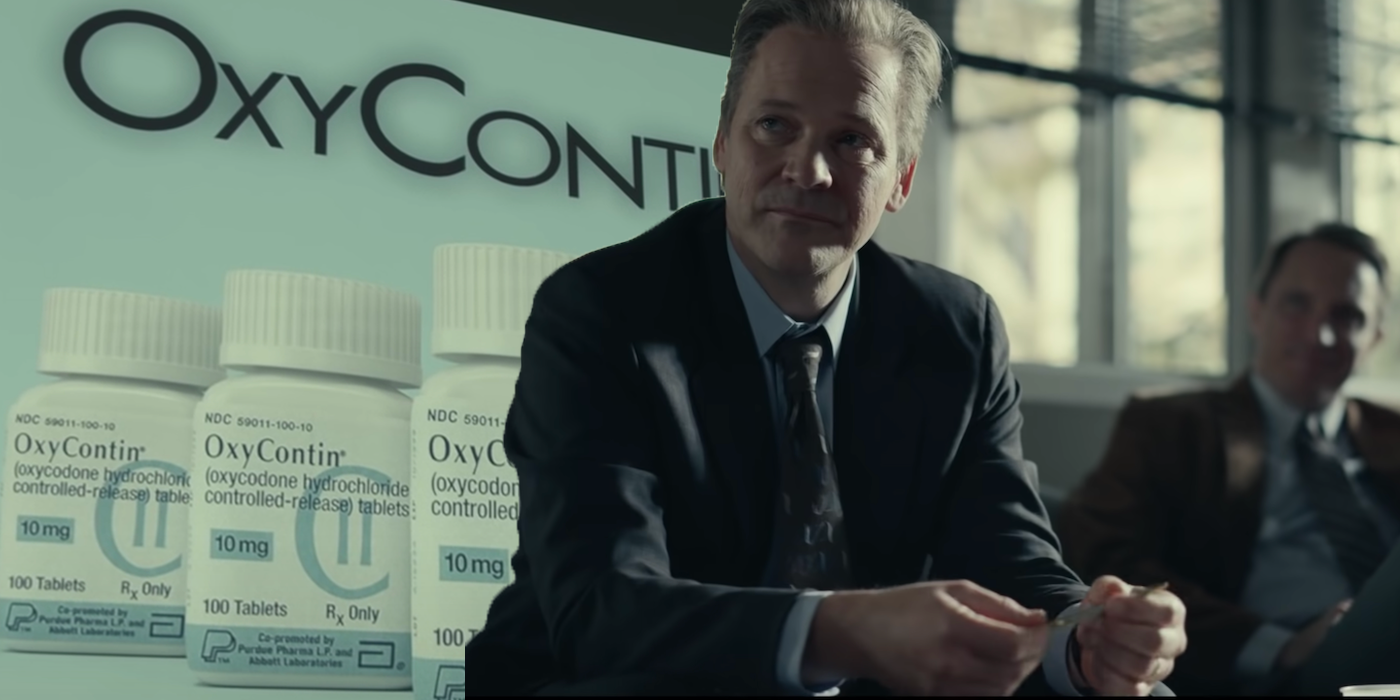 Actors
Just off an exceptional performance in Worth, Michael Keaton is even better as the folksy, country Dr. Finnix. He came to Appalachia with his wife to provide free medical care. He can't accept that he was so gullible. Although you saw him in The Post, Michael Stuhlbarg is far from a household name. From the very first moment he is onscreen, he makes Richard Sackler very easy to dislike. In the category of "you've come a long way. baby," I place Kaitlyn Dever. First noticed as the tomboy youngest daughter in Last Man Standing, since she expanded into such feature films as Detroit, Booksmart, and Dear Evan Hansen. As Betsy Mallum, she really comes to the forefront. Overall, this is a truly fine ensemble cast. Other notables include Peter Sarsgaard and Rosario Dawson.
Final Thoughts
His father a professor, his mother a poet, his brother a writer, sales rep Billy Cutler bemoans, "I'm the Roger Clinton of the family." Still, he pushes the pills. As "fellow" sales rep, Amber Collins, puts it, higher dosages cost more and our bonuses get fatter. Does your blood boil yet? The only negative to Dopesick thus far is the constant flipping back and forth in time. Can't anyone tell a linear story anymore?
"Dopesick deftly corrals the vast addiction epidemic through intimate, deeply engrossing stories of human devastation." Entertainment Weekly
"As the characters reveal their struggles, Dopesick gets better and better, emphasizing how dwarfed each individual is by the massive power of Purdue." Vanity Fair
Will this one end up as good as Chernobyl? Thus far, count me more than impressed.