If your child, or grandchild, wants to be a vet, or just loves animals, consider All Creatures Great and Small. The first episode of this re-make appeared last Sunday night on PBS. It was so good I tried to buy the whole season through Amazon rather than waiting for it on a week-to-week basis. That doesn't work as Prime only provides it as it becomes available. Darn! As an alternative, I then tried to watch the original from 1978. It was, let's say, too 1978. It needed an update.
In any case, this may be the first and last time a cow is prominently displayed on my featured image. The depictions of farm life in 1937 England seem realistic. All Creatures Great and Small doesn't shy away from the mud and manure. You will see the birth of a calf. As the farmer says, "I've seen it a thousand times. It never gets old." During the depression, 1937 England is a tough place to survive, let alone thrive. Cars and tractors are the future, not plow horses. Yet, the the simple humanity of All Creatures comes to the forefront. After only one episode, I can't go higher than 4.0 Gavels, but wanted to give you a heads up. This one looks special. Notably, it receives a 95% Rotten Tomatoes rating with an excellent 8.3/10 IMDb score.
Plot
Just out of veterinary school, jobs are tough to come by in Glasgow. James Herriot's mother urges him to give up his folly and work at the docks. Grumpy vet Siegfried Farnon needs help down in Yorkshire. But he runs off every applicant. Mrs. Hall, his housekeeper, tries one more time. After putting a plaster cast on a calf's leg at the farm of the lovely Helen Alderson, the rascals at the local pub "plaster" James. That leads to a near disaster. Siegfried is not happy. Will James be able to make it right?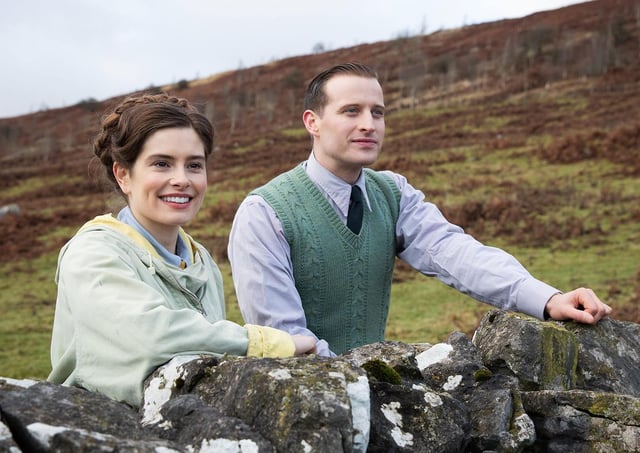 Actors
This is apparently Nicholas Ralph's debut. He was a solid choice for James Herriot. From Foyle's War and The Crown to Darkest Hour, Samuel West is another familiar British face. Is Siegfried's bark worse than his bite? Nominated twice for "sexiest female, " Rachel Shenton plays love interest Helen Alderson. Just after mentioning Diana Rigg in the post on The Hardy Boys, guess who show up as Mrs. Pumphrey? She's now an enchanting 82.
Final Thoughts
Darrowby, Yorkshire is a fictional town in Northern England. Farnon warns Herriot to prepare for lots of snow. For all their idiosyncrasies, it still seems a warm and inviting town. The countryside is magnificent.
"Hello and welcome to the balm of 2021, a show about pastoral scenes, sweater vests, and men getting kicked in the face by horses. The soothingness of this show. Everything in this first episode is as charming as a television program can be." (New York Magazine/Vulture)
"Look, it's not exactly Breaking Bad. But how nice, for once, to see this sort of programme made in a manner that is neither cynical, nor desperate, nor actively terrible. Cow gets sick, cow gets better. Hurrah. Now let's all have a sherry." (Times UK)
Overall, I would prefer to binge, but I'll take what I can get.