For tweens, The Hardy Boys might get 3.5 Gavels. For adults, I struggled through four of thirteen episodes. Hoping for a series of mysteries, The Hardy Boys is one far-fetched "thriller" that stretches on far too long. Set in fictional Bridgeport in the past, before cell-phones, but during the time of video games, these young men have a healthy curiosity. But, curiosity killed the cat. The dark story of this version of The Hardy Boys has at least six dead bodies and a vile seven-foot villain, all in just the first episode.
As discussed in Thursday Morning Coffee — 11/12/20, foreign governments are increasingly considering taxes on streaming services to subsidize local productions. A Canadian production, The Hardy Boys looks like Hulu's response. The acting, writing, and production values all seem substandard. Decider asks "do we want to stay with this mystery for 13 episodes? After the first episode, we're on the fence about that." You already know my answer. I give The Hardy Boys 3.0 Gavels and its receives an early 6.5/10 IMDb rating.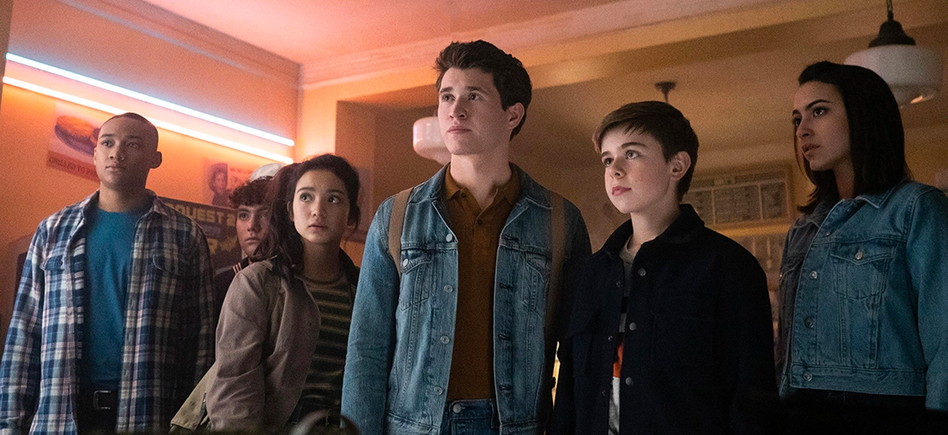 Plot
On the way to Frank's (age 16) baseball game, his mother dies in a car accident. Devastated, but initially suspecting no foul play, Detective Fenton Hardy moves Frank and Joe (age 12) to Bridgeport for the summer to live with Aunt Trudy. Almost immediately, a puzzling Mrs. Khan hires Frank to find her missing son who was providing inside information to his reporter wife. Their father now out of the country, Frank and Joe learn of a boat sunk on the ocean with several missing and presumed dead. One luckily survived with quite the story to tell. But, what is the connection to their mother's death? The Hardy Boys are on the case.
Actors
Just seen in Operation Christmas Drop, twenty-three year old Rohan Campbell plays Frank. He might be the weakest link in the show, much too old to be a teen. Also probably much older than his character, Alexander Elliot at least feels more comfortable in his role as Joe. The only character with much familiarity to Americans is James Tupper, he of Revenge and Big Little Lies notoriety. Rarely will you see a character (Fenton Hardy) with more bewilderment on their face.
Final Thoughts
During my misspent youth, a favorite show was The Avengers. John Steed's (Patrick Macnee) most famous assistants were intelligent, stylish and assertive women: Cathy Gale (Honor Blackman), Emma Peel (Diana Rigg), and Tara King (Linda Thorson). Who should appear as grandmother to The Hardy Boys? The enigmatic Linda Thorson, aging very well in her seventy-third year.
Ready Steady Cut opines "The Hardy Boys does not seem to offer anything remarkably thematic in today's world. I do believe it's important with a refresh of unoriginal content that something new is brought to the table." New or not, I'm moving to a different table.