Bridgerton moves ABC to Netflix without passing through PBS. That was a mistake. Presumably, Shonda Rhimes gets a boatload more money from Netflix to produce her shows. Problematically, unlike Masterpiece programs, Bridgerton is gossipy without the wit. It has the feel of books written by an American about the Brits, which it is. Overall, the eight-part series lacks the depth and character of British period pieces.
To be sure, the costumes and sets are lavish. Yet, despite much screen time devoted to Daphne and the Duke rolling around in the hay, they never really connect. The Duke's secret vow seems unlikely. The sub-plots are weak. So, take away the gossip regularly printed, and narrated, by Lady Whistledown and not much is left. All that said, after the first couple of seasons of Grey's Anatomy, I couldn't get into Rhime's subsequent offerings. If you enjoyed Scandal, How to Get Away with Murder, and the like, this may be your cup of tea. I give Bridgerton 3.0 Gavels and it receives a 91% Rotten Tomatoes rating with a 7.3/10 IMDb score.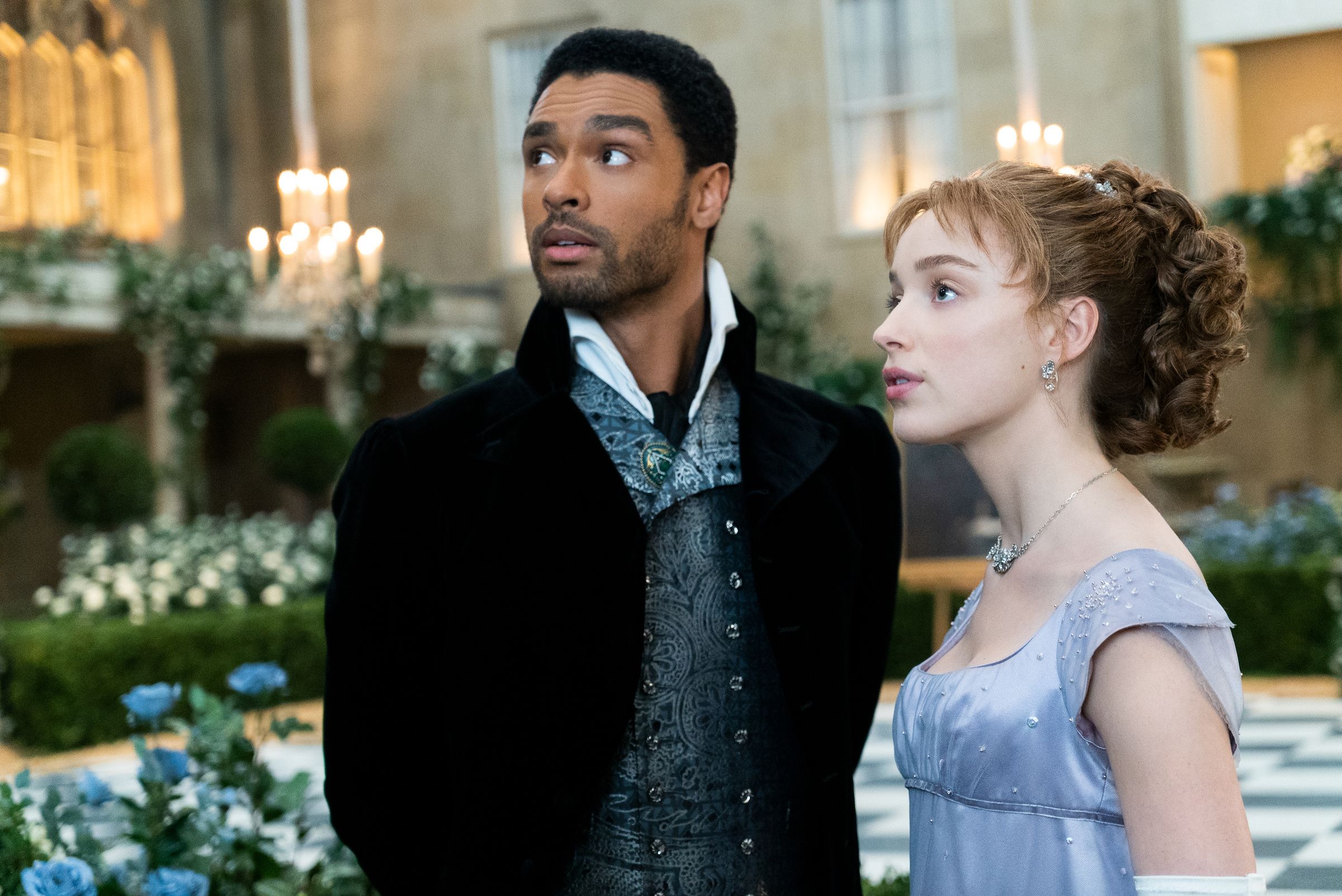 Plot
In 1813 London, it is the season for the Queen to "review" ladies of a marriageable age. Pronounced "flawless," Daphne Bridgerton is the brightest star of all, therefore fair game for the scandal sheet to watch for any missteps. Her brother's best friend at Oxford was Simon Basset, Duke of Hastings, a determined bachelor. She thinks him "presumptuous, arrogant and a rake." He thinks her "chaste, neat, and desperate." Naturally, sparks fly.
Actors
A noticeable voice in Aquaman and Despicable Me 3, Lady Whistedown is Julie Andrews, narrator only. Phoebe Dynevor appears as Daphne, but without sufficient gravitas. Likewise, I thought Rege-Jean Page miscast as the Duke. He does his best to sell his tortured past, but the privilege of the Dukedom doesn't carry the day.
Final Thoughts
In the male-dominated society of the times, the man of the house would often decide who the young lady might marry. Or, as one suitor put it so indelicately, "if I am buying a mare, I certainly do not negotiate with the horse." Another pertinent quote of interest for the 1800's, "heirs have responsibilities, second sons have the fun." More recently, that might sound like William and Harry.
The New Yorker writes "my empty, end-of-the-year brain was well served by the burlesque of selfish viscounts, conniving ladies of the house, and enterprising modistes. Less pleasurable were certain attempts at seriousness." Echoing my thoughts, Newsday posts "this is a handsome, lavish romance that will appeal to a large audience, but it's also painstakingly insubstantial." As I said, Netflix welcomes you to ABC-TV. At least, there are no commercials.