The trailer for Quiz just doesn't do it justice. The 2001 English scandal surrounding Who Wants to be a Millionaire is quite good, worth the effort to get the one-week free trial on AMC+. In October 1997, new Director of Programmes at ITV, David Liddiment, wants event TV. As it happens, Paul Smith, founder of Celador, proposes a new game show, Cash Mountain. He knows that a "good pub game" combines the two things Brits love, "beer and being right." To sweeten the pot, he will pay one-half if anyone wins the one million pounds.
Instantly popular, Quiz tells us that the viewership goes from nine million to nineteen million, i.e., one third of the population. ABC and Disney pounce on the opportunity to bring the show to the U.S. Against that backdrop, an underground forms to assist chances to get onto the show. For a mere 25%, Paddy Spooner says "the man who has the questions may be king, but the man who has the answers is God." So, did Major Charles Ingram and his wife cheat? The three-part series Quiz asks the same question with surprising results. I give the show 4.5 Gavels and it receives a 95% Rotten Tomatoes rating with a 7.4/10 IMDb score.
Plot
Adrian Pollock, brother of Diana Ingram, obsesses over the chance to get on, and win, Who Wants to be a Millionaire. He develops a strategy, including building a practice device. Mildly successful, he and his sister both win 32,000 pounds. Not satisfied, Diana insists that Charles try his skill at the game. But, Charles hates game shows. As Charles makes wildly unlikely guesses to win more and more money, Paul Smith and his crew become more and more suspicious. Did you know that there is Celebrity Crimes Squad at Scotland Yard? Charles and Diana are about to cross paths with them.
Actors
Matthew Macfayden (Ripper Street, Howard's End) and Sian Clifford (Vanity Fair) are the main defendants, Charles and Diana, in this wonderfully cast series. But, you also get Michael Sheen (Frost/Nixon) as the pompous host, Chris Tarrant. Best of all is Helen McCrory (Peaky Blinders) as Queen's Counsel Sonia Woodley, skeptical of the prosecution case from the beginning.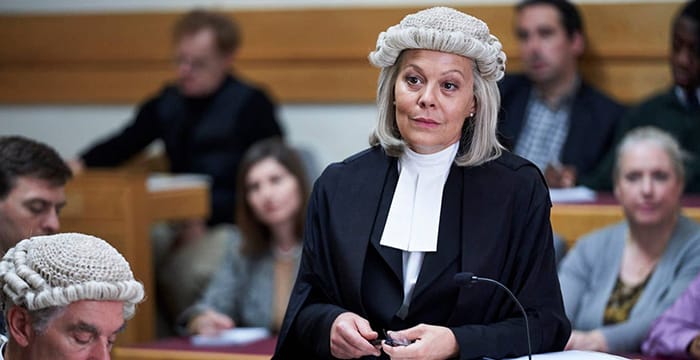 Final Thoughts
Quiz fits under the category of much better than expected. If you note the dates, the second day of the show was to air on 9/11. The events in America perhaps distracted the audience from the fact it didn't go on. Shortly, someone would notify the press that the Ingrams were about to be arrested. From a good game show to a "good ITV courtroom drama," Charles and Diana meet "justice as entertainment."
Vogue wants you to "come for MacFadyen in a short-sleeved, pastel color-blocked polo shirt, sweating under the show lights as he fumbles for the answers. Come for Clifford's clipped directives to her hapless husband…" Film Inquiry adds "Quiz is compelling far beyond the nature of its original source. More than that, the show is also witty and very funny, with stellar performances."
It doesn't get much better than that.