In case you've been wondering where Doc Martin is slumming around these days, find him on a Manhunt. The setting is quite different for Martin Clunes. He moves from from the idyllic seaside village of Portwenn to the killing green of southwest London. No longer does the surgeon afraid of blood mingle with the quirky residents of Cornwall, but now deals with the bureaucracy of police departments and a possible serial killer. (If unfamiliar with Doc Martin, it gets an excellent 8.3/10 IMDb rating.)
Manhunt is the true story of the investigation of the death of Amelie Delagrange. Det. Chief Inspector Colin Sutton gets his first opportunity to be lead investigator. The case has similarities to another murder but is told they don't link because they have a suspect in that case. Over the next year, his team painstakingly reviews hundreds of hours of CCTV tape, and begins to track down some 25,000 vehicles until two overlooked pieces of evidence yield a possible suspect. Despite the slow process, Manhunt remains highly suspenseful. I give the three part series, available through Amazon Prime at $7.99, 4.0 Gavels and it receives a 92% Rotten Tomatoes score with 7.4/10 IMDb rating.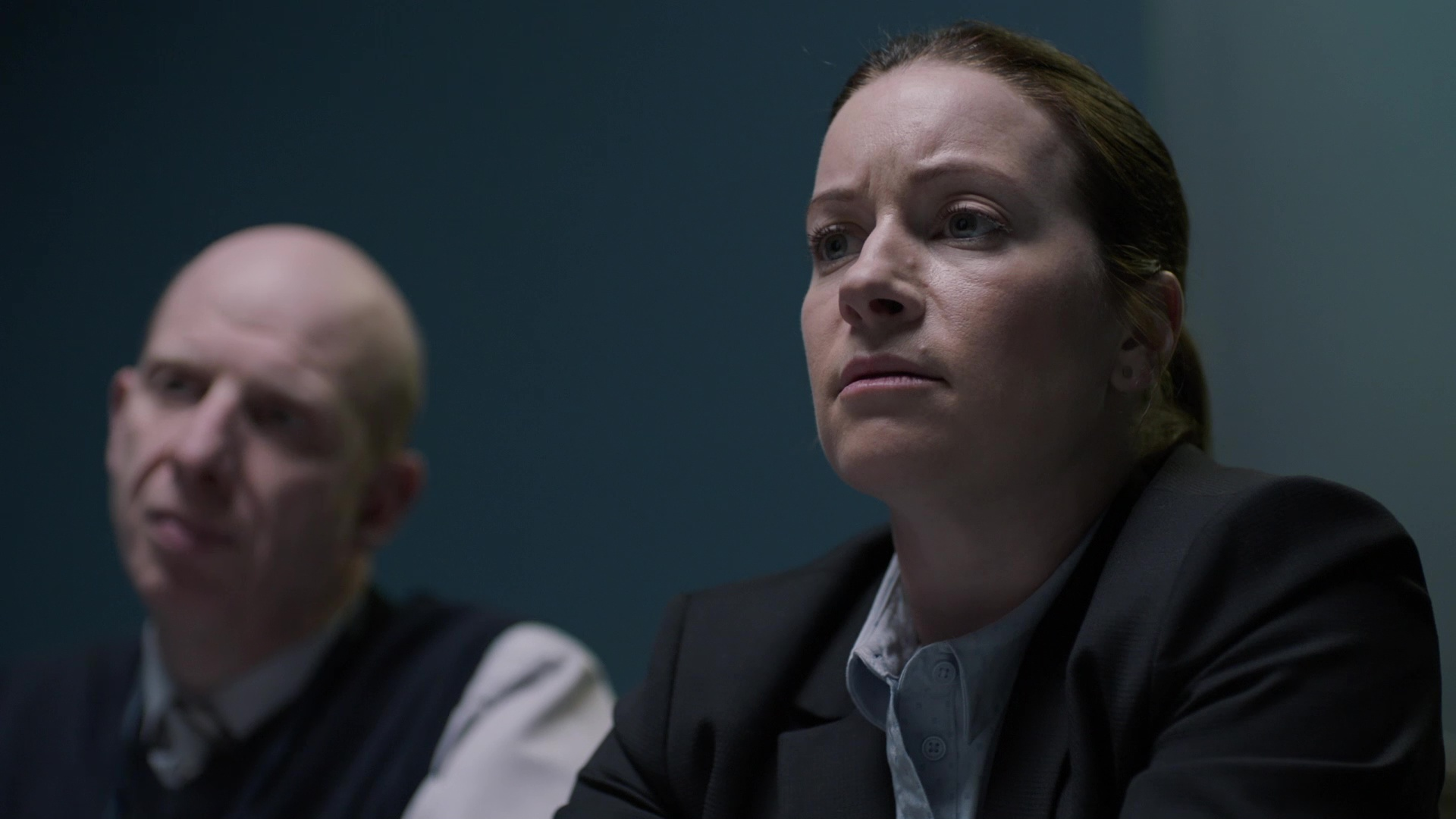 Plot
On August 19, 2004, a passerby finds a female beaten to death with blunt force trauma to the head on Twickenham Green. Amelie is a 22 year old French student in London for only two months. Told that the Marsha McDonnell case has no connection, Sutton is skeptical. Det. Grace soon uncovers another attack on Edel Harbison, though dissimilar in manner, is similar in type of victim. Sutton's wife, Louise, works as an analyst for the Surrey P.D., ordered not to share info about yet another victim, Milly Dowler. With only a fuzzy photo of a white van, and a suspicious guy that may look like Diego Maradona, the Manhunt begins.
Actors
Martin Clunes' personality seems to fit perfectly the dogged determination of DCI Sutton. As you might expect, you get a full range of emotions as the case ebbs and flows. As his second-in-command, Katie Lyons (Det. Jo Brunt) is solid in her support of the "Guv," despite the pessimism of some of the troops. Seen in Grantchester, Lark Rise to Candleford, and Cranford, Claudie Blakley plays Sutton's wife. It would be an understatement to say that her co-workers are not happy with her husband.
Final Thoughts
By 11/19/04, Sutton knows that the killer is still active and that bus stops are his hunting ground. The Manhunt team understands they have enough evidence for an arrest, but are far from a conviction. Then, the media forces their hand.
The Sunday Times states "it exposed, horribly, the random cruelty of the world…but offered the small hope that there were good people out there, quietly cross-referencing, mapping, listening, making sure the worst stories had the best ending possible." AARP Movies for Grownups notes "Clunes proves as good at drama as he is at comedy."
Good old-fashioned police work can be entertaining. Moreover, Levi Bellfield is portrayed to be the monster that he is!