Even if you are familiar with shows such as The Crown and Versailles, the grandeur portrayed in War and Peace can be stunning. The Romanovs amassed wealth on par with any dynasty. Having the opportunity to visit Russia in 2014, the pictures here only give the briefest glimpse. Set during the Napoleonic Wars, BBC (via Amazon) transports you to a time of innocence, yet a time of upheaval. Pierre, Natasha, and Andrei will find themselves much changed from 1805 to 1812.
Oddly for a series likely filmed in 2015 in Russia about Russians, the director cast only Brits and Americans. That anomaly aside, those who read the four books and two epilogues of War and Peace claim the show is largely faithful to Leo Tolstoy's work. How do you sum up such an opus? Men will be scoundrels, women will be devious, and innocents will get hurt. I do wonder why it's called War and Peace because most of the time they are at war or getting ready for war. In any case, in this work where everyone eventually seeks forgiveness, I grant it along with 4.0 Gavels and it garners an 88% Rotten Tomatoes rating with an 84% Audience score.
Plot
In 1805, Napoleon invades Austria. Russia rushes to defend to defend its ally. Naive Pierre admires Napoleon, a quality not shared in the aristocracy. His best friend Andrei, unhappily married, is ready to join the front lines, to fight for his country. Natasha is coming of age, her family not wealthy, but certain she will shine in the light of society. The Kuragin siblings, along with Dolokhov and Drubetskoy, will upset their lives in ways they can't imagine.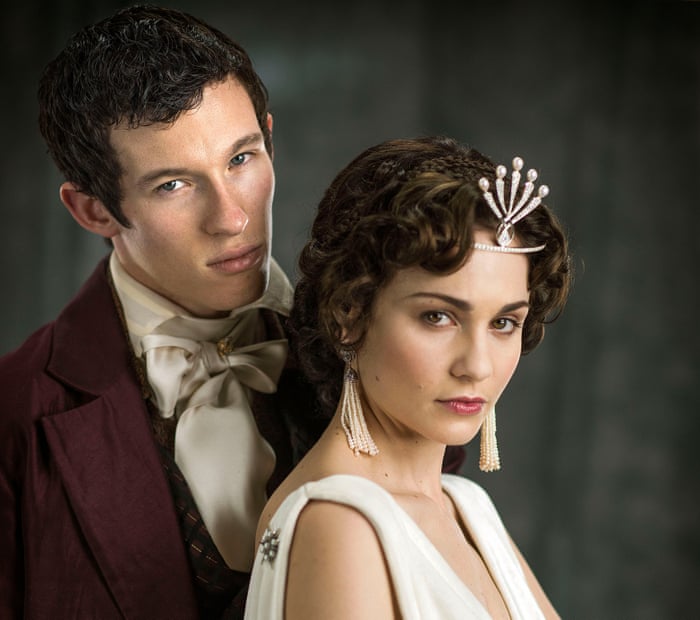 Actors
Just after noting his directorial debut in Wildlife, Paul Dano stars as the idealistic, socially awkward Pierre. He wants to change the world but has no idea how. With Baby Driver, Mamma Mia, The Guernsey Literary Society and Yesterday, Lily James is ubiquitous. Watch her as she tries to avoid the deceitful Kuragins and you will understand why. Also seen in Grantchester, Mr. Jones, and Little Women, James Norton is no less sought after.
Final Thoughts
If you want to know more about War and Peace, check out Mental Floss and BBC. From "you have the gift of happiness" to "where has our lovely girl gone," perhaps it is Natasha that undergoes the greatest transition. The love triangle of Natasha, Andre, and Pierre sometimes simmers, sometimes boils, but is always worth watching. Notably, The Telegraph places this series fifth in its list of the greatest television adaptations of all time.
The LA Times expounds, at length, "with its empire-waist gowns, and scenes set in parlors and ballrooms, and soldiers of better and worse moral quality coming and going, and advantageous and disadvantageous matches being discussed and made, the miniseries plays much of the time like a Slavic version of Jane Austen (who was writing in the years when "War & Peace" is set), with more violence and less humorous irony."
The Hollywood Reporter notes "this new War and Peace looks ravishing and boasts a cast peppered with Oscar and Emmy winners, all impeccably costumed. . . It's a march through epic battles, epic romance and epic intellectual discovery. . ."
Ultimately, this march through "history" takes a little time and effort, but is well worth it.