If you want science and dramedy, re-watch The Martian. If you want soap opera with "video calls and office politics" (Wired), check out Away. This 10-part series just released on Netflix has an "international" cast, some great space scenes, and, at times, nerve-wracking tension. Typically, I complain about too little back-story. Here, the focus seems to be more on the psychological toll on the astronauts, cosmonaut, and taikonaut. As a result, the nine month journey to Mars becomes slow and maudlin.
Away does everything it can to present danger after danger to the crew. Fire, solar panel deployment malfunction, disease, and water recovery system failure are but a few of the challenges, not to mention body adaptation and family deprivation issues. Since the Russians and the Chinese are part of the Mars Joint Initiative, geo-politics rears its ugly head. For all this, Away drags as we endure constant texts, emails and video calls. This series runs at least four episodes too long. I give Away 3.5 Gavels and it receives a 68% Rotten Tomatoes rating with a 64% Audience score.
Plot
Financed in large part by the Americans, Emma Green is the Commander of the three-year mission to Mars and back. Ram Arya, a surgeon from India, is co-pilot and second-in command. Misha Popov, a Russian who logged more time in space than any other in history, is the engineer. Mission specialist Lu Wang is a chemist. The Chinese insist that she be the first to step onto Mars. Finally, the botanist determined to grow plants on Mars is Kwesi Weisberg, born in Ghana, but raised in England.
Actors
Hilary Swank (The Hunt) and Josh Charles (The Good Wife) are our astronaut couple. Grounded by medical problems, Matt engineers solutions for Emma onboard. If you need a Russian actor, Mark Ivanir (Red Sea Diving Resort) is always available. He provides a little comic-relief in this otherwise long, long journey.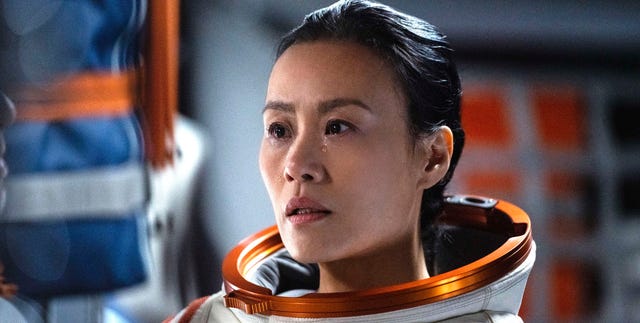 Final Thoughts
"There is no better word in the English language than 'go,'" says the flight director. This, despite multiple reasons to scratch the flight before leaving the lunar launch site. Netflix covers the markets in Russia and India with rather traditional characters, but I wonder how a lesbian taikonaut will play in China. Specifically, Decider reports that American films with gay themes can't be shown there.
Film Festival Today writes "an often appealing cast does much to repair the screenplay flaws, if not enough to propel Away triumphantly forwards. If this is our mission, we may just be doomed." Film School Rejects thinks "the action aboard their ship is riveting…Unfortunately, Earth is where we spend a good half of our viewing time." Ultimately, Away needs a fast forward option to speed us 17,000 miles per hour through the melodrama. Without that, it risks becoming a snoozefest.
(Note: If you missed it, my review of Mulan posted yesterday. Check it out!)