For any prosecutor, present or former, Bad Education is cringeworthy. Why? We've seen this movie before, over and over, in real life. An organization "trusts" an employee, has weak or non-existent checks and balances, and ignores warning signs. Then, the Board acts surprised when money is stolen. In the case of Roslyn Public Schools, it amounted to over $11 million. For the most part, Bad Education is an accurate portrayal of the largest school theft in American history (History vs Hollywood). And, although puffed up for the film, it was a reporter for the school newspaper that blew the whistle on the scheme. Didn't any one notice that the roof was leaking at the same time the administration wanted $7.5 million for a Skywalk? I give this HBO film 3.5 Gavels and it receives a 93% Rotten Tomatoes rating with and 82% Audience score.
Plot
Rachel is doing a "puff" piece on the Skywalk and needs a quote from the Administration. Superintendent Frank Tassone tells her "it's only a puff piece if you make it a puff piece." Soon, she is in the basement looking at receipts and purchase orders. Meanwhile, Tassone is in Vegas cheating on his "spouse," while Ass't Supt. Pam Gluckin loans a school credit card to family members. Home improvement purchases come to the attention of the Board President, but Gluckin gets a slap on the wrist. When you are rated the fourth best public high school in the nation, your kids are getting into Harvard and Yale, and property prices are skyrocketing, certainly there is no need to bother the taxpayers. At least until the Hilltop Reporter discloses a $20,000 round-trip Concorde flight to London for two. And that is just the tip of the iceberg.
Actors
Cast a movie with Hugh Jackman (The Greatest Showman), Allison Janney (I, Tonya), and Ray Romano (The Big Sick), and you have a darn good start. Acknowledging that the portrayals are a tad over-the-top, it still is baffling that the Supt. and Ass't Supt. were able to keep this going for ten years under the nose of the Board President. Where were the auditor and State Auditor? The most honest performance is by Geraldine Viswanathan as Rachel, recently seen in Blockers, probably much to her chagrin.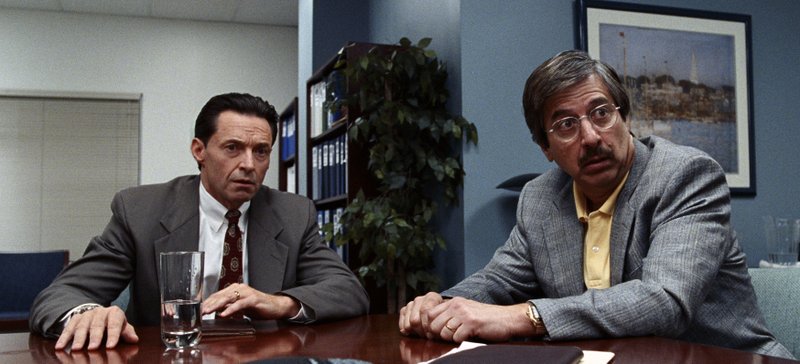 Final Thoughts
Like all embezzlement, this one starts out small with a $20 pizza. But, how many lead to a $2.7 million piece of real estate in Florida? How many pay $800,000. to their Manhattan lover for minimal work? Moreover, of those, how many get a pension of $173,495.04/year for life.
CNN.com notes "with Hugh Jackman and Allison Janney as a can't-miss combination, Bad Education joins a juicy true story somewhere in the middle, drags before getting into the meat of it, and then rallies solidly in the second half." My favorite quote by the LA Times is "Bad Education reminds us how synonymous great acting and great lying can be." HBO paid $17.5 million for this one. I profess to having no understanding how the economics of these deals work out, but $3.99 on Amazon is a heck of a lot better than $11.50 at the theater.