Can the heirs of Governor Arthur Phillip sue the producers of Banished for slander? Set in the early days of the establishment of a penal colony in Australia, Banished presents the proposition that female convicts were little more than sex slaves. Women were not to consort with male convicts unless they were married. Soldiers used a priority system to select females. Since there were so few females, soldiers often shared. Rather barbaric, wouldn't you say?
Except, The Sydney Morning Herald proclaims "no one should be under any illusion that it resembles the settlement that was established on the shores of Sydney Cove in 1788. This is what you have to do in 2015 to get convict history on television." If lashings, hangings, blackmail, and immoral British soldiers are of interest, try the seven-part series on Amazon. I give Banished 3.0 Gavels and it receives a better than expected 7.4/10 IMDb rating.
Plot
Elizabeth is caught in the male convict quarters. If she discloses her partner, Tommy will hang. She receives 25 lashes. Pvt. MacDonald and Kitty conspired to defeat the "selection" process so they could be together. Major Ross discovers their deception and demands two nights/week with Kitty. With 1,000 convicts and only 100 soldiers, Ross tell the Governor, that "the law that you despise is the law that keeps us alive."
Actors
MyAnna Buring of Downton Abbey and The Witcher plays Elizabeth. She is willing to do whatever it takes to survive. On the opposite end of the spectrum, Joanna Vanderham, as Kitty, thinks that suicide may be the best way out. Major Ross is easily the most hated character of the month, so far. Joseph Millson (The Last Kingdom, Angel Has Fallen) really brings the evil. For those of you who miss the The Hound from The Game of Thrones, Rory McCann brings more of his imposing, threatening persona as Marston.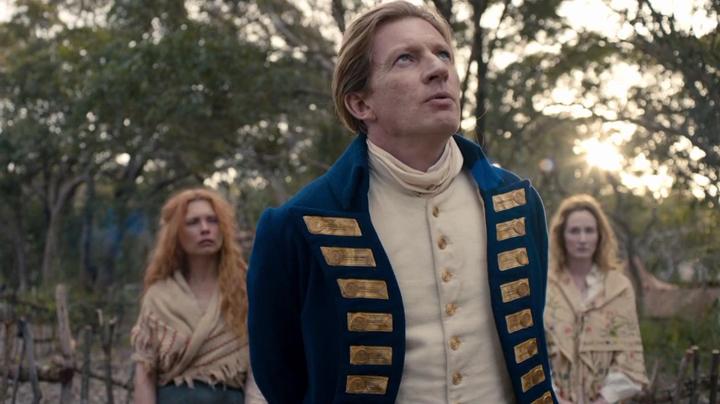 Final Thoughts
The Governor tells us "that England does not give a damn about us. It just wants to get rid of its scum." (His words, not mine.) Since England could no longer send its convicts to America, that part of Banished has some truth to it. Still, the history of food shortages, poor soil, few farmers, poisonous creatures, and establishment of a new society should have provided sufficient fodder for the series. And what about the omission of the interaction with Australia's indigenous people (The Guardian)? In the end, I wouldn't go so far as to say that Banished should be banished. But the historical underpinnings are, like the convicts, a long way from home.