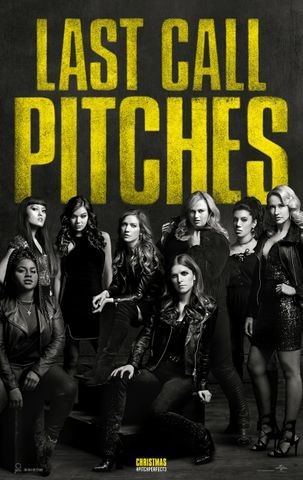 After the disappointing Pitch Perfect 2, why did the world need a Pitch Perfect 3? Some financial history. PP1-budget $17 million, gross $115 million. PP2- $29 million, gross $287 million. PP3-budget $45 million, gross TBD. Attending a sold out theater filled with teen girls (and lots of giggling), this franchise doesn't seem to be slowing down. The music is good, the story is weak, the quips are "groaners." Nonetheless, the characters are likable and familiar. As we know, the critics do not indicate commercial success.
The Bellas have graduated and are trying to find themselves in the real world, with limited success. John and Gail, the commentators, are filming a documentary about the "downfall" of the Bellas. Wanting to continue to sing together, Aubrey proposes that they join a USO tour in Spain. DJ Khaled has three other groups performing and one will win the honor of being his opening act. All of this is complicated by Fat Amy's long-lost, international criminal father who wants to re-establish a relationship.

Anna Kendrick returns as Becca in fine voice. Rebel Wilson is as inappropriate as ever as Fat Amy. Hailee Steinfeld plays the dumb (or maybe not so dumb) girl, Emily. Brittany Snow and Anna Camp hold the group together as Chloe and Aubrey. John Lithgow is Fat Amy's father with an absolutely terrible Australian accent, but then he had an absolutely terrible part.
While there is nothing new in this formula, the riffs remain and are still a treat. The competition, especially Evermoist (yes, suggestive comments are made about this) and Saddle Up, needed more screen time. John and Gail (John Michael Higgins and Elizabeth Banks) are still an intentionally mismatched team. As the Bellas move on with their lives, one of them is now pregnant but I will not divulge which one. And, they are all looking for love, another complication to be overcome. Ultimately, this movie can't hold a candle to The Greatest Showman but it is that pleasant diversion, not worth dropping everything to see it, but you won't hate yourself if you stop by.