Creative, sweet, poignant, and cruel all describe Upload on Amazon Prime. Add in some satire, a murder mystery, and a love story and you get a 4.0 Gavel ten-part series. So, why did I downgrade to 3.5 Gavels? Like Bosch, each series should bring us at least a semi-conclusion. Upload needs a re-program as this fine story cruelly leaves us dangling on many, many fronts. Still, the year 2033 brings us the promise of a different kind of afterlife, one with all the glitches of today's technologies and corporate manipulations. Experience self-driving cars, seasons that change by thermostat, dinner "printed" in your microwave, and taste enhancement upgrades in this creative view of the future.
Watch poignant moments as a twelve-year old boy may never age because his parents want to remember him as he was. Forbidden by her employer to bond with a client, the love of an "angel" for digital afterlife goes beyond sweet to palpable. A hint of the worthiness of Upload is exhibited in its 81% Rotten Tomatoes rating and its 94% Audience score. Off to a slow start, I was hooked by Episode three.
Plot
Nathan Brown and his partner are developing freeware to compete with the expensive afterlife of Lake View. Badly injured in a car accident, his girlfriend, Ingrid, uploads his memories to the Horizon-owned digital Grand Victorian so that she may be able to join him at her demise. His customer service Siri-type is Nora, on-call to help him adjust to his new surroundings, even as an avatar, if necessary. Frustrated that Ingrid now monetarily controls his afterlife, Nathan is attracted to Nora "as 32% are to their 'angels'." Will Horizon be able to develop a process to re-implant memories into a cloned body? Can love occur between the real and the digital? Did someone want to kill Nathan to stop his program?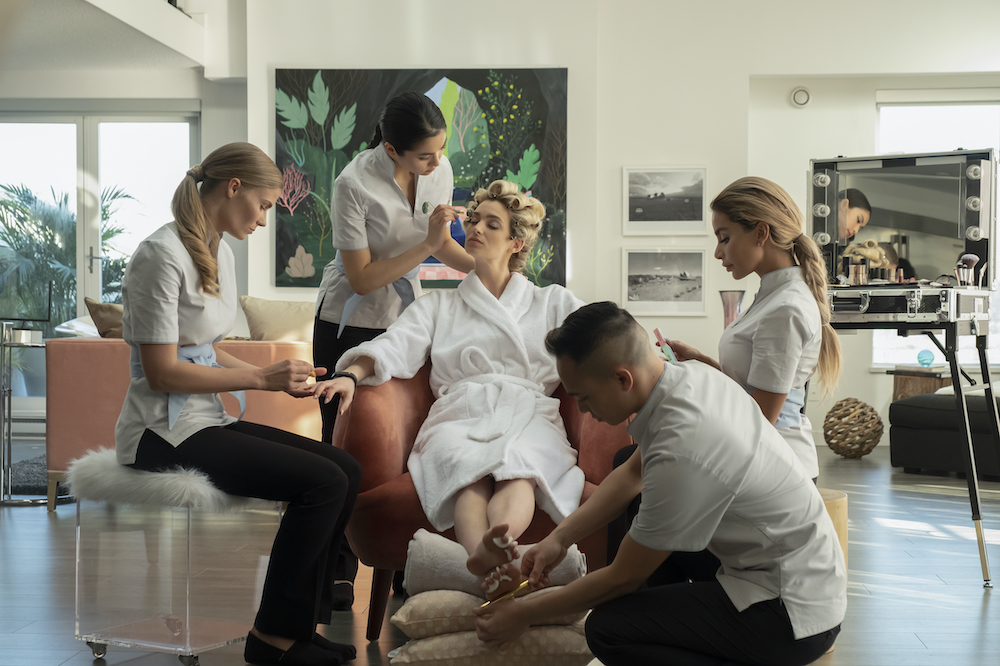 Actors
One of the best acting performances of 2020 is by Andy Allo (Pitch Perfect 3) as Nora. Her voice and emotions are what Siri wishes she could do. It is her skill that makes Upload seem possible. Robby Amell plays Nathan who does grow on you, although I'm not sure he is the right choice for the role. Stereotype-blonde Ingrid is acted by Allegra Edwards, very promising as a narcissist.
Final Thoughts
Sorry, but the nuisance of product placements and payment for app add-ons only gets worse in the future. Yet, that is the "fun" of Upload as we cringe and laugh at the same time. The Chicago Sun-Times writes "there's a lot of heavy stuff at play here, but it's all handled with a deft touch. Even when Upload gets serious, it's never more than a scene away from being funny as hell." Given the topic, critic puns are inevitable. As one says, "fast-paced, very funny and ultimately life-affirming, Upload is (you guessed it) to die for." Typically not the type show of interest to me, I found it to be much-better-than-expected. If only, they hadn't left us hanging "in the cloud."