Will I be a sap for Cyrano? Or will Bergerac bring me down? For those I disappointed with my lack of affection for West Side Story, let's say I liked Cyrano slightly better, although not so much that I recommend you rush out to the theater. Put Cyrano in the Saturday night streaming category, entertaining but not quite captivating. If there were such a category as Best Heaving Bosoms, surely Roxanne would be a winner, far and away. The director seems to equate that part of the female anatomy with love, true love.
In case you didn't know, Cyrano is a musical, nominated for numerous awards. For that matter, I thought the songs very good. The sets, the production quality, and the acting are all very good. So, why do I hesitate? Although written just over 100 years ago, the film is set in Paris nearly 500 years ago. By today's standards the story is a bit quaint, understandable for 1640. Roxanne demands her man be poetic although certainly she has a physical attraction to Christian. "Why can't I have both," she asks Cyrano? But, will this "woo with words" strike a chord with today's audiences? Rated 87% by Rotten Tomatoes, critics like it, scored at 5.9/10 IMDB, audiences not so much. I give Cyrano 4.0 Gavels.
Plot
"Children need love, adults need money." Duke de Guiche has money and he wants the fair Roxanne who has little. Cyrano and Roxanne have a platonic relationship, they talk of love, but not of love for each other. When Roxanne learns that Christian is a new member of The Guard, she urges the witty and gifted swordsman, Cyrano, to look out for him. "Urge him to write to me," she begs. Cyrano can deny Roxanne nothing, so he becomes Christian's "soul." Unhappy to be rebuffed by Roxanne, the Duke sets in motion events that will rip apart this triangle.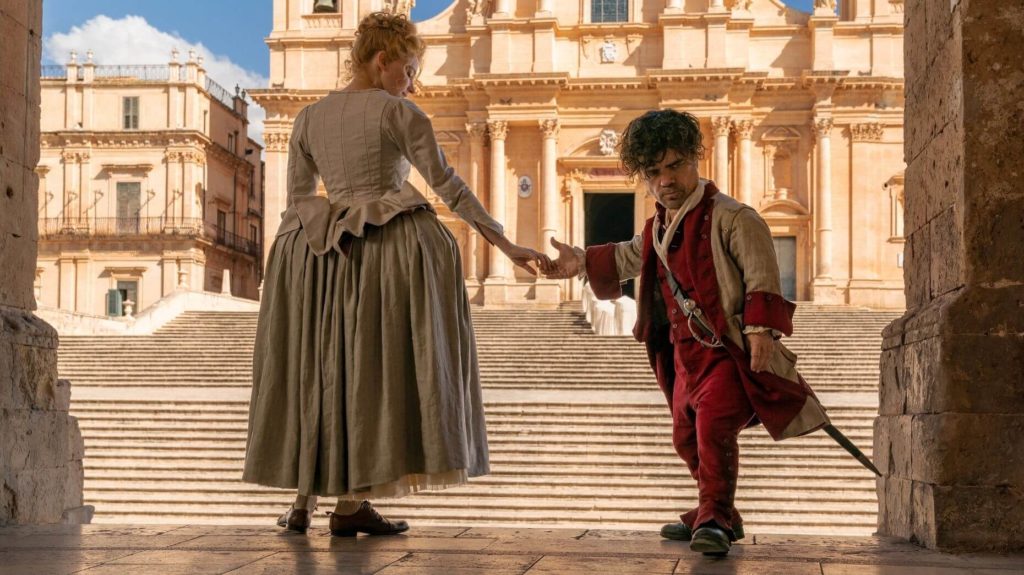 Actors
Tyrion Lannister can sing. Tyrion Lannister can sing. You know him as Peter Dinklage of The Game of Thrones, but here he is Cyrano. Instead of a big nose, re-imagine Cyrano as a self-proclaimed midget that society would never accept as a partner for the beautiful Roxanne. So, how did Haley Bennett (Hillbilly Elegy) become Roxanne? I'm sure it didn't hurt that the girl from Ohio lives with the director. Seriously, she has a fine voice and makes a wonderful Roxanne. Kelvin Harrison Jr., recently in The Trial of the Chicago 7, acts and sings as Christian.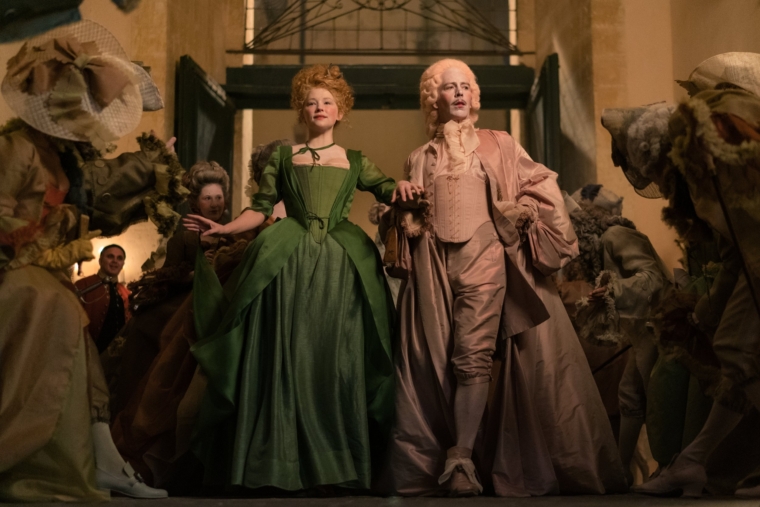 Final Thoughts
Someone To Say, Wherever I Fall, and I Need More are particularly nice songs in Cyrano, haunting melodies that stick with you. Dinklage is clearly the surprise, the camera closeups revealing his every emotion, the audio capturing his trembling voice.
"Almost every shot is framed like a Renaissance painting, and the songs, by members of indie-rock stalwarts the National, have an earnest, orchestral tunefulness." Entertainment Weekly
"Exactly what you'd expect from the director of 2012's 'Anna Karenina': It's crowded and whirling and wildly over-the-top theatrical, to the extent that you almost need to go lie down after it's over." Seattle Times
Surprisingly, Cyrano was not released on Valentine's Day. Certainly, it would have been a much better choice than Book of Love or I Want You Back. Very few attended our showing on a cold, rainy night, not a good start for a film costing $30 million.