If you still have any kid left in you, spare thirty minutes and watch Robin Robin on Netflix. As we await the onslaught of major films, this is, dare I say, a weak week. Nothing tempts me to stray to the theater, so I found this little gem as I awaited the World Famous Ohio State Buckeyes take on the former #1 Coach K-led Duke Blue Devils. In basketball, it did not go well for the interlopers from Carolina. Likewise, in Robin Robin, Cat gets the early upper-hand, then falls to our feathered friend. Cute doesn't begin to describe this short, and it has a Christmas angle.
Which is your favorite stop-motion movie, Chicken Run, Shaun the Sheep Movie: Farmageddon, or Early Man? Brought to you by Aardman Animations, the same folks who bring you Wallace and Gromit, Robin Robin has the same wit with a few silly, albeit catchy, songs. How can you not fall in love with a bird who wants to be a mouse? Of course, Robin is an absolute failure at following mouse rules. He knows the secrets of the sneak. Never leave a trace and don't make a sound. Because, if the who-man sees you, you can't go back. If you do, traps or a kitten await. Horrors! What can Robin do to make up for a botched sneak? Maybe a Magpie can help, or not. Clever and fun, I give the film 4.0 Gavels and it receives an early 86% Audience score with a 7.2/10 IMDb rating.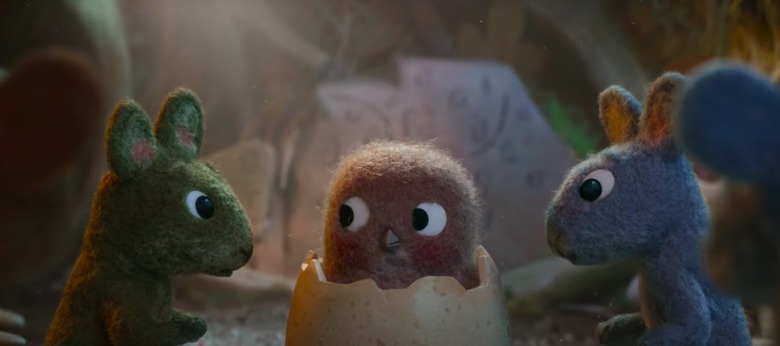 Plot
A blue egg falls from a tree, taken in by a family of mice. "Can we eat it?" asks Dink. Dad Mouse and his family of thieves raise Robin in the ways of the mouse. After a failed adventure, Robin is more determined than ever to get crumbs for the whole family. A chance encounter with Magpie teaches Robin about Who-mans and the spikiest tree, covered in tin-soil and boo-bells, topped with a magic star. And, in the morning, they get whatever they wish. So, steal that star and get whatever you wish. Maybe Robin should have wished that Cat remained asleep.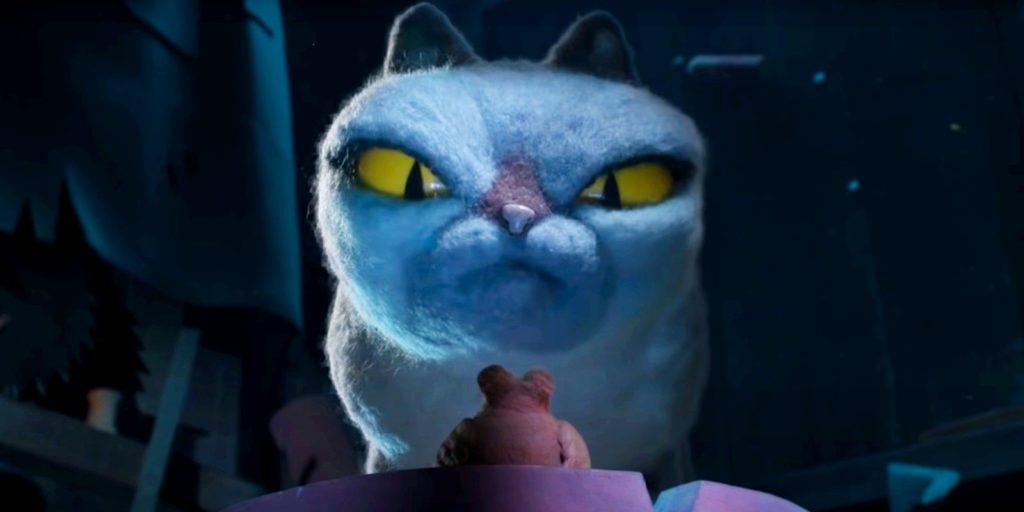 Actors
Seen in Christopher Robin and On Chesil Beach, Bronte Carmichael voices the innocent Robin. Much better known, and with a seriously sinister voice, is Gillian Anderson (The Crown) as Cat. "You'll never be a mouse, you're a misfit, an oddball, a freak. You don't fit but you would fit in my belly." With terrible threats like that, Cat will certainly get no catnip under her tree. Richard Grant (Hitman's Wife's Bodyguard, Loki) voices the nervous Magpie.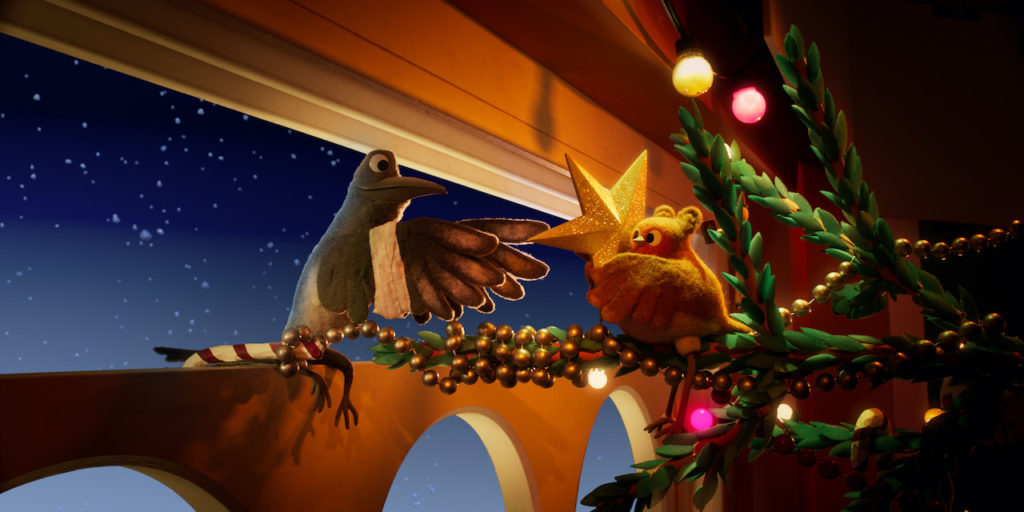 Final Thoughts
"I'll get the star. One thing I'm good at is sneaking. Follow me," Robin tells Magpie. If imitation is the sincerest form of flattery, Magpie is a flatterer extraordinaire as he sneaks with the same effect. In the end, your heart will melt over the "you may be different, but you're still family" message.
"Despite its cosy, familiar tale of finding home within an adoptive family, Robin Robin marks a major break from tradition for Aardman Animations. It's the studio's first musical, packed with a rousing clatter of songs that sound as if they were performed by Dick Van Dyke's one-man band from Mary Poppins." Independent (UK)
"Rather than emulating reality, Aardman creates a hand-crafted look that, thanks to the tangibility of stop-motion animation, is as cozy to watch as a roaring fire on a chilly night." The Spool
This one will bring a smile to your face and a twinkle to your eye, if not a bird in your belly.