Really, not much is wrong with Ron's Gone Wrong. Friday morning's radio critic gave all the reasons why we shouldn't like this film. A funny thing happened on the way to its scheduled release last November. No, not the pandemic, rather Disney purchased Twentieth Century Studios. What does Disney need with another animated film? They could put it on Disney+ or they could ignore it and fail to pre-screen it for critics. In other words, Ron's Gone Wrong is a "dump." Hold on! Another funny thing happened. The critics like it and give it an 81% Rotten Tomatoes rating. And, it gets a solid 7.1/10 IMDb score.
"You'll never survive Nonsuch Middle School without a friend." But, Barney has no friends, and he is the only one at his school without a B-Bot. Created by tech giant Bubble, B-Bot is sort of Facebook on wheels, designed to help you make friends. Without one, Barney is doomed to sit alone on the "Barney bench" at recess and suffer jokes about his rock collection. Finally recognizing how miserable Barney is, his dad and grandma purchase a B-Bot late at night in a back alley. Very few of his functions work, including the one that protects children. So, if Ron's Gone Wrong, why not educate it to be a proper friend? What could possibly go wrong? In a touching story of what it means to be a true friend, I give the film 4.0 Gavels.
Plot
Barney is on his way to return the defective B-Bot when they run into Rich and his fellow bullies. With its safety switch turned off, Ron fights back and protects Barney. Now, all the other kids want a cool Bot like Ron. Worried about its bottom line, Bubble must find and re-program or destroy Ron. Barney is not about to let that happen. Friendship goes both ways.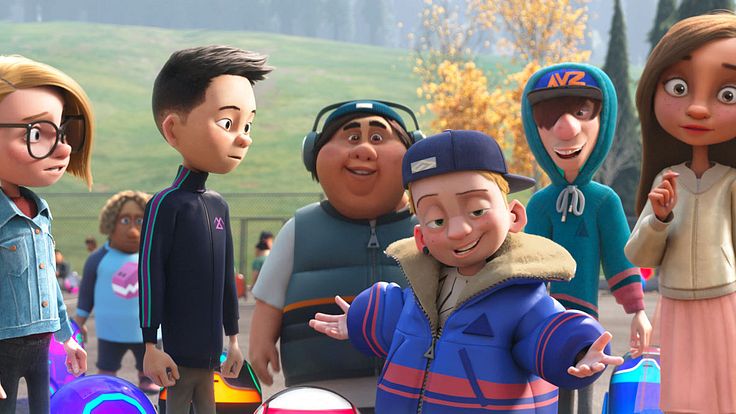 Actors
Recently the Missing Link, it's probably appropriate that Zach Galifianakis voices Ron. He's made a nice career out of being slightly defective and glitchy. The voice of Luca's best friend, Alberto, was Jack Dylan Grazer. Here, he gets top billing as Barney Pudowski. Barney's geeky dad, Graham, is none other than Ed Helms (Tag) and his grandmother, Olivia Colman (The Crown).
Final Thoughts
Who knew that spoofing the tech giants spying on us and preying on our kids could be so enlightening and fun? Ron's Gone Wrong has a message for both kids and adults. At least now we know where the cloud is. If you liked The Mitchells vs. the Machines, you will like this one.
"Ron's Gone Wrong has plenty of slapstick and potty humor for kids. But adults will also be intrigued by its frequently scathing (albeit somewhat conflicted) critique of consumerism." Washington Post
"Visualised with verve, it's a zingy, mercilessly funny satire on how devices, with their ever-so-friendly interfaces, have in fact become our despots." Daily Telegraph (UK)
At 106 minutes, 10 minutes could easily be cut. Still, there's always something to be said for cute robots.