If you've got kids, explore the cute and creative world of Luca. Seen on Disney+, Pixar transforms sea monsters into humans who just can't wait to get their hands on a Vespa. Aren't sea monsters too scary for little kids? These may be the least monstrous sea monsters ever. Warned by his mother to never go near the surface, Luca knows he must hide from the "land monsters" aka humans. Yet, as he finds items from the human world on the sea floor, he becomes more and more intrigued. Fellow teen sea monster Alberto encourages Luca to take a chance. Besides, what teen doesn't want to explore the unknown?
As they leave the waters behind, Luca and Alberto magically change from scales to skin. Kids, and adults, will find humorous Luca's first attempts with land legs. While the Magic Lady Singing machine enchants, it is the Vespa that enthralls our intrepid adventurers. It is the Holy Grail of human inventions. But, how do they get their hands on one? To do so means that they must enter the nearby town and encounter the humans. Danger lurks everywhere, and they must not get wet. Wonderful animation accompanies this coming-of-age story along with a suitably smarmy Italian bully. I give Luca 4.0 Gavels and it receives an 89% Rotten Tomatoes rating with a good 7.6/10 IMDb score.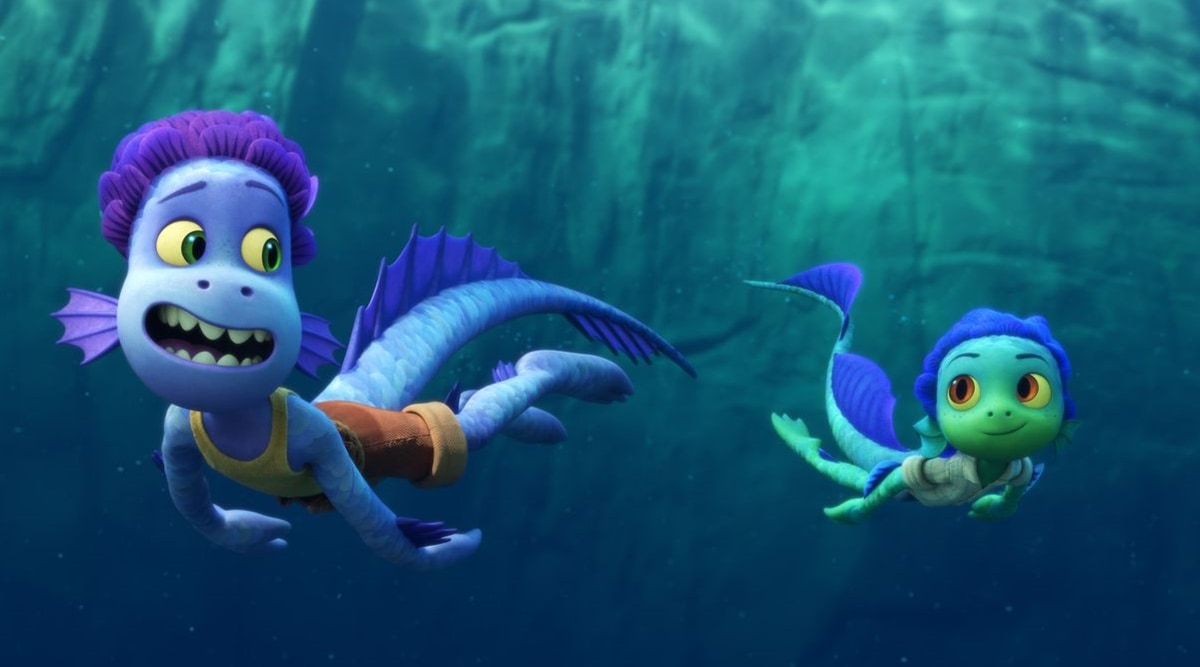 Plot
Ercole, winner of the last five Portorusso Cup races, taunts Guilia for her inability to keep down her pasta during the race. The race is a triathlon consisting of swimming, eating, and biking. Joining forces with Guilia, Luca and Alberto are certain they can win and earn enough money for a Vespa. Except, swimming will reveal them to be the hated and hunted sea monsters. Alberto has never used a fork. And, Luca has never been on a bike. Most worrisome, Luca's parents now enter the human world to find their wayward son. Moreover, the fishermen are certain that sea monsters lurk nearby.
Actors
Jacob Tremblay likely first came to your attention in Room, then later in Wonder. Now, at the ripe old age of fourteen , he is a seasoned actor. Here, he voices Luca. Seen in Shazam, Jack Dylan Grazer is the voice of Alberto. A newbie, Emma Berman rounds out the triumvirate as Guilia. As in any trio, a little jealousy always rears its ugly head. Will it be "the world" or Genoa?
Final Thoughts
As Guilia and company seek to end Ercole's "evil empire of injustice," Luca seeks a new day, a new life. Ultimately, the message of education becomes prominent. Yet, at what risk to Luca? "Some will accept him. He seems to know how to find the good ones." And, the "underdogs" win again!
"There is pasta and gelato, fountains and cycling, a mustache-twirling villain and starry night skies. It's a tiny vacation with a healthy serving of imagination." Vox
"It's not in the same league as such Pixar classics as 'WALL-E' and 'Toy Story,' but there's no denying the pure enchantment of the visual, comic and subtextual dazzle in this tale of two sea monsters trying to pass for human boys in 1960's Italy." ABC News
For those critics who contend Luca will not be "deep" enough for adults, I found it to be a refreshing change from the emotions of Inside Out and the out-of-body experience of Soul. What adult doesn't like a good sea monster story?