In giving the viewer the origin story, Shang-Chi and the Legend of the Ten Rings pays homage. Not just to mythical creatures and Chinese legends, this Marvel film also reminds of some other great action films, none of them by Disney. Is that Sandra Bullock driving the bus in Speed? Is that Tom Cruise hanging off the side of the building in Mission Impossible: Ghost Protocol? Or is that Godzilla vs Kong, not to mention Crouching Tiger, Hidden Dragon? Yet to suggest Shang-Chi is derivative is a disservice. These terrific action scenes have their own unique feel, all shot sparing no expense from the deep pockets of Marvel and Disney.
At its core, Shang-Chi is a story of six people, a father, mother, a son and his girlfriend, a daughter, and an aunt. Each has a special set of skills, even the girlfriend, though she is yet to realize it. When you think family, you think close-knit, but not the family of Wenwu. His thirst for power over 1000 years makes him a candidate for worst father of the millennium. At the death of his beloved wife, Ying Li, Wenwu begins the training of his son, Shang-Chi, age seven, to be an assassin. The first kill is at age 14.
Meanwhile, Wenwu ignores his daughter, Xu Xialing. She runs away at age 16 to Macau becoming the owner of an underground fight club. So, how does a man like Wenwu ever become a beloved husband, and for a brief time, a loving father? That takes the viewer back to the village of Ta Lo and the beautiful Ying Li, the only person able to tame the man with the powers of a god and immortal life. The tale begins. I give Shang-Chi 4.0 Gavels and it receives a 92% Rotten Tomatoes rating with a 99% Audience and 8.1/10 IMDb scores.
Plot
Ten years after his "kill," Shaun lives in San Francisco, far from the clutches of his father and his Ten Rings organization. After an attack by Razor Fist, and discovering his pendant is missing, he fears for the life of his sister. Xu Xialing makes no bones that she felt abandoned by her brother, leaving he and Katy to fight off Razor Fist once again. Xu Xialing changes her mind, only for all to become captives of Wenwu. Removing his daughter's pendant, Wenwu now has the clue to finding Ta Lo. The village holds powers that could destroy mankind, protected by great warriors and animals unknown to the rest of the world. Are they enough to defeat the powers of the Ten Rings?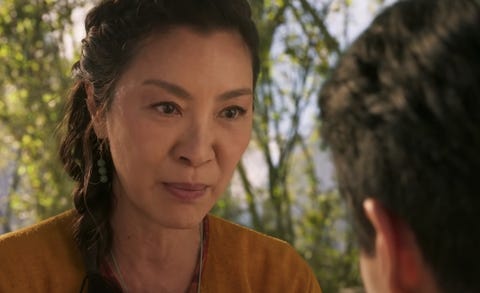 Actors
He got his start as an extra in the film The Pacific Rim. Now, Simu Liu joins the Avengers world as Shang-Chi, post-Endgame. That's quite some leap from Kim's Convenience seen on Netflix. Awkwafina (Crazy Rich Asians, Jumanji, Raya) is the go-to actress if you need an Asian funny girl. She might seem an awkward choice for a girlfriend, or is she destined to only be a forever sidekick, Katy. Named by CNN as one of Asia's 25 greatest Actors, Tony Leung plays Wenwu, supremely confident that the world is better under his complete domination. He looks darn good for being 1000 years old.
Final Thoughts
Undoubtedly, Shang-Chi will enjoy great success everywhere but China. China recently banned films with "incorrect political positions" and apparently disapproves of its casting and source material. Therefore, despite being Marvel's second biggest market, this film and Eternals have no release date. That means they will be pirated like Black Widow and Marvel and Disney will not receive all their due.
"It's fresh, it's alive, it's not the same old Marvel Cinematic Universe. There are also awesome dragons." New York Post
"An exciting, heartfelt origin story with a wow of a fight scene on an articulated bus." Movie Mom
"Liu… is simply a joy to watch. He's the MCU's most significant and infectious rookie since the late Chadwick Boseman with the same face-of-the-franchise appeal as Chris Evans." USA Today
After a 45 day exclusive theatrical release, you will be able to watch Shang-Chi on Disney+. I saw it on IMAX and it is a feast for the eyes and the mind. I still can't get over a pig without a head but with wings. Other "beasts" are as imaginative and magical. MCU is a license to print money for Disney. Lots of things to do this Labor day weekend, but you might want to add this one to your list.