Netflix calls it SAS: Rise of the Black Swan but Google knows it as SAS: Red Notice. Is it because a $200 million film called Red Notice arrives November 12th? The latter has a bit more star power with Dwayne Johnson, Gal Gadot, and Ryan Reynolds. A Red Notice is a request to law enforcement worldwide to locate and provisionally arrest a person pending extradition, surrender, or similar legal action. The SAS is Special Air Service, a special services unit of the British armed forces which handles counter-terrorism and hostage rescue, among other roles. In Black Swan, the SAS is tasked to arrest those wanted for crimes against humanity in the Republic of Georgia. Oddly, those wanted reside comfortably inside England's borders. Notably, they had protection at the highest government levels.
Who wouldn't want a ride on Eurostream from London to Paris through the gorgeous English countryside in the comfort of a posh railcar? You might hope the Black Swan are not aboard. In a tale of double-crosses, betrayal, and corruption, the two main characters are Tom Buckingham and Grace Lewis. On opposite sides, Grace proclaims them the same. Neither thinks about those they've killed; neither loses any sleep over their victims. Moreover, as trained killers, can either ever truly love anyone? With great production values and plenty of action, Black Swan is a nice evening romp. But for a few highly unlikely scenes, this one might have been special. I give Black Swan 3.5 Gavels and it receives a 53% Rotten Tomatoes rating and a 5.0/10 IMDb score. (To give you a complete picture, the Rotten Tomatoes Audience score hovers at 80%, a significant difference of opinion.)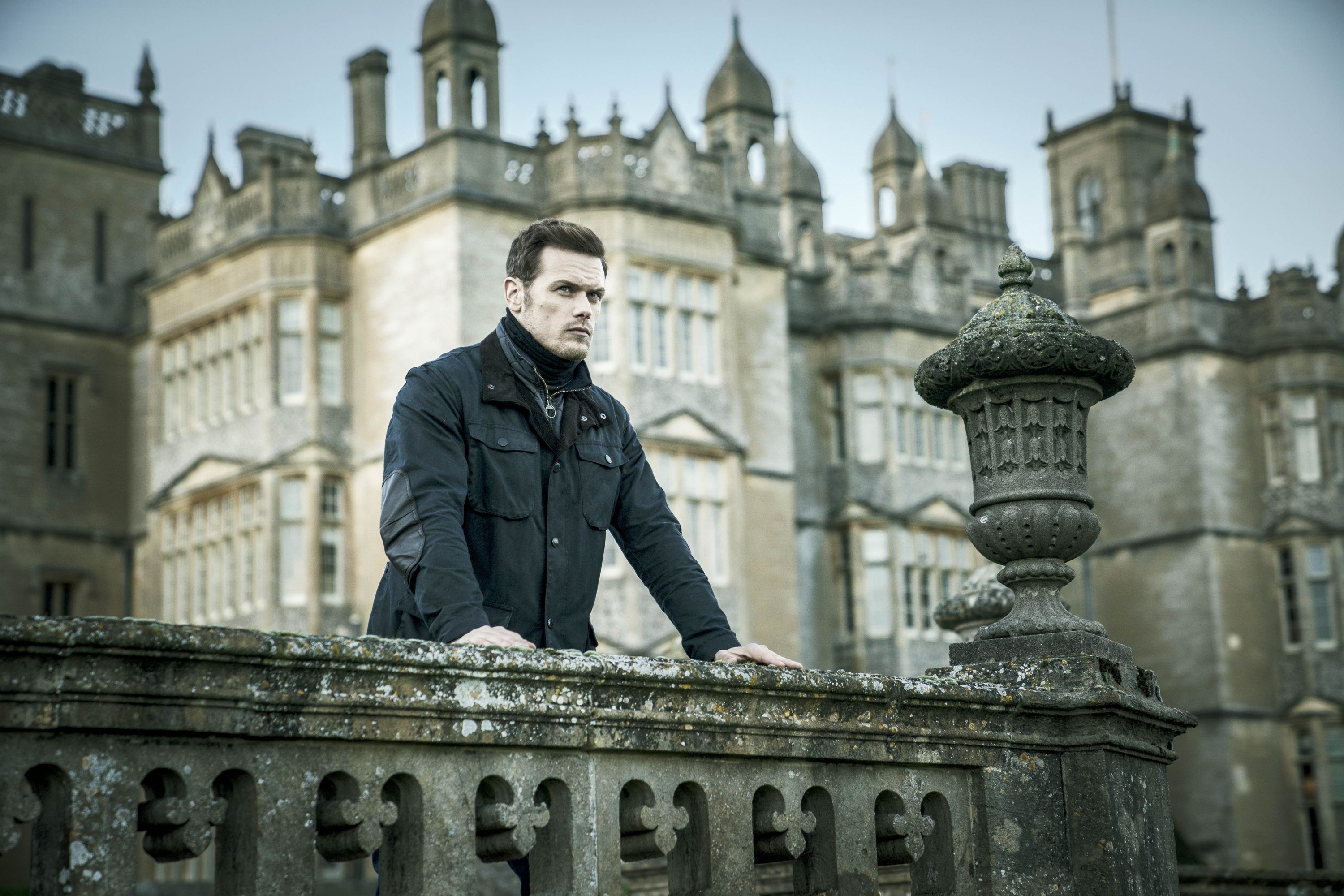 Plot
William Lewis, Grace Lewis, and Oliver Lewis head up a private force (Black Swan) hired to clear a path for the BritGaz pipeline in Georgia. Their methods turn brutal and deadly, and a smartphone records their actions. When the International Court issues a Red Notice, they expect their government to protect them. In retribution, the Black Swan hijack a train in the tunnel between England and France and demand $500 million. Tom Buckingham, member of the SAS, is on the train with his girlfriend, Dr. Sophie Hart. Soon, it will be Tom versus 24 terrorists.
Actors
Is it just me or does Sam Heughan look less bulked up than in Outlander? He still has the action-hero vibe despite being shot, beaten, stabbed, dropped, and exploded. Some stars you just can't kill. Any avid fan will recognize the face of Hannah John-Kamen (Dr. Hart), if not the name. She is in Ant-Man and the Wasp, Ready Player One, and The Stranger. Her best lines? "Drop her." "Drop him." Ruby Rose (The Meg, John Wick 2) makes a credible homicidal maniac. But, best of all, is that we finally get to see the face of Andy Serkis (George Clements). You most likely know him as Gollum in Lord of the Rings, Caesar in Planet of the Apes, or Snoke in Star Wars. This guy is really good.
Final Thoughts
Black Swan really goes off the rails as Tom rescues a young French girl. How improbable is it to get relationship advice sitting on top of a train while hunted by trained killers? As an aside, Black Swan, on several occasions, raises the question of why men take so long in the loo. Up until now, I thought most agree that females generally take longer. Is this the existential question of the film? Probably better than "low intensity ops. It's a nasty business, but f—ing effective."
"It's all great fun – and very Die Hard in a train tunnel, with plenty of action and the odd twist to sprinkle a little salt on the visual popcorn." RTE Ireland
"A favorite moment? Sophie instantly over-shares with a stranger the next seat over, pre-attack. 'He takes lives for a living,' she cracks. 'I save them.'" Movie Nation
"Tried and true," "predictable," and "derivative," are all used by the critics. And, they are right. Still, it's much better than the run-of-the-mill stuff they usually foist on us. Besides, you get Andy Serkis!