Alternately pretty and gritty, sultry and depraved, Reminiscence might be one to forget. In a reunion of Hugh Jackman and Rebecca Ferguson from The Greatest Showman, a love affair is renewed. And, this time Ms. Ferguson gets to sing using her own voice. Beyond that, Reminiscence is just as good as its trailer. That is to say, it's an interesting concept, not well delivered. "After the waters rose and war broke out, the tank was an interrogation tool. Now, it's a way of life." Nick Bannister and his partner, "Watts" Sanders are private investigators of the mind. Would you like to take a journey through your memory? "Nothing is more addictive than the past."
The co-creator of Westworld creates the Sunken Coast, a somewhat post-apocalyptic world where Miami is sinking into the ocean. Those images seem more attuned to the science fiction portion of Reminiscence, less so for the neo-noir thriller part. Ultimately, the dialogue seals the fate of the film. "The truth will not set you free. It will damn you." The truth is, in trying to do too much, the film becomes convoluted. Are we exploring our addiction to the past? Or, are we just merely trying to find out who she really was? Eventually, we cease to care. I give Reminiscence 3.0 Gavels and it receives a 36% rotten Tomatoes rating and a 6.1/10 IMDb score.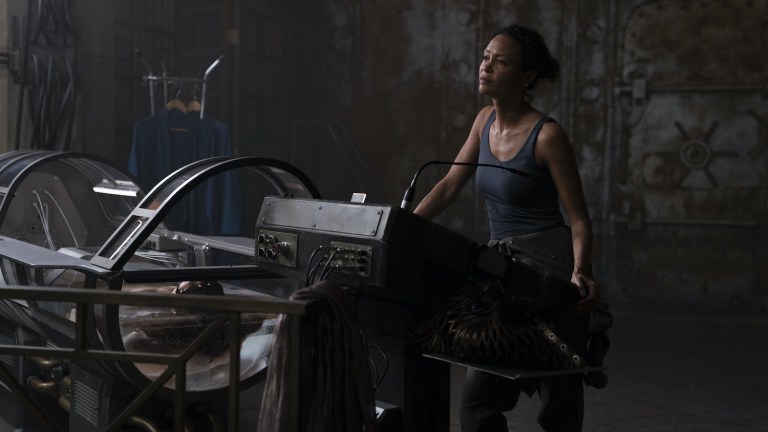 Plot
After hours, Mae appears at the door of the office of Nick Bannister. Innocently enough, she merely wants to find lost keys. Yet, Nick finds her enthralling, captivated by her beauty. On the other hand, Watts suspects something hidden about Mae. After several months of torrid courtship, Mae suddenly disappears. Will his memory spark a clue as to what might have happened to her? He can't resist the "Reminiscence." Once addicted to baca, it can't ever be kicked. Will the "Reminiscence" be just as deadly? "Maybe memories fade for a reason."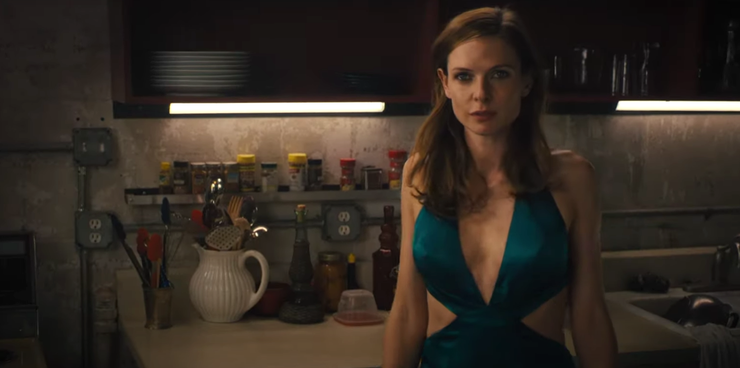 Actors
Jackman (Bad Education) and Ferguson (Mission: Impossible – Fallout) remain as addictive as the baca (Nick and Mae). Both do their best to try to keep this film from sinking into the depths of the Atlantic. Along with Thandiwe Newton (Watts), the cast is excellent. (If you've seen Westworld, you've seen Ms. Newton, literally and figuratively. She's no android here.) Every neo-noir film needs a corrupt cop. Cliff Curtis (Hobbs and Shaw, The Meg) fills the bill quite well as Cyrus Boothe.
Final Thoughts
If you have HBO Max, you need not traipse to the theater to see Reminiscence. Despite the quality actors, I wouldn't recommend paying for this one. If, as the film posits, "memories have a voracious appetite," you will not wish to waste any brain cells, nor hard-earned cash. Memories re-lived can be pleasant. Dialogue repeated irritates.
"Even Hugh Jackman's indisputable star power can't light up the pretentious, pseudo-poetic, sci-fi murk of this thundering misfire, which will only make you remember other, better movie mindbenders. 'Blade Runner' anyone?" ABC News
"Its star cast notwithstanding, there's good reason Warners is dumping the movie in the dog days of summer with minimal fanfare." Hollywood Reporter
Called a "niu" several times, should Mae be insulted? The Chinese interpretation is "cow." I guess that's better than when she gets called that "New Orleans whore." Pick your poison. Preferably, just not Reminiscence.