Sneaky Pete is sneaky good. How could it miss? Co-created by the guy who gave us House, produced by the guys who gave us Justified, acted by Giovanni Ribisi, Bryan Cranston, and Margo Martindale, and the mix is ripe for combustion. Explosive, it is. Co-creator Bryan Cranston has to be the best, bad-guy, uncredited actor ever. As the psychopathic Vince, his five-minute soliloquy is Episode Four is not to be missed. You know he is going to punish Eddie, but he tells a long tale of why it must be done. Excruciating is the only way to describe the mental anguish inflicted before the hammer comes down.
Recently, I noted the steady decline in IMDb ratings for The Sinner 3. Sneaky Pete is just the opposite. For Season One, they start at a very good 8.2/10 and rise steadily to a preposterously fine 9.2/10. Like Justified, Sneaky Pete is constantly in and out of jams. Marius, his real name, is a confidence man. "He gives you confidence; you give him your money." But, don't let that pigeon-hole your perception of Sneaky Pete. Truly, this is an ensemble cast of dysfunctional characters rarely seen in one show. Normal is not a word to describe the Bernhardt/Bowman family, nor any of Marius' associates, enemies, and acquaintances. Still on Season One, Sneaky Pete gets 4.5 Gavels and it receives a 97% Rotten Tomatoes score.
Plot
Rather the face the certain wrath of Vince, Marius fakes a bank robbery. Three years later, Vince sends his crew to intercept parolee Marius. Warned by his brother, Eddie, Marius assumes the identity of Pete and pretends to be the long-lost grandson of the owners of Bernhardt Bail Bonds. Bridgeport, Connecticut will not be the same. But, won't cousins Julia, Taylor, and Carly suspect that Marius is not the Pete of old? Just how good a con-man is Marius?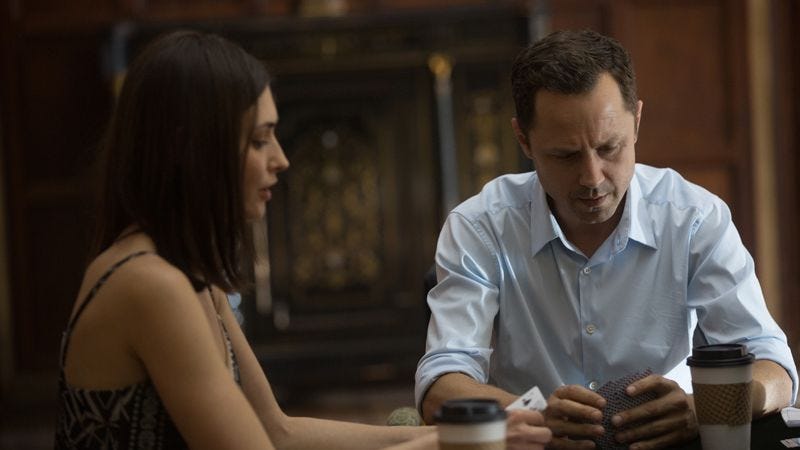 Actors
You already know the Big Three listed above, so I'll give some love to the lesser known. Described by The New York Times as "one of the great drama queens of the New York stage," Marin Ireland (The Irishman) shines as Julia Bowman. Why doesn't matriarch Audrey Bernhardt (Margo Martindale) trust her? Audrey trusts no one. As Audrey's husband, Otto, Peter Gerety continues as one of the great character actors of the big and small screen. Always overlooked, Otto surprises.
Final Thoughts
"He's the very definition of 'entitled.' Born on third, he thinks he hit a triple." So describes a thorn in the side of Vince. He hates cheaters. Could Kumar Mukherjee be cheating at cards? On-the-take Detective Winslow admits to mandated psych-treatment for hostility. As I said, each character brings his own wonderful mini-plot to Sneaky Pete.
"The cast is terrific, especially Ribisi, whose eyes could have been the model for the Droopy Dog cartoon character. No con man ever had such a useful face for deception." San Francisco Chronicle
"Sneaky Pete works because virtually every actor involved is two or three degrees better than required, and every character is written with greater detail and intelligence than the story needs to keep moving forward." Uproxx
Numerous publications use the word "fun" extolling the virtues of Sneaky Pete. If all TV shows were this good, you wouldn't need this column.