After 3.5 hours of The Irishman, it is fair to ask, "who has the bigger ego, Jimmy Hoffa, Anthony Provenzano, or Martin Scorsese?" As to Hoffa and Provenzano, they are narcissists of the first order. But this monument to Scorcese's self-conceit may go beyond that. Based on the book I Heard You Paint Houses, one must believe a known liar, Frank Sheeran. (See History vs Hollywood.) Really, he and his mobster friends aren't that interesting to revel in the minutiae of wise-guy life. If Scorsese made this into a mini-series and spent $50 million, it might be forgivable. While the acting is terrific, this is the very definition of bloat. I give The Irishman 3.5 Gavels and it receives a 96% Rotten Tomatoes rating with an 87% Audience score.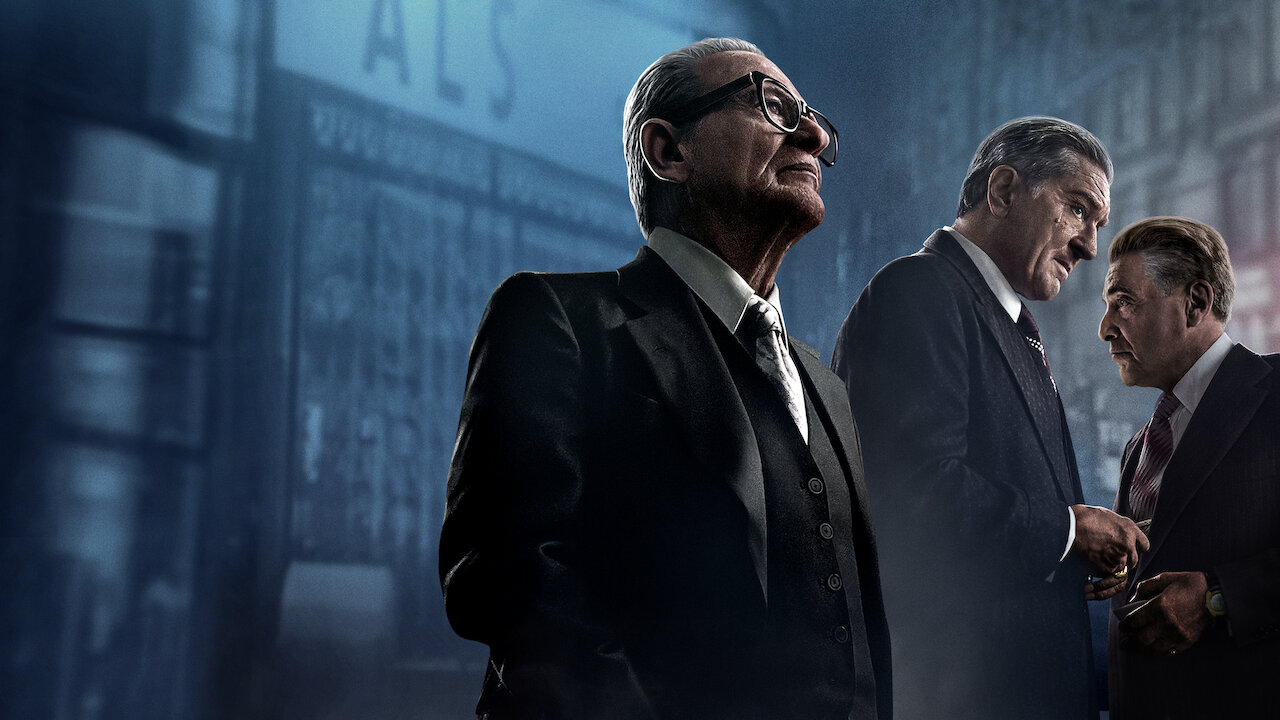 Plot
Frank "The Irishman" Sheeran is a small-time thief until introduced to Russell Bufalino. Bufalino grooms him into his "house painter," eventually introducing him to Jimmy Hoffa. Hoffa uses Sheeran to help get Teamster rivals under his control. Union loans to crime families garner the attention of Robert Kennedy, then Attorney General. Eventually convicted, Hoffa is sent to prison. What is to be done with Hoffa after he is released?
Actors
The triumvirate of Robert De Niro, Al Pacino, and Joe Pesci, as Sheeran, Hoffa, and Bufalino constitute a Who's Who of mob actors. Together again for perhaps the last time may be sufficient justification for the film. Pacino, in particular, steals every scene. Add in Ray Romano, Bobby Cannavale, Harvey Keitel, and Anna Pacquin and you get your money's worth. Of course, these character-types are old hat for these fine actors.
Final Thoughts
If you missed church-goers at the 11:00 AM Sunday service, I found them at this well-attended showing. Given the length of the movie, why didn't these folks wait until it streamed on Netflix November 27? With Gone With The Wind and It's A Mad, Mad, Mad Mad World, theaters were kind enough to give an intermission. Besides, why not sell more popcorn and pop? Those with limited bladders, be forewarned! For those who say "the movie flew by," they must be familiar with long, long plane flights. In the alternative, I suggest they watched with the aid of a Pause button. Notwithstanding its faults (and multiple execution-killings), The Irishman does mine some humor, albeit dark humor. The top critics want us to believe this is a classic. Maybe it is, but unless you are six feet deep into the gangster genre, wait for the Netflix release. There's plenty of time before the Oscar nominations are out!