Jolt explores intermittent explosive disorder in a rather electric fashion. Commonly described as "flying into a rage for no reason," life gives Lindy Lewis lots of reasons to fly into a rage. And, to a certain extent, it's hard not to identify with Lindy. Who wouldn't like to give a little punch in the nose to some guy or gal who fails to respect life's social norms? But Lindy, with her unusually high level of cortisol which makes her faster and stronger, takes it to a whole new level. Dr. Ivan Munchin provides her with an experimental vest which she uses to shock herself back to some semblance of normal behavior. However, it does not control her mental images of violence.
Most definitely, Jolt is not for the squeamish. Those mental images can be quite graphic. Yet, for those who enjoyed the action sequences of Charlize Theron in Atomic Blonde, Kate Beckinsale more than holds her own. Best of all, Jolt is all rather campy, never taking itself too seriously. Further, there are enough twists and turns to hold one's interest. At least enough that Susan Sarandon makes a brief appearance at the end to set up a sequel. Cast as The Woman With No Name, hers is a blank slate for the future, except likely up to no good. So, after a somewhat slow start, Jolt gets its hooks into you with something just a little different. I give the Amazon film 3.5 Gavels and it receives a 37% Rotten Tomatoes rating with a 5.5/10 IMDb score.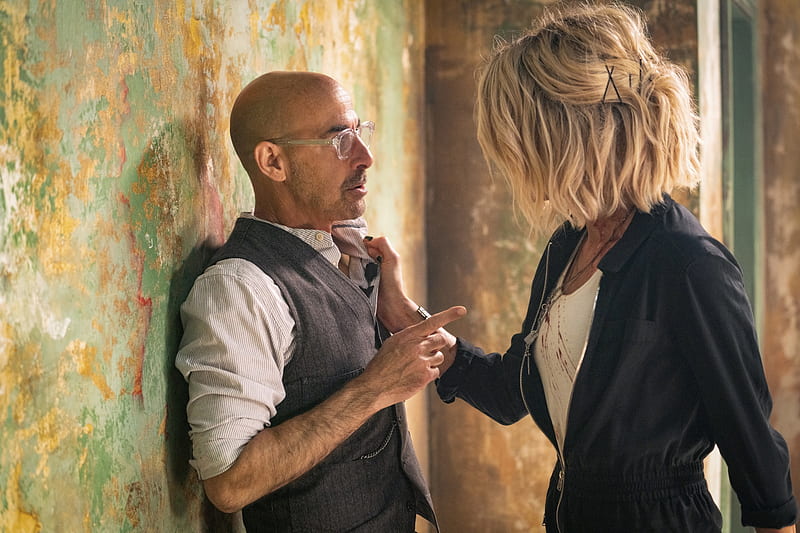 Plot
Advised to reconcile with her past and accept some close human contact, Lindy enoys a date with accountant, Justin. After an intimate encounter, and a promise of a halibut dinner, she is certain that her disorder can be controlled. Before she can fully comprehend the direction this is going, Lindy learns her man is dead, shot twice in the head. Apparently, Justin worked for an untouchable billionaire recluse into numerous illegal activities. Enraged, Lindy will go where the police are unable.
Actors
Jai Courtney (Honest Thief) plays the unlucky accountant, Justin. He does seem too good to be true. Any movie with Stanley Tucci (The Witches) automatically is worth watching. Wouldn't you just know that Dr. Munchin has his share of secrets, too? Bobby Cannavale (The Irishman), as Detective Vicars, is always four steps behind the vengeful Lindy.
Final Thoughts
There are lots of bad guys in Jolt. The billionaire bad guy, Gareth Fizell tells Lindy, "I kill lots of people. I'm sorry I killed your accountant." You have to respect an honest bad guy who then orders her death by exsanguination. More importantly, any film that has a chase with a green MacLaren 600 LT Spider must get its due.
"I enjoyed it, and I love to see Kate Beckinsale getting to show off how funny she can be." Film Week
"It's easy to forgive some of the story's more formulaic tropes simply because you can tell that the actors, and even the director, are just tickled by what they are doing." TheWrap
That's it in a nutshell. If you take this as a serious action film, it fails. View this one tongue-in-cheek.