Holidate requires an inquiry into whether the actors read the script prior to signing on the dotted line. If you think Netflix is providing a nice, sweet, early Christmas rom-com, a rude awakening awaits. Besides violating a sacred TMJ rule never to watch a Xmas film prior to Thanksgiving, Holidate is just crude. To top it off, you get to spend every holiday for a year with some really unlikable people. With family like this, it's no wonder that Sloane despises holidays.
Specifically, we know that Kristin Chenoweth is a talented actress. But her performance as boozy, raunchy, cougar Aunt Susan crosses the line into pathetic. What passes for great dialogue is "are we going to pretend that what happened, didn't happen?" Or, maybe, "chicks go mental on holidays." Overdone is the girl snubbed by her ex, distraught at seeing him with a "younger, hotter" version, and magically rescued by her "Holidate" pretending to be her new man. Blowing off a finger with fireworks and failing to make it to the restroom after mistakenly given laxatives also fails to impress. I give Holidate 1.0 Gavel and it receives a 45% Rotten Tomatoes rating with a 49% Audience score.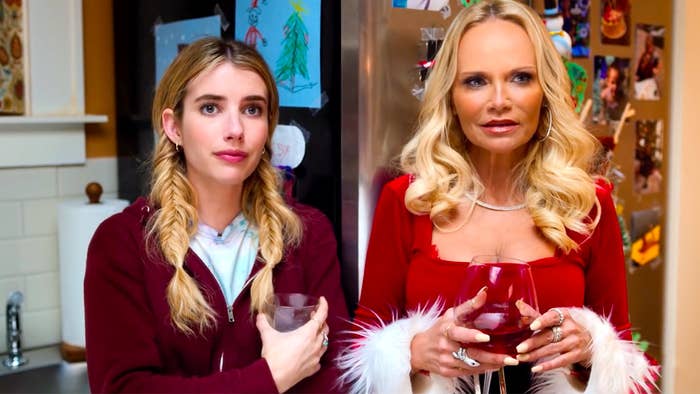 Plot
It's Christmas in Chicago, and Sloane dreads the family gathering. Everyone will ask why she is still single, with no prospects on the horizon. Aunt Susan brings the mall Santa as her no-strings attached companion and explains the concept of the Holidate. Sloane meets Jackson who is still reeling from his own "ugly Christmas sweater" experience at an acquaintance's yuletide dinner. Together, they agree to be each other's date for the next year's holiday events with no judgment, no strings, i.e., purely platonic.
Actors
Aunt Julia Roberts must be concerned about the film choices of her niece, Emma Roberts (Sloane). Clearly capable, she stars in two of the worst films of the year, The Hunt and Holidate. Perhaps with a little better appreciation of the harm to his resume, at least Luke Bracey (Danger Close) appears somewhat embarrassed by his character, Jackson. I hope everyone is happy with their paychecks because Holidate will do nothing for their reputations.
Final Thoughts
As Jackson bemoans a lost love, his friend inquires "who ruined romantic comedies for you?" If Jackson was not in such a depressed state, he would have immediately answered "Holidate!" Maybe that's a "what" rather than a "who," but you get the point.
The Boston Globe succinctly states "you'll find better deals on the sale shelf at the Christmas Store – on Dec. 26." The National Post quips "Holidate is — hmm, I need a new word, some kind of portmanteau, to describe how bad it is. I know! It's horriflix." And, horror of horrors, Lola Lambchops writes "I'd rather watch the Hallmark Channel." The unkindest cut of all.