Following The Crimson Petal and Cranford, here comes Garrow's Law and British Period Piece Week. For the uninitiated, William Garrow was a famous English criminal defense lawyer, noted for establishing our adversarial court system. While that may sound pretty dull to some, rest assured that Garrow's Law is not. Regrettably, I could only find Season 3 on Amazon. At this point, Garrow's enemies include fellow barrister Silvester with whom he once had a duel, Viscount Melville, and Sir Arthur Hill. Sir Arthur is not happy because Garrow now beds his former wife. See, I told you it was not dull!
From a historical perspective, the machinations of The Old Bailey enlighten, for they are the forerunners of our own legal system. Garrow, himself, is known for the best evidence rule. But, for humor, some of a gallows sort, the trials overseen by Judge Buller provide quite the entertainment. I give Garrow's Law 4.5 Gavels and it receives a very good 8.3/10 IMDb rating.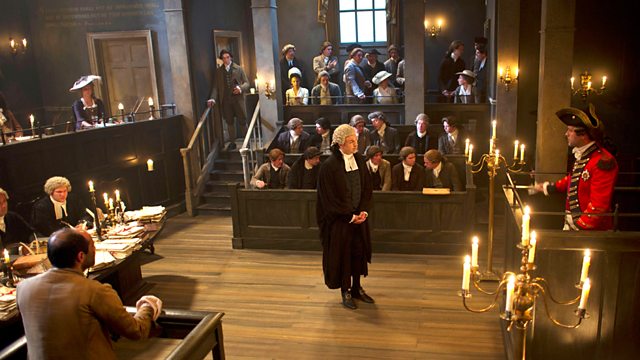 Plot
In Episode One of Season Three, James Hadfield fires a shot at King George III. Garrow must convince a jury that the law of insanity needs to be expanded. His lover, Lady Sarah Hill, demands that a Writ of Habeas Corpus issue for Sir Arthur Hill to bring her son before the Court. Once separated, women lose all rights to their children. Episode Two includes thoughts of a need to change custody law. Episodes Three and Four find Garrow as a prosecutor against crimes committed by the Governor of Trinidad and and the Chief Magistrate of the constables. The law of complicity gets a review and certain enemies get their comeuppance.
Actors
Andrew Buchan, seen as Henri Matisse in Genius, plays William Garrow quite convincingly. His mentor is John Southouse, acted by Alun Armstrong, instantly recognizable for a myriad of roles. Less so is love interest Lyndsey Marshal (Lady Sarah Hill) although recently seen in Hanna. As in most quality programming, this is just an excellent cast.
Final Thoughts
The writers of Garrow's Law deserve such praise. The repartee has wit and bite. Here is a show that truly combines history and drama. Perhaps some of my readers will be able to find Seasons One and Two and share them. The advice of Sir Arthur Hill to his young child is most telling. "Don't follow your new father into the law." Surely, he didn't mean that!
The Guardian offers its praise with "the court scenes are fabulous. William Garrow is my new hero. If the law was an ass (and it certainly was), then he whupped it, big time." PopMatters glowingly notes "the courtroom in which Garrow argues is a rowdy place filled with hollering bystanders, reminiscent of a cabaret rather than a court of law. As the judge wryly admonishes the crowd at one point: 'This is not a theatre… it is much cheaper.'" Well done, Brits. Well done.