In yet another gorgeous British period piece, Parade's End presents one the the more complex marital, love/hate relationships you will find. Hollywood Reporter calls HBO's five-part mini-series a "highbrow Downton Abbey." Christopher Tietjens is the smartest guy in the room, and the most insufferable. His wife, Sylvia, is a flirt and manipulator. In the midst of an affair to "punish" her husband, she notes his intellect "spoils her, like the difference between a grown man and a schoolboy." Add a third leg to this triangle with Valentine Wannop, the young, naive, idealistic, anti-war suffragette. Unable to marry due to Christopher's moral code, she vows to wait for him and become his mistress.
Based on books written just after WWI, the author hoped the story would end all wars. Obviously unsuccessful, nevertheless Parade's End focus on male-female dynamics, scheming government decisions, societal "norms," and the psychological effects of war make for a compelling show. Nominated for numerous Emmy and BAFTA award, HBO gets its money's worth. Less of a soap opera than Downton Abbey, to catch all the subtle dialogue, you will likely need to turn on subtitles and be prepared to rewind from time to time. Still, the clever writing and brilliant acting make it all worthwhile. I give Parade's End 4.0 Gavels and it receives a 69% Rotten Tomatoes rating with a good 7.6/10 IMDb score.
Plot
In 1908, a chance sexual encounter on a train between Christopher and Sylvia leaves her pregnant. But, is it his child? Christopher knows she was also having an affair with Gerald Drake at the same time. Despite this, he must marry her as it is the right thing to do. Because he is a "paragon of honest behavior, the cruelest man I know," Sylvia feels unloved and continues her affairs, the subject of some gossip. Unable to "divorce her or live with her like a man," Christopher carries on a platonic relationship with Valentine. Rumors of alleges improprieties between them harm his standing in London society, and his ability to obtain a better military position. A placement "in the trenches" profoundly affects all three. There will be no more "parades."
Actors
Sherlock made Benedict Cumberbatch (Christopher) an international star, Parade's End confirmed it. Recently seen in Professor Marston and the Wonder Women and Holmes and Watson, Rebecca Hall (Sylvia) knows how to get everything she wants, except the absolute love of Christopher. Hers is truly an exceptional performance, as she can be both hated and pitied at the same time. Largely unknown in the United States, Carey Mulligan look-alike Adelaide Clemens plays the chaste Valentine. She will not "live by an outdated code of conduct;" they are in "a carpenter's vice, pushed together." But, will Christopher survive the war, and at what cost?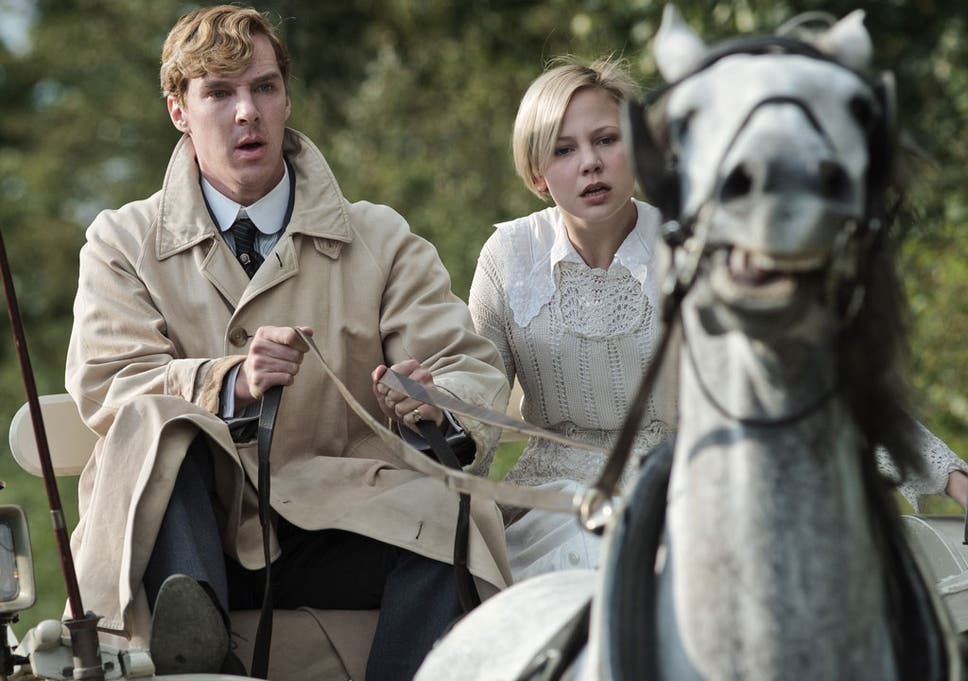 Final Thoughts
"There's no point in a fling if one's husband doesn't notice," says Sylvia. To prove his goodness, Christopher replies that "I care what they say about you." Yet, as to others, Christopher's brother notes that "you treat those swine with the contempt they deserve." Or, as General Campion recognizes "there are no more parades for that regiment. You are the last."
Simply, Newsday writes "By all means: Watch." The St. Louis Post-Dispatch pens "the miniseries is engrossing in its portrait of two people stuck in roles they need to cast aside, but somehow unable to make the break." Like most parades, you are not going to put the Grand Champion floats at the beginning. They are spaced out. Parade's End is no different. Given its cerebral tone, it takes some time to acclimate to it. If you enjoy the genre, stick with it for a fine spectacle.