The Baby-Sitters Club is as close to Anne With an E and Home Before Dark as you will find. Since the book series sold 176 million copies, perhaps you have some familiarity. Otherwise, imagine strong-minded young girls with a purpose to right wrongs, and join the club. Of course, you must be invited, and serve a probationary period, but these are friends who will last a lifetime. Don't think that this 10-part (avg. 25 min. each) series is solely about babysitting. Episode 3 discusses living with Type 1 diabetes, maybe the best program I've ever seen on the topic. Each girl in The Baby-Sitters Club has their own strengths and weaknesses. They will make mistakes, but they also will surprise. I give the series 4.0 Gavels and it receives a 100% Rotten Tomatoes rating with an early 100% Audience score.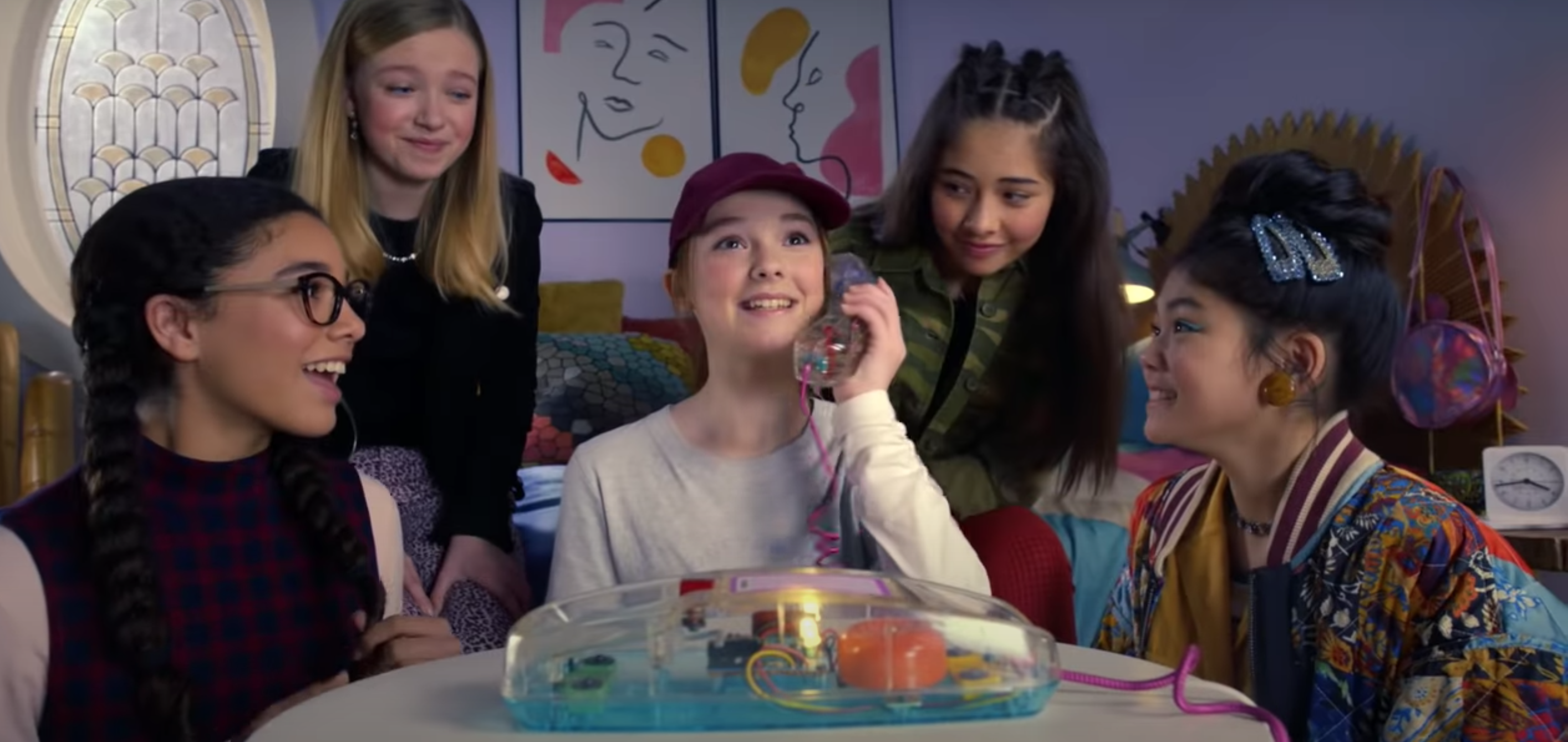 Plot
Kristy's mom is desperate for a babysitter but an agency wants a $79.99 annual fee just to join. So, why shouldn't seventh graders join forces to earn money, and provide a service to parents? Kristy (bossy), Claudia (artsy), Stacey (new girl), and Mary Ann (shy) form The Baby-Sitters Club. Since they can't drive and stay out late, soon the rival high school Baby-Sitters Agency puts a dent in their business. It's time to fight back!
Actors
Sophie Grace (Kristy), Momona Tamada (Claudia), Shay Rudolph (Stacey), and Malia Baker (Mary Ann) are the four talented "babysitting" actresses. You may recognize Ms. Rudolph from the recent Lethal Weapon TV series. Alicia Silverstone (Clueless) and Mark Feuerstein (Royal Pains) co-star as Kristy's mom and soon-to-be (very wealthy) stepfather.
Final Thoughts
As shown by the aforesaid ratings, I will be shocked if The Baby-Sitters Club doesn't become an instant favorite among young girls and their parents. Tastefully done, no topic seems off-limits. These transition years can be tough, and the club reminds girls that they are not in it alone. The New York Times praises the show writing "it's sweet but not cloying, smart but not cynical, full-hearted and funny enough to please both grown readers of the original books and the young target audience of the new series – and even plenty of viewers (like me) who are neither."
IndieWire concludes "what makes The Baby-Sitters Club so special is there aren't any weak links. Not only does every actor fit their role beautifully, they work as a cohesive unit." Overall, the messages of inclusion and equality are timely. Will the transgender child in Episode 4 cause controversy? That probably is what Netflix hopes.