Without MLB, NBA, NHL, MLS, NCAAM, and NCAAW, what's a red-blooded American female to do? Before COVID-19, in front of her 70″ big-screen TV, she could holler from her she-shed, "Honey, it's almost half-time. Bring me and the girls some more wine and cheese." Thanks to Netflix and The English Game, sports are back! The production company of Downtown Abbey gave us Jamestown; the creator and writers give us The English Game. The difference is notable. Julian Fellowes takes us to 1879 England, at the infancy of football. The upper crust established rules for the game but, like early American football, you may barely recognize it. Think rugby. Against the backdrop of class struggles, the six-part series explores how football captivated the country. I give The English Game 4 Gavels and it receives very, very early 67% Rotten Tomatoes rating thus far.
Plot
Arthur Kinnaird is the star for The Etonians, three-time winner of the FA Cup. His father thinks it distracts from his banking responsibilities. Contrary to the rules, the cotton mill owner of Darwen pays two Scots, Fergus Suter and Jimmy Love, in an attempt to be the first team made up of workers to claim the top prize. As the price of cotton plummets, the plant faces foreclosure and the loss of its team. Strikes, riots, abandonment, betrayals and, of course, love abound.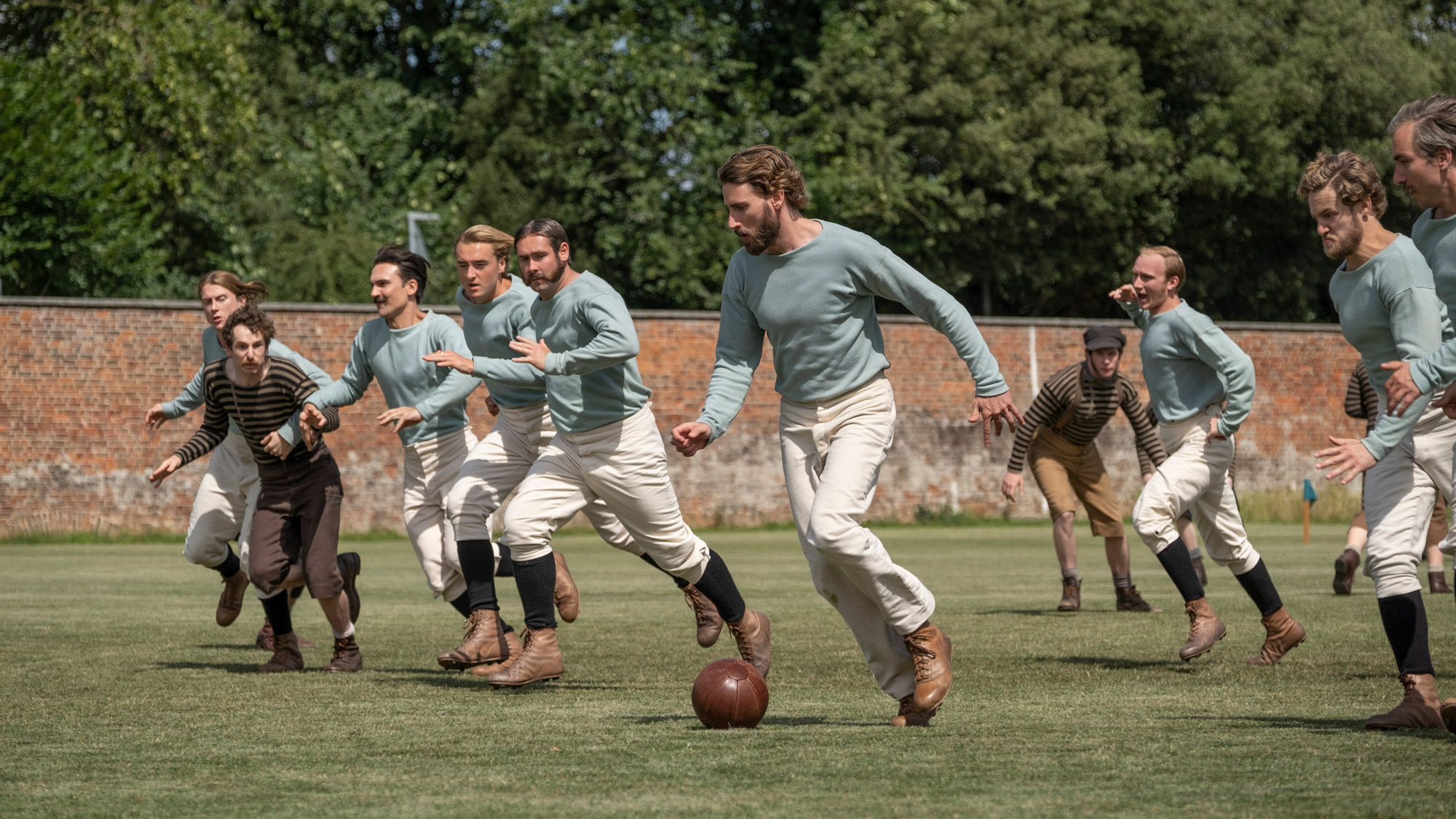 Actors
The ruggedly handsome Edward Holcroft of Kingsman plays Arthur, understandably confused about the changing world around him. His wife, Alma, acted by Charlotte Hope (The Theory of Everything), bears an unthinkable loss. The pain, so apparent to all, causes her to wonder what is her role, if not to be a mother. As Fergus, Kevin Guthrie (Fantastic Beasts) has the weight of working class expectations on his shoulders. Little do they know of his problems back home in Scotland.
Final Thoughts
The quote of the The English Game is "it took the brightest minds ten years to come up with the rules of football. And, the female mind is much more complex." Unsurprisingly, the series deals with professionalism and thuggery in football. Kinnaird possesses rare insight into the future of The Game ultimately becoming the FA (Football Association) president for 33 years. While Kinnaird is the first football star, Suter is the first recognized professional player. Kinnaird wins five FA Cup finals, Suter three. Even though not exactly historically accurate (see RadioTimes), these are the giants of the early days of The English Game. For that, and a little sport in a sportless time, we owe them their due.