Although the character has plenty of potential, don't expect too much from the first episode of Ms. Marvel. After all, she's only been around for less than ten years. While we neophytes are trying to figure out who she is, Kamala Khan, age 16, is literally trying to do the same thing. Boys, family, school, and religion all complicate this young teen's life. Most importantly, she is a mega-fan of Captain Marvel. And, as her mother points out, "it's time to stop fantasizing. It's time to focus on you." What's a Pakistani-American from Jersey City to do, especially with AvengerCon this weekend?
"Brown girls from New Jersey don't save the world." With that phrase, meet Ms. Marvel who is about to discover that she has powers previously unknown in the Marvel world. With those powers, she'll be part of the next Captain Marvel film. But, before we get too far ahead of ourselves, this is her origin story, slightly different from the comic book Ms. Marvel. Developing slowly, this six-part series on Disney+ runs Wednesdays through July 13th. At times, episode one had a Disney Channel afternoon vibe to it, her daydreams in animation. Yet, we know the bad guys are on the horizon. First, Kamala must harness that cosmic energy and create constructs. So far, Ms. Marvel earns only 3.5 Gavels while it garners a 95% Rotten Tomatoes rating with a 6.3/10 IMDb score.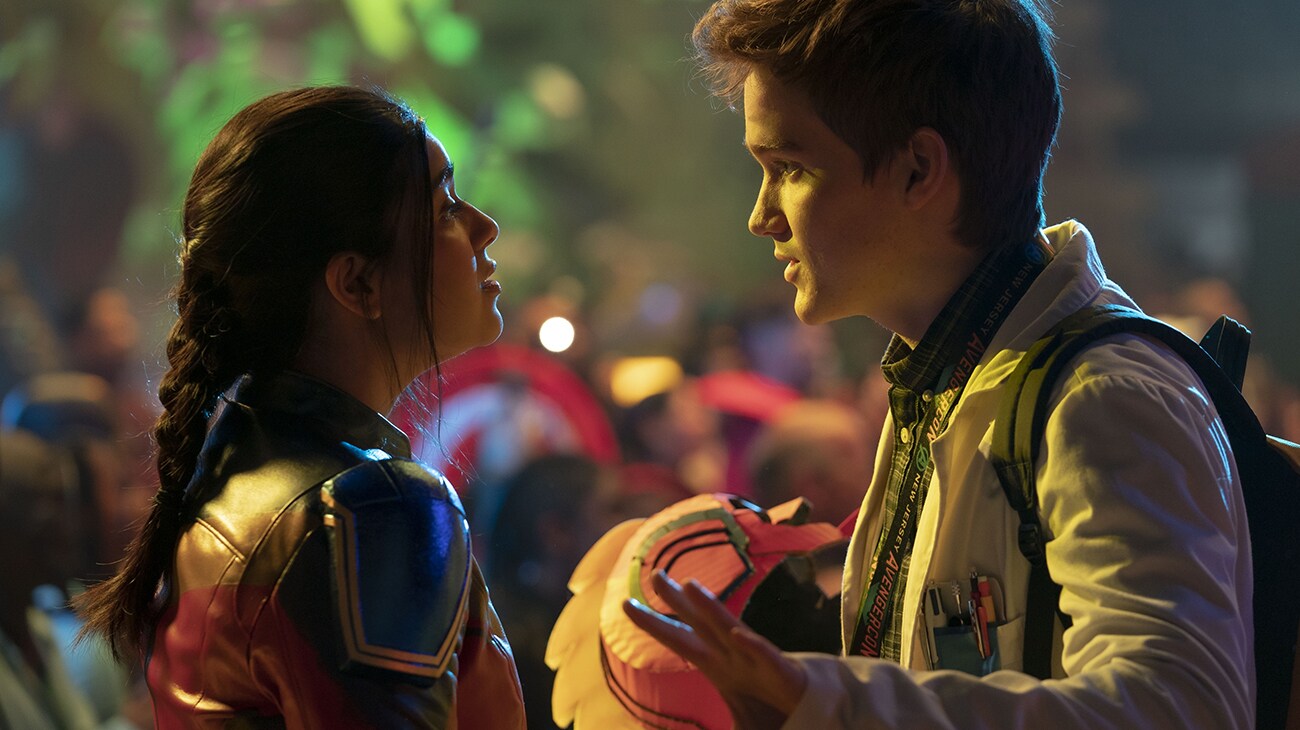 Plot
Reluctantly, Kamala's parents will allow her to attend AvengerCon on the condition that her father drive, they stay only two hours, and they dress as Big Hulk and Little Hulk. Besides the humiliation, Kamla is certain she can win the cosplay competition with her Captain Marvel costume. Best friend Bruno made her a pair of photon gloves to accompany the outfit. Still, the piece de resistance is her grandmother's bangle. Now, she just needs to slip out of the house without her parents noticing. At AvengerCon, the bangle gives her power to cause chaos and to rescue. It causes quite a stir, all the way to The Department of Damage Control.
Actors
In her first major role Iman Vellani stars as Kamala Khan aka Ms. Marvel. In art copies life, she is a mega-fan of the Avengers at home in Canada. It's too early to opine on her performance, save to say that Disney believes in her. Reminding the viewer of Neil Patrick Harris, Matt Lintz (The Alienist) plays Bruno. Matt is brother to Madison Lintz who plays Maddie Bosch. I think this is where Disney plays "It's a Small World After All."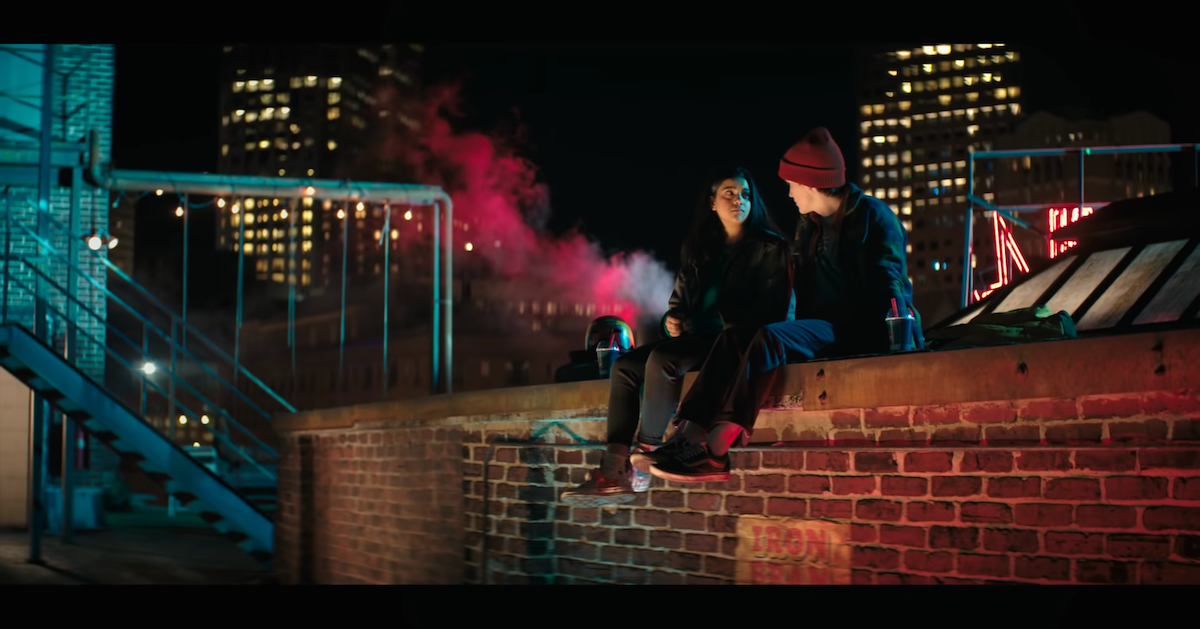 Final Thoughts
Director Meera Menon compares Kamala Khan to Peter Parker (Spider-Man), both being "relatable kids." Slightly klutzy, Khan fails her driving test, crashing into the instructor's car. Until she learns how to sit on light poles (see below), it's bicycles for her.
"Do you not see what we are doing? We are using a marginalized culture as a crutch to get a new demographic of viewers. There is nothing creative about making a Mindy Kaling version of a Marvel show, especially if it's chock-full of stale parent vs. teen dynamics lifted from sitcoms decades older than the characters." (This is an excerpt from a hilarious, cynical take on how Disney might have decided to air this show via RogerEbert.com. It's worth a read in its entirety.)
"A hero's journey that brings blazing new color to familiar story beats, this thrilling drama rests easily on the capable shoulders of actress Iman Vellani." Common Sense Media
Critics tell us that episode two is fabulous. If this series is like its predecessors, it will get better, by cosmic leaps and bounds.