From All Creatures Great and Small to Peacemaker, from the sublime to the ridiculous. In The Suicide Squad, I speculated that writer/director James Gunn might be on LSD. Now, I suspect some deeper, more serious, mental disturbance. The Suicide Squad (2021) was "gory, violent, crazy, and wild." One could expect little different from one of the more wackadoodle characters, Peacemaker. Self described as a man of peace, Christopher Smith/Peacemaker doesn't care how many men, women, and children he needs to kill to achieve his goal. And, that was why he was in prison in the first place. He gets the spin-off, the first three episodes dropped 1/13/22 on HBO Max. Five more to come weekly until 2/17/22.
Under the orders of Amanda Waller, Clemson Murn forms a group of misfits for Operation Butterfly. They must track down and kill those "butterflies" suspected of being alien invaders. Butterflies may inhabit the body of anyone, man, woman or child. It takes a trained killer to take a life unquestioningly. Thus, the need for Peacemaker. But, maybe he does have a conscience, after all. Perhaps, he just wants to be liked. Certainly, he's fond of agent Emilia Harcourt who snubs him repeatedly. Leota Adebayo, daughter of Waller secretly implanted, seeks to understand the tormented Peacemaker. Adrian Chase/Vigilante wants to emulate Peacemaker. Agent John Economus supplies tactical support. Clearly understaffed for the job assigned, just what is Waller's intent? Sadly, after three episodes, I no longer cared. As in The Suicide Squad, the critics and audience are bigger fans than me. I give Peacemaker 3.0 Gavels and it receives a 94% Rotten Tomatoes rating and an 8.4/10 IMDb score.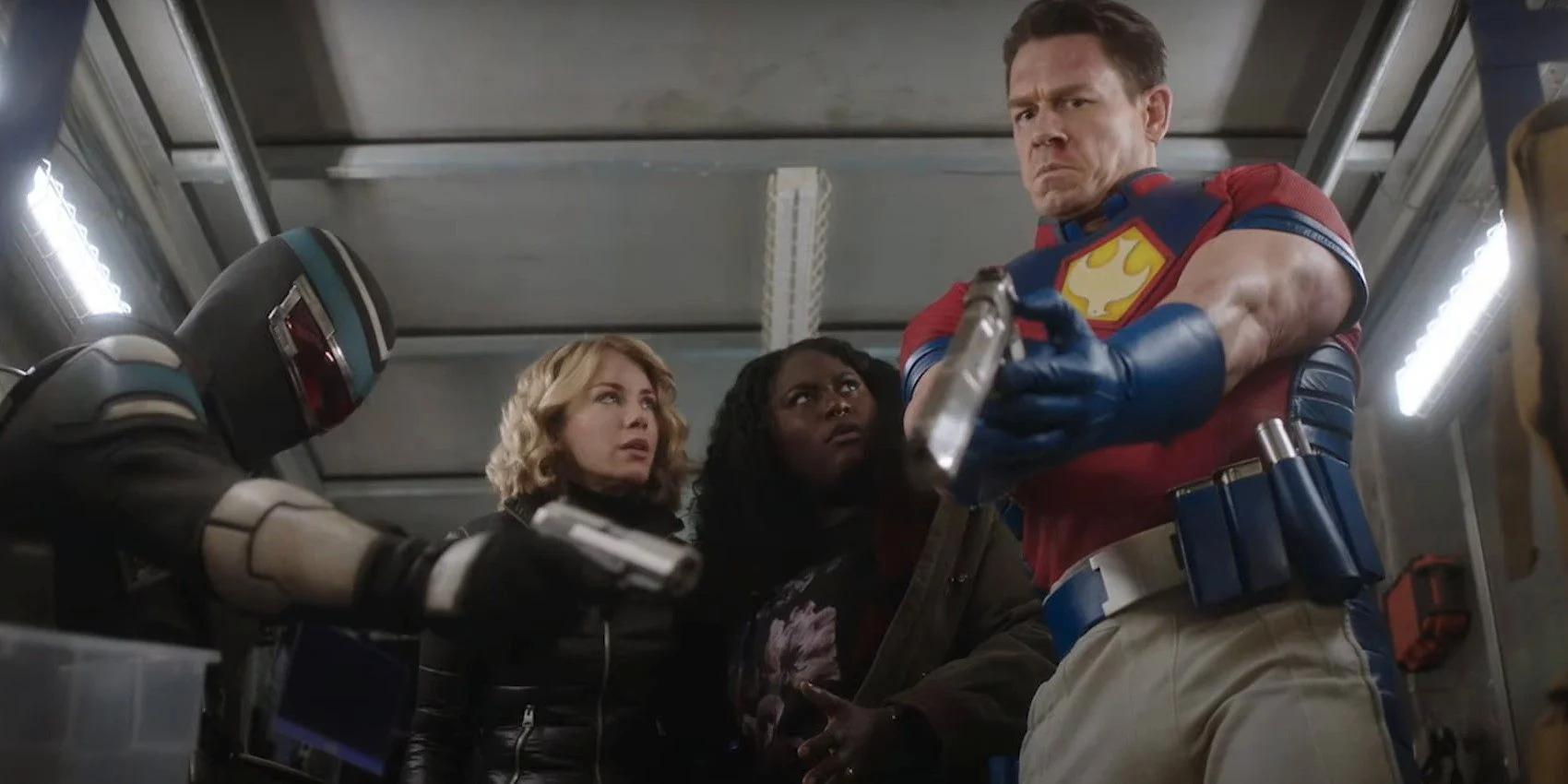 Plot
After five months in the hospital recovering from wounds suffered at Corto Maltese, Peacemaker returns home to his trailer and to recover his pet, Eagley. He's given a choice: continue to work for the government, or return to prison. The first assignment is to kill Senator Royland Goff and his family. Someone found out that Peacemaker was a part of the team and sent a butterfly to eliminate him. The resulting fracas puts the Evergreen police (Det. Sophie Song) on his tail. Economus diverts their attention to Peacemaker's father "Augie" Smith/White Dragon. Now, it's on to the Senator's house where the team shares feelings, trail mix, and the Berenstain Bears. (I warned you of the deeper psychosis.)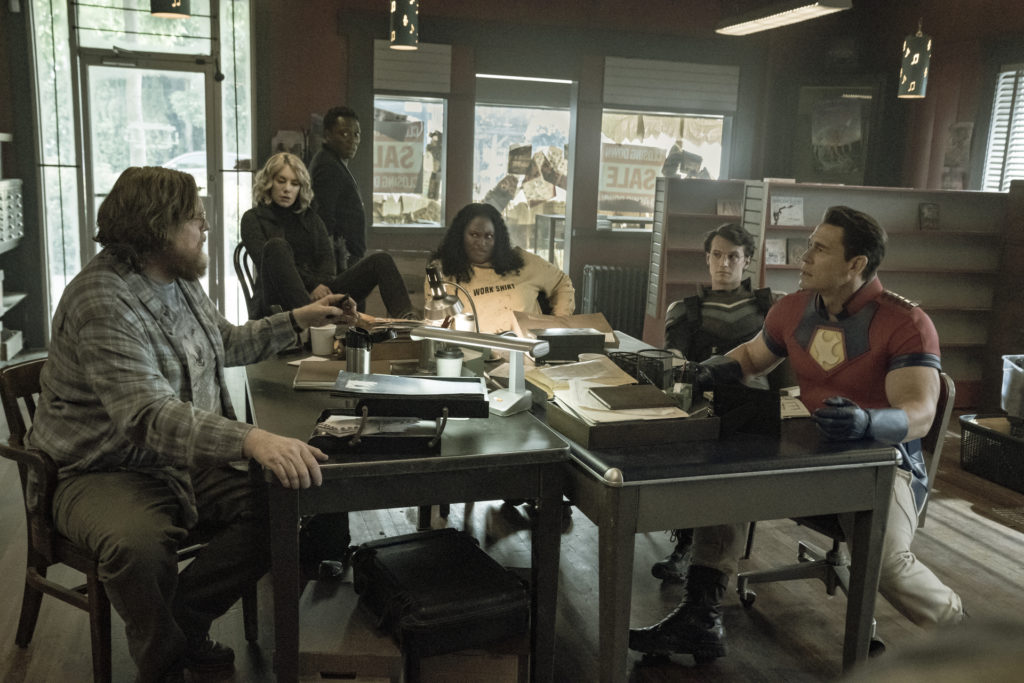 Actors
Peacemaker is one of those characters who "shares" too much. If anyone could pull it off, John Cena (F9: The Fast Saga) was a likely candidate. In my opinion, he fails. Second billing goes to Jennifer Holland as Emilia Harcourt. She seems to be the anchor of the group which assuredly means a big reveal later in the show. She does acknowledge that dad bought her a Glock at age 12. Danielle Brooks as Leota Adebayo, described as "co-lead," has little to do thus far other than be quirky.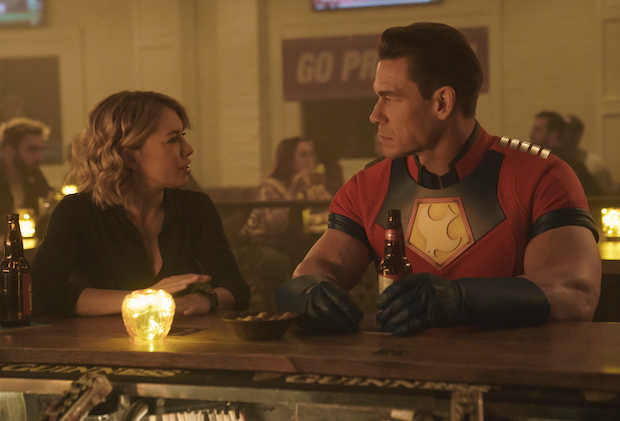 Final Thoughts
For the most part, I find Gunn's writing to lack flow. It's as if he has these thoughts bouncing around in his mind and can't wait to spurt them out, even if off topic. Perhaps that's the point as most of these characters are deeply flawed. Still, the constant need to gross-out the audience seems all-encompassing rather than making a fair point.
"Gunn's rude aesthetic is on full display throughout, which should please his fan cult but can wear a bit puerile for the rest of us." San Francisco Chronicle
"Gunn has given himself and his actors more room to play than he's ever been allotted – eight hours' worth – and hasn't figured out how to fill it with anything but the same labored joke, again and again and again." NPR
Don't mix up Peacemaker with The Peacemaker (1997) starring George Clooney and Nicole Kidman. No need to scar your children for life.