When I saw Love Hard was No. 2 on this week's Most Watched Shows on Netflix, I was sure I was being catfished. Instead, I sampled Father Christmas is Back with Elizabeth Hurley, Kelsey Grammer and John Cleese. After thirty minutes, I was ready to regurgitate my eggnog. If I'd known that Love Hard would make the viewer re-think Love Actually or Die Hard as the best Christmas movie ever, I never would have doubted it. (See Tuesday Morning Tea – 12/11/18.) Love Hard is certainly not in the atmosphere of either of its combo-names. Then again, Love Actually only received a 64% Rotten Tomatoes rating itself.

Love Hard starts out as Ordinary, Actually. Natalie, very unlucky in love, writes a Disaster Date column. As her boss points out "a disaster for you is a hit for me." Then, she meets her soulmate on Flirt Alert. While Natalie falls head over heels for Josh, the viewer slowly warms up to the story. By the time Natalie and Josh sing a modified version of Baby It's Cold Outside, you're likely to be smitten. Despite a few moguls on the way, the film absolutely lands the Ending Hard. I give Love Hard 3.5 Gavels and it receives 50% Rotten Tomatoes rating with a 6.5/10 IMDb score. However, for all you skeptics, the Audience Score sits at 98%.
Plot
After burning up the phones over three weeks, Josh texts his wish that Natalie could spend Christmas with him in Lake Placid. Arriving in a snow storm and losing her luggage is the first hint that all might not go well in New York. Josh's family warmly greets Natalie, quite unaware that he has a girlfriend. Both get a big surprise as Natalie didn't let Josh know she was coming, and Natalie sees that Josh photoshopped his picture. Unlucky in love himself, Josh offers to help Natalie snag the handsome Tag, if only she will pretend to be his girlfriend through the holidays. Can Josh be trusted?
Actors
Nina Dobrov (Dog Days) and Jimmy O. Yang (Like a Boss) are the odd couple, except are they? Both, eminently likable, are easy to root for, so different yet so alike. Natalie and Josh may be predictable, but you wouldn't have it any other way. James Saito is a standard in these type movies, seen last year in Dash and Lily.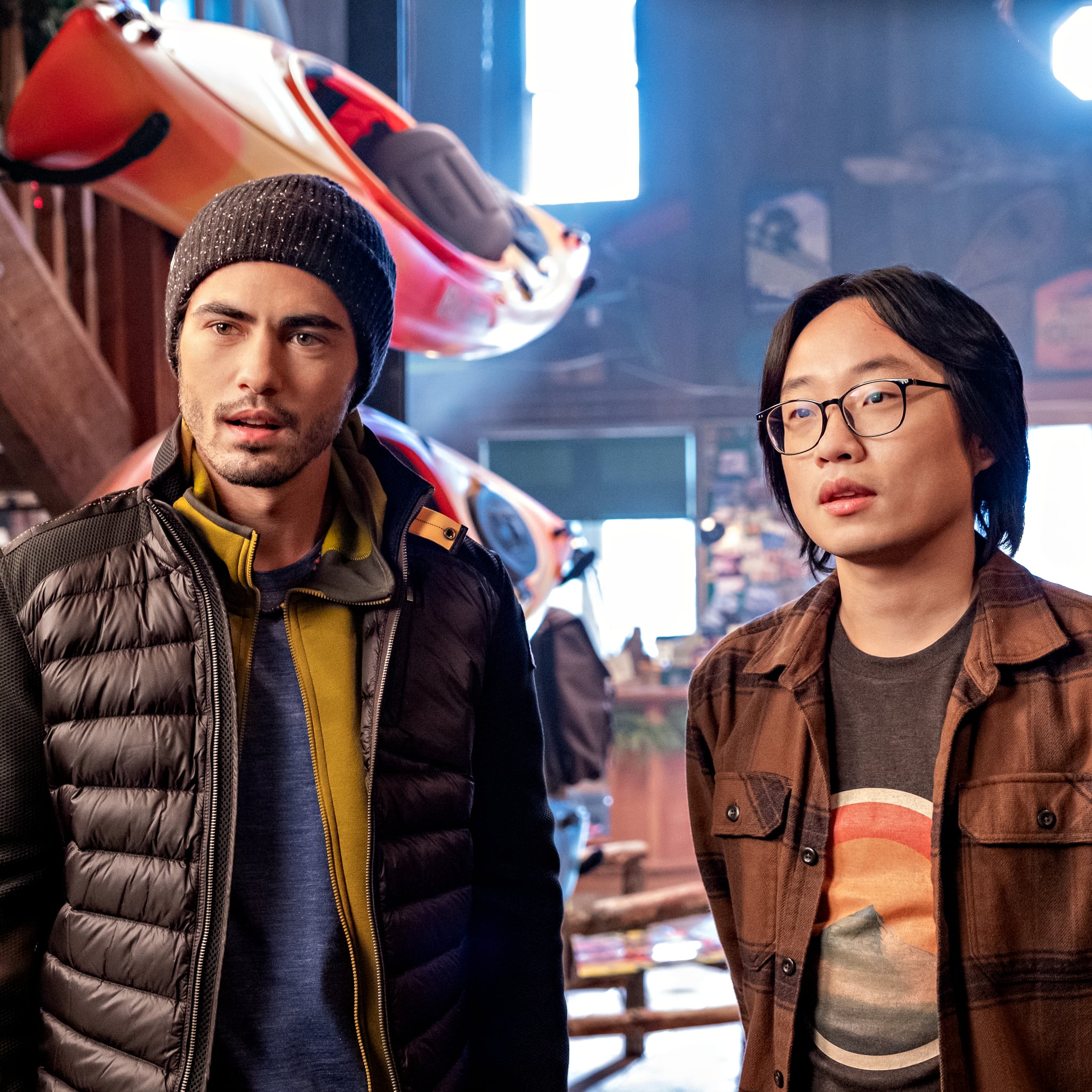 Final Thoughts
"Dating the fake, engaged to the real, you're going to make a therapist wealthy some day." That describes Natalie by her best friend, Kerry. On Josh's first dating profile, he poses with an ax, a wrench, and a rope, to appear more manly. Yet, Natalie asks "are you trying to get a girlfriend or find Colonel Mustard in the library?"
No standard, everyday guy is Josh. He wants to be a candle maker and reach the underserved male market. Scents include Lawn Mower, Jiffy Lube and Grandpa. Helpfully, Natalie suggests he work on the names.
"It's hard not to love Love Hard." Decider
"With dazzling lead performances from Jimmy O. Yang and Nina Dobrev, Love Hard will surely be a Christmas romantic comedy worth revisiting every year." Screen Rant
I'm not sure I'd go that far, but this one is much better than most.