Finch takes a little from The Martian (2015), adds some Short Circuit (1986), and mixes in a bit of Cast Away (2000). Like Matt Damon, our hero is in a struggle to survive. A solar flare destroyed the ozone layer. Radiation levels skyrocketed and and temperatures soared to 150 degrees, killing all plant life. Earth's landscape looks like a desert, and Finch must wear a spacesuit if outside. From the untrained scientific mind, it doesn't appear that the writers took the same pains to be as technically accurate as The Martian. Still, Lesson One is "Never pass up a chance to find your next meal." Mark Watney would approve.
In a post-apocalyptic world, the one-armed mobile robot, Dewey, isn't enough. Finch needs a humanoid-robot to help him care for his beloved dog, Goodyear. A superstorm stops the programming at 72%, leaving the robot with super-strength but a child-like understanding of the nuances of life. "What is trust?" "Why don't I have a name?" "I don't think the dog likes me." And, despite being just a day old, the new robot declares "I am an excellent driver." Finch's new companion has a lot to learn, but learn fast he does, as did Johnny 5. In Cast Away, Tom Hanks only talked to Wilson. Here, the conversations between Finch and the robot are alternately sweet, funny, fatherly, mean, and heart-breaking. I give the two hour AppleTV+ offering 3.5 Gavels and it receives a 72% Rotten Tomatoes rating and a 7.0/10 IMDB score, a rare sweep across the board.
Plot
In the basement of a St. Louis lab, Finch lives by scouring the city for food left behind. On one occasion, narrowly avoiding a deadly encounter with other starving humans, he rescues a tiny puppy. He loves that dog more than life itself. Poisoned over the years by deadly radiation, Finch knows he has little time to live. His new robot must abide by the fourth directive. "In the absence of Finch, you must protect the dog. This supersedes all other directives." With a superstorm on the way predicted to last 40 days, Finch, Goodyear, Dewey, and the robot must evacuate immediately in a modified 1984 Fleetwood Southwind. California, here we come.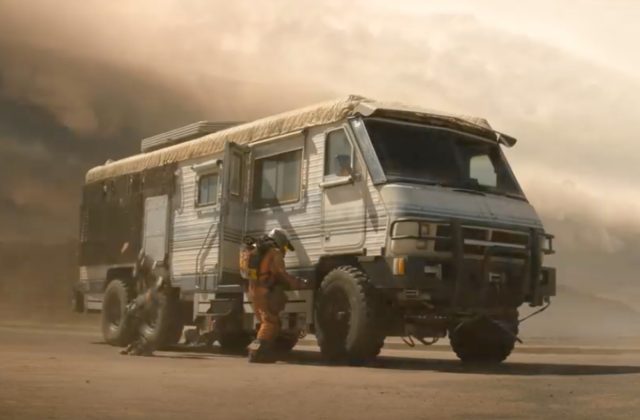 Actors
Tom Hanks' film have grossed nearly $10 billion worldwide. Soon to be Geppetto in Pinocchio, recently Fred Rogers in A Beautiful Day in the Neighborhood, the man is a national treasure. When you see his name, you take notice. He's a treat to watch as he interacts with both dog and robot. He is Finch. Seamus is Goodyear, so adorable as he refuses to take his paws off the table at an abandoned restaurant. Seen in Get Out and Three Billboards Outside Ebbing, Missouri, Caleb Landry Jones voices the robot, whose name I've deliberately failed to mention. Innocence, thy name is . . .
Final Thoughts
Despite the thoughtful idea of Finch, the writers struggle to find an adequate conclusion. The journey is well worth the ride until we near San Francisco. Then, the writers can't decide if the ending should be ominous, hopeful, or something in between.
"It could almost have been assembled in a robotics lab from the durable parts of countless movies past. But darned if I wasn't misting up in the melancholy climactic scenes." Hollywood Reporter
"Big-hearted and bolstered by a genuine love of dogs, Miguel Sapochnik's Post-Apocalyptic saga is the right blend of style and substance with the epic story of a man, robot and canine on a survival journey through the American West." Variety
Plot-holes aside, who wouldn't love a chance to spin yarns with Hanks on a road trip? This is your chance, sort of.